At present, through advancing the UNESCO Associated Schools Project Network (ASPnet), the Japanese National Commission for UNESCO is getting elementary, middle school and high school students to understand the ideas and objectives of UNESCO and is promoting international exchanges among young people, as well. (For further details. Please refer to the paragraph on UNESCO Associated Schools Project Network on the Education page.)
Furthermore, there are also schools that are carrying out their own activities connected with UNESCO by establishing a UNESCO club on campus.
In addition, the National Federation of UNESCO Associations in Japan (NFUAJ) conducts various projects designed to promote UNESCO activities among younger generations at private sector-level.
【Examples of National Federation of UNESCO Associations in Japan projects】
1.Nationwide High School UNESCO Research Meet
Under this project, high school students from throughout Japan gather at once to study the concepts, international cooperation, and understanding of other cultures advocated by UNESCO.
2.UNESCO Youth Study Tour for high school students and people up to age 35
This is a project whose goals are intercultural exchanges among the younger generations of the world, along with the realization of mutual understanding and world peace through the Funds-in-Trust for the Promotion of International Cooperation and Mutual Understanding donated by Japan to UNESCO and the project commission agreements between UNESCO and the NFUAJ. The younger generations from Japan visit UNESCO member-nations primarily in the Asia-Pacific region, where they have exchanges with the young people of those countries. They also visit the regions that support the World Terakoya Movement conducted by the NFUAJ and observe world heritage sites.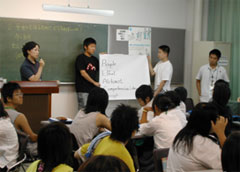 ©NFUAJ

3.UNESCO Youth Seminar
This is a seminar where young people (aged 16 to about 35) with the desire to engage in regional UNESCO activities discuss and examine the organization's ideology, objectives, etc., in the goal of cultivating youth leaders who will shoulder the next generation's private sector UNESCO activities.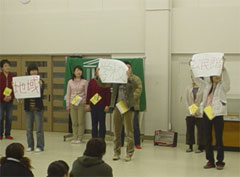 ©NFUAJ
4.UNESCO camp for Children/Course to Nurture Camp Leaders
By holding an outdoor camp once a year for elementary school children, we conduct outdoor activities getting youngsters to feel nature with their own flesh and promote UNESCO goals like mutual understanding, international understanding, and so on through communal living. Moreover, we hold practical exercises to cultivate camp leaders (at least 16 years old) to operate the camp.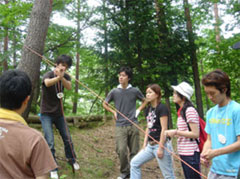 ©NFUAJ

5.Youth UNESCO Laboratory
Young people who participate in private sector UNESCO activities in all parts of Japan exchange information about their own UNESCO activities on the http://www.unesco.or.jp/youth/ website and deepen personal exchanges.
In some cases membership in the local UNESCO Association is necessary for participating in these programmes/projects, so please contact the NFUAJ for details.
(Office of the Director-General for International Affairs)