About UNESCO Biosphere Reserves
UNESCO Biosphere Reserves began in 1976 as part of the UNESCO Man and the Biosphere Programme (a joint government initiative started in 1971 to conduct scientific research into the sustainable use and conservation of nature and natural resources) with the goal of biological diversity conservation.
Biosphere Reserves have rich biodiversity and are model areas that promote sustainable economic activities that use the areas' natural resources. (Number of designated areas: 714 areas in 129 countries, of which ten are in Japan.) *As of October 2020
The main purpose of World Natural Heritage sites is the strict conservation of nature with outstanding universal value. Whereas UNESCO Biosphere Reserves aim for sustainable development that balances conservation and people's lives (the conservation of biodiversity that includes human intervention and socio-economic activity).
Designated areas enhance understanding of the origins of the nature and history and culture developed within the area. They are also expected to foster custodians of regional development. Also, as members of a global network, designated areas are required to further promote initiatives by learning from one another.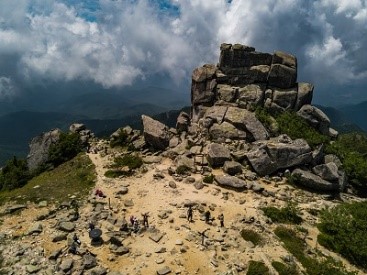 Kobushi Biosphere Reserve, Mount Kinpu (copyright:Council for Facilitating the Kobushi Biosphere Reserve)
[Reference]
(Article 1) Pamphlet "Biosphere Reserves in Japan (Man and the Biosphere Reserves) People and nature living together" (Created in February 2021) (PDF:28KB)
(Article 2) MAB: Man and the Biosphere Programme website
Regarding UNESCO Biosphere Reserves in Japan
In Japan, there are ten UNESCO Biosphere Reserves: Shiga Highland, Mount Hakusan, Mount Odaigahara, Mount Omine and Osugidani, Yakushima and Kuchinoerabu-Jima; registered in 1980, Aya; registered in 2012, Tadami and Minami-Alps; registered in 2014, Sobo, Katamuki and Okue and Minakami; registered in 2017, and Kobushi; registered in 2019. These ten areas comprise the Japan Biosphere Reserve Network (JBRN), which works to improve each area's quality through exchange and learning from one another.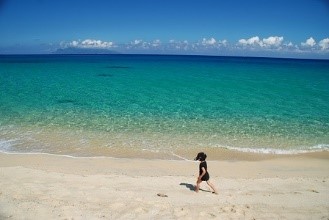 Yakushima and Kuchinoerabu Jima Biosphere Reserve, Inakahama Beach (Copyright: Tourism & Community Development Section, Yakushima Town Office)
Japan Biosphere Reserve Network (JBRN) (*link to JBRN wesite)
Hakusan (*link to the Hakusan Biosphere Reserve website)
Mount Odaigahara, Mount Omine and Osugidani (*link to the Mount Odaigahara, Mount Omine and Osugidani Biosphere Reserve website)
Shiga Highland (*link to the website of Yamanouchi, Nagano Prefecture)
Yakushima and Kuchinoerabu-Jima
Aya (*link to the website of Aya, Miyazaki Prefecture)
Tadami (*link to the Tadami Biosphere Reserve website)
Minami-Alps (*link to the Minami-Alps Biosphere Reserve website)
Sobo, Katamuki, and Okue (*link to the Sobo, Katamuki and Okue Biosphere Reserve website)
Minakami (*link to the website of Minakami, Gunma Prefecture)
Kobushi (*link to the Kobushi Biosphere Reserve website)