Ms. Lilja Dögg Alfreðsdóttir, Minister of Education, Science and Culture of Iceland and MEXT Minister Hagiuda Koichi held a videoconference on May 8, and signed a Memorandum of Cooperation (MOC) on education, science, technology and innovation. Mr. Stefán Haukur Johannesson, Ambassador of the Republic of Iceland to Japan, and Ms. Furuya Sachiko, Chargés d'Affaires ad interim of the Embassy of Japan in Iceland, also participated in the meeting.
The MOC encourages collaborative activities in the field of education, science, technology and innovation between both countries, including the promotion of joint research in areas of common interest.
After the signing, Minister Hagiuda expressed his pleasure in being able to sign the MOC with Minister Alfreðsdóttir, remarking, "We would like to strengthen the collaboration between Japan and Iceland and accelerate the promotion of our cooperation based on the MOC we have signed."
Thanking the relevant persons involved in the negotiations and arrangements for the MOC, Minister Alfreðsdóttir added, "The MOC specifies that Arctic science and marine research are areas of particular common interest, and we would like to further cooperate in these areas in the future. We expect cooperation and exchanges between the various relevant institutions from Japan and Iceland." Both ministers agreed to continue and strengthen the collaborative relations between both countries.
The videoconference and signing ceremony of the MOC were held prior to the 3rd Arctic Science Ministerial co-hosted by Japan and Iceland in Tokyo on May 8-9.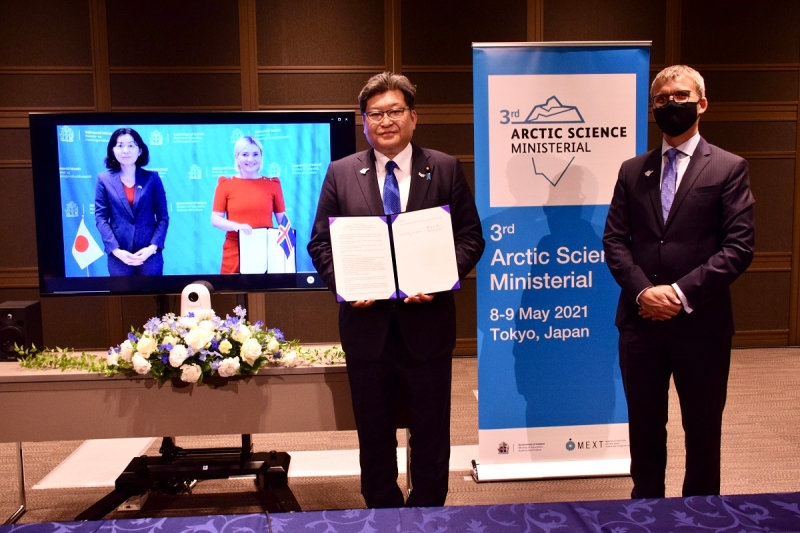 From left to right, interim Chargés d'Affaires Furuya Sachiko; Education, Science and Culture Minister Lilja Dögg Alfreðsdóttir; MEXT Minister Hagiuda Koichi; and Ambassador Stefán Haukur Johannesson.