Thursday, November 19, 2020
Science and Technology

The Asia-Pacific Regional Space Agency Forum (APRSAF), the largest space-related conference in the Asia-Pacific region, which aims to promote space utilization and international cooperation, was held on November 19, jointly organized by Japan, Singapore, Vietnam and Indonesia.

The APRSAF 2020 was held online under the theme of "Sharing Space visions Beyond Distance", confirming the significance of regional space cooperation amid the ongoing coronavirus pandemic.

In an opening address, MEXT Minister Hagiuda Koichi said the creation of new businesses and services in the region would continue to gather momentum as anticipation rises for the expansion of space activities and participation by new players in the region. The minister said he hopes to share MEXT's visions not only with space agencies, but also with diverse players surpassing industries and generations. He expressed high expectations on jointly promoting measures to realize the APRSAF Nagoya Vision.

In the panel session, the participants discussed targets of the APRSAF Nagoya Vision including promoting participation from diverse players. On enhancing space business, intense discussions took place among panelists representing startup businesses, international organizations and research organs.

During a session between the heads of space agencies from 15 countries, the heads discussed space endeavors that are sustainable, and contributing to social issues related to space technology under the proliferation of the coronavirus that has brought various constraints on our everyday lives.

MEXT will work to realize the goals of the Nagoya Vision adopted at the 2019 APRSAF-26 in Nagoya City by supporting the creation of new services and businesses in the region, and will work to advance sharing visions by diverse players surpassing industries and generations. Next year's APRSAF-27 will be hosted by Vietnam.


Opening remarks by MEXT Minister Hagiuda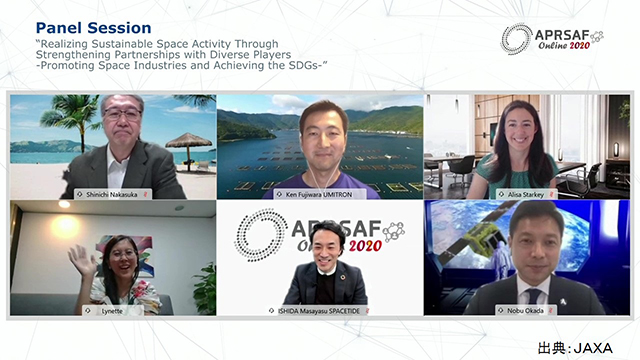 Discussion by panelists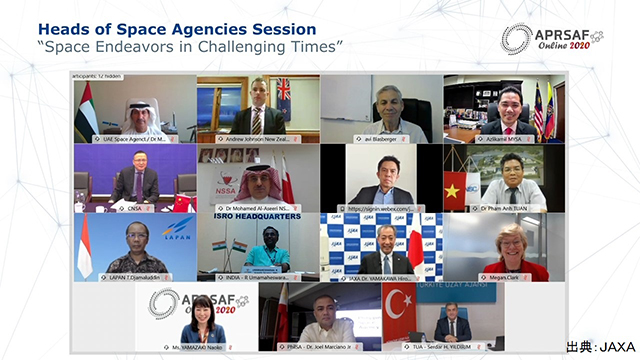 Session by heads of space agencies (President of JAXA, Yamakawa Hiroshi, appears in photo, third row from the top, second column from the right)