Wednesday, October 14, 2020
Science and Technology

The Artemis Accords, which include the Artemis program, a US-led international space exploration program, are a political commitment to establish an internationally shared framework on various rules for civil space exploration activities and the use of outer space by national space agencies. They include preserving outer space properties and avoiding collisions during space activities.

On October 14 (JST), MEXT Minister Hagiuda Koichi and Minister of State for Space Policy Inoue Shinji signed the Artemis Accords with the seven countries: Australia, Canada Italy, Luxembourg, United Arab Emirates, United Kingdom and the United States of America, at the virtual International Astronautical Congress, or IAC.
*NASA Administrator Jim Bridenstine's comments available on the following link:
https://www.youtube.com/watch?v=PkVxAJpb3Bk&feature=youtu.be
(Minister Hagiuda's comments @14 min. 55 sec. mark)

Minister Hagiuda said space exploration activities contribute to humanity's acquisition of technical and scientific knowledge, and will help solve social issues common to all nations. He said the Artemis Accords are a vital commitment towards implementing safe and sustainable space exploration through collaborating with commercial companies, and said he hopes Japan will deepen cooperation with other signatories.

NASA Administrator Jim Bridenstine said the Artemis program is historically the broadest and most diverse international manned space exploration program, and the accords will serve as a way to solidify this rare international collaboration. Bridenstine said the signing of the accords has established an important framework of principles for collaboration in lunar exploration, and towards creating a safe, peaceful and prosperous future for space, that benefits all of humanity.

*Artemis program… A US-led international space exploration program that aims to send a manned spacecraft to the Moon by 2024 and a manned mission to Mars by 2030. Plans for the development of the Gateway lunar outpost, a project also participated by the Japanese government, are also included. In July, Minister Hagiuda and NASA Administrator Bridenstine signed a joint declaration on lunar exploration collaboration under the Artemis program.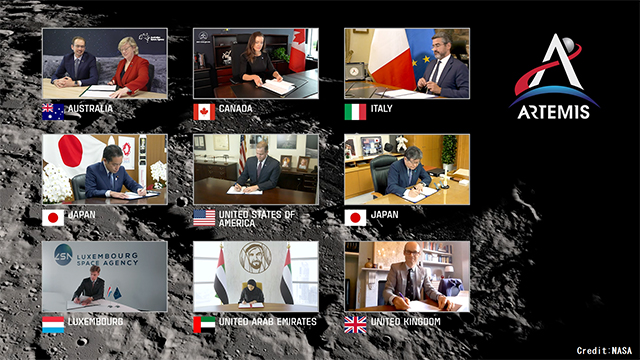 Signing ceremony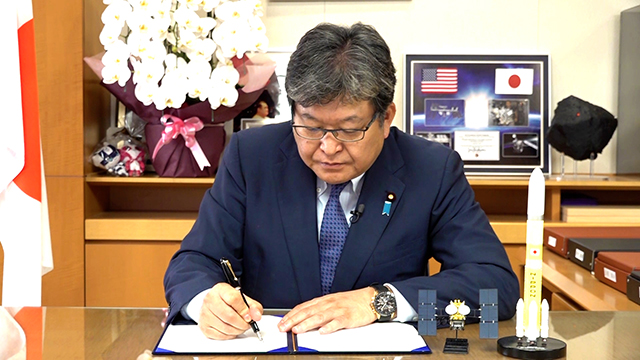 MEXT Minister Hagiuda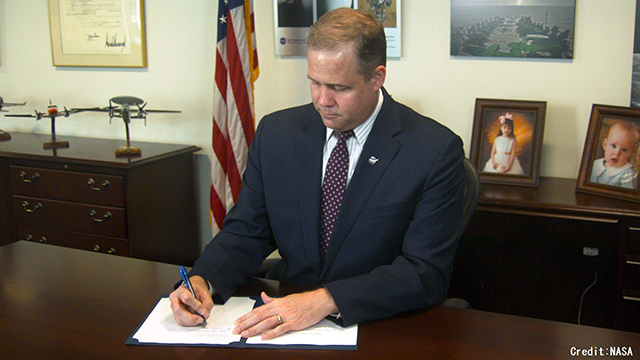 NASA Administrator Bridenstine