MEXT and the Ministry of Higher Education, Science, Research and Innovation (MHESI) of Thailand co-hosted "The 1st Japan-ASEAN Multi-Stakeholder Strategic Consultancy Forum" on October 12, 2019, as one of the major activities under "Japan-ASEAN STI for SDGs Bridging Initiative." The forum was held on the theme of "sustainable energy, featuring mainly bioenergy."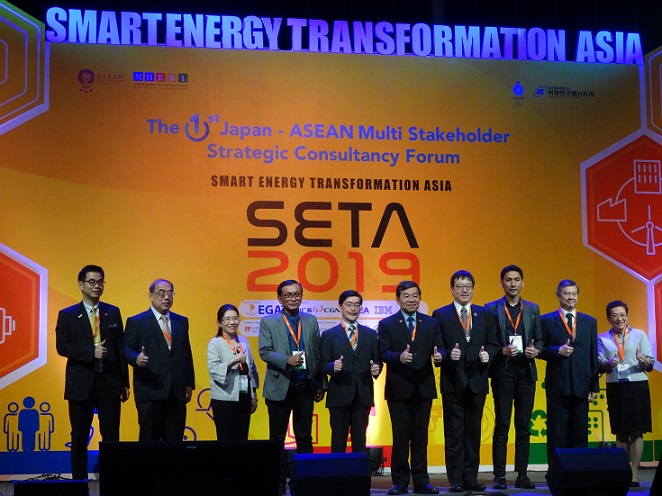 Outline of the forum
1. Date: Saturday, October 12, 2019

2. Place: Bangkok, Thailand

3. Organizers:
MHSRI (Ministry of Higher Education, Science, Research and Innovation, Government of Thailand)
MEXT (Ministry of Education, Culture, Sports, Science and Technology, Government of Japan)
Supported by NSTDA (Thailand National Science and Technology Development Agency), TISTR (Thailand Institute of Scientific and Technological Research), and JST (Japan Science and Technology Agency)
Coordinated by the ASEAN Secretariat

4. Major participants:
[Thailand]
Assoc. Prof. Soranit Siltharm, M.D., Permanent Secretary, Ministry of Higher Education, Science, Research and Innovation (MHESI)
Assoc. Prof. Dr. Wattanapong Rakwichian, Director of School of Renewable Energy and Smart Grid Technology, Naresuan University
Dr. Yodthong Mensin, Deputy Director of School of Renewable Energy and Smart Grid Technology, Naresuan University
[Japan]
Mr. NITTA Koshi, Director, International Science and Technology Affairs Division, Science and Technology Policy Bureau, Ministry of Education, Culture, Sports, Science and Technology (MEXT)
Dr. YAMAJI Kenji, Senior Vice President / Director-General of the Research Institute of Innovative Technology for the Earth (RITE); Emeritus Professor of the University of Tokyo

5. Program(PDF:732KB)
Background information
It has been more than 10 years since concrete Science, Technology and Innovation (STI) cooperation program such as SATREPS1) started between Japan and ASEAN countries. Recently the research projects are "graduating" every year from research phase, and some of the "graduated" projects well demonstrate contributions to Sustainable Development Goals (SDGs).
"It is time to stage up ASEAN-Japan STI cooperation for the benefit of society in light of SDGs" has been the common awareness shared and developed between ASEAN countries and Japan.

Such common understanding led to the launch of "Japan-ASEAN STI for SDGs Bridging Initiative" at the 9th Meeting of the ASEAN-Japan Cooperation Committee on Science and Technology (AJCCST-9) in October 2018, which aims at bridging the gap between STI stakeholders2) and social implementation stakeholders3). This initiative with the first multi-stakeholder forum to be held in Thailand4) in 2019 was later welcomed in the Chairman's Statement of the 21st ASEAN-Japan Summit.

1) SATREPS: Science and Technology Research Partnership for Sustainable Development Program, run by JST (Japan Science and Technology Agency), AMED (Japan Agency for Medical Research and Development) and JICA (Japan International Cooperation Agency). About half of the adopted research projects are ASEAN-Japan researcher collaboration.
2) STI stakeholders: researchers, universities and research institutions, etc.
3) Social implementation stakeholders: relevant ministries, business enterprises, funding agencies, financial institutions, NPOs, etc.
4) Thailand was the chair country of ASEAN for 2019.

[Reference]
"Japan-ASEAN STI for SDGs Bridging Initiative" (As of October, 2018)(PDF:481KB)
Summary of results
The 1st forum was co-hosted by MHESI and MEXT and held as part of the "Smart Energy Transformation Asia (SETA) 2019." It consisted of three parts: (a) keynote speeches about business and technological trends on sustainable energy, (b) Focus Group Discussions (FGDs) in which researchers presented research achievements of their Japan-ASEAN joint projects so that prospective social implementers could start practical consideration, and (c) pitches of young researchers from Japan and ASEAN countries (Thailand, Philippines, Malaysia, and Laos) seeking for partners to promote new collaborative research or social implementation of their research outputs. Approximately 135 people of government ministries, universities, research institutes, and private companies from Japan and ASEAN countries participated in this forum.

Researchers who joined the FGDs reported that their participation in this forum led to positive movements towards social implementation of their research outcomes. Some comments are as follows:
"We started a discussion on future cooperation with one of the companies that participated in our FGD, and now we are planning to pursue practical applications of our research results in more than one ASEAN country."
"According to a request from an international organization, we are going to prepare a proposal on the possibility of the practical application of our research outputs in other countries where we haven't considered yet."
"In our FGD, we were able to exchange views on effective applications of governmental subsidies with government officials and private companies."
"We were offered support for our research from a private company located in the ASEAN region."

This forum was one of the symbols of ASEAN-Japan partnership in the international community, especially in the area of STI for SDGs, and was actualized thanks to the warm support of the ASEAN Secretariat from the planning stage.