---
PREVIOUS
NEXT
---
Part 1 Using Knowledge to Create Society and Economy for a New Era
Chapter 3 Towards the Development of an Innovation System Suited to Japan
Section 3 Activities for Innovations in Companies
1. Changes in Needs and Strategies Concerning Corporate Research and Development
---
(Changes in the Environment Surrounding Corporate Research and Development Activities)
Of the benefits that innovation provides to society, the extent of the expectation of profit that the company to achieve the innovation can secure is referred to as the appropriating the returns, and this is important as a motivator to create innovations.
Effective methods of securing the possibility of exclusive possession are to legally protect the rights through patents and so forth, be the first to market the product, and possessing and managing production facilities and know-how. As in the past, by imitating and modifying the leader, there is little profit to be earned in a market with a large number of competitors.
Companies are therefore required to take another look at the best way forward for innovations, and shift to a market requiring a higher level of technology, or develop a new market. In this way, the battle for companies to survive is intensifying, and this is shortening the research and development period and product life.
(Trends in Corporate Research and Development Strategies)
In the situation described above, in implementing research and development to achieve innovation, it is vital to carry out research that nobody else is carrying out at a rapid speed, and this is becoming impossible with the resources such as personnel, technology and know-how possessed by companies in the past.
Companies are engaged in a variety of research and development strategies in response to changing needs. In conjunction with organizational reform within research and development divisions, research and development projects are being "scrapped and built," effort is being devoted to research and development in new fields, and joint research with universities and official organizations ( Fig. 14 ). In the future, collaboration and cooperation with other institutions will become more and more dynamic ( Fig. 15 ).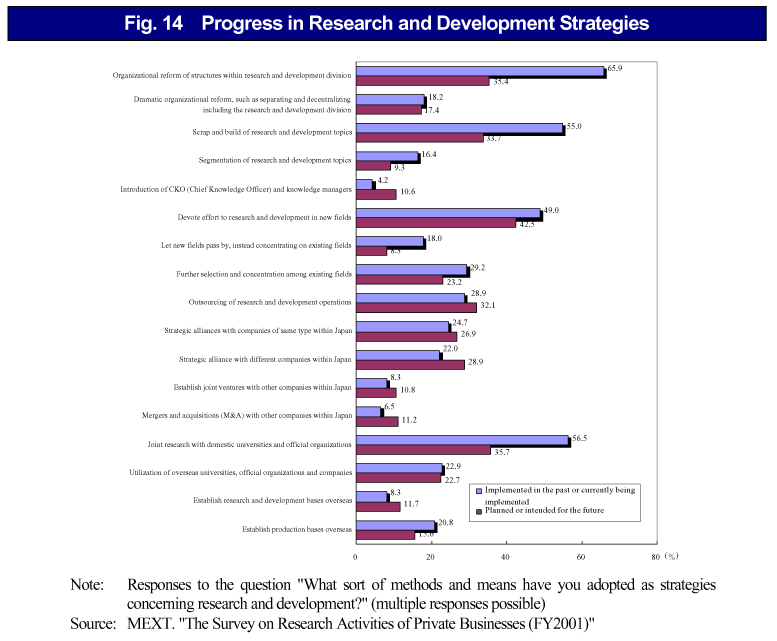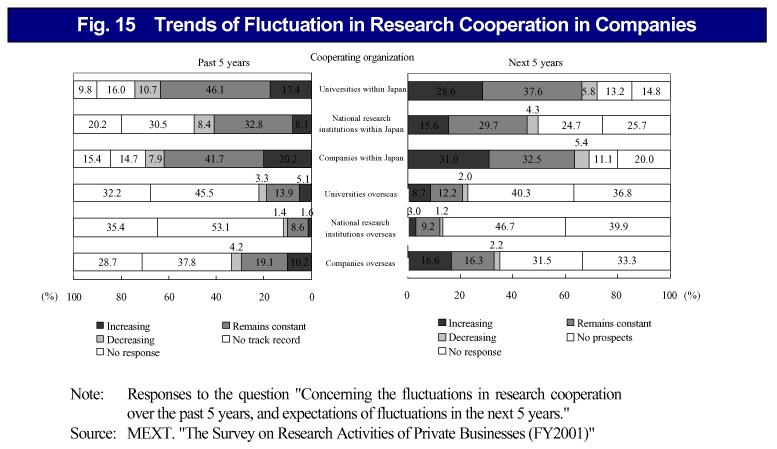 Aspects of cooperation and collaboration with universities and other companies within Japan and overseas is avoiding the risk of failure, eliminating the waste of duplication and obtaining technological opportunities. Private enterprise has great expectations of cooperation with universities within Japan in the future.
There is evidence of a movement among companies to strengthen and respond with knowledge management in order to develop new markets and use the diverse technology development methods required strategically in accordance with trends in technology and society.
---
PREVIOUS
NEXT
---
(C)COPYRIGHT Ministry of Education, Culture, Sports, Science and Technology