---
PREVIOUS
NEXT
---
Part 1 Using Knowledge to Create Society and Economy for a New Era
Chapter 3 Towards the Development of an Innovation System Suited to Japan
Section 2 Creation of Knowledge - the Core of Innovation
1. Promoting Original Basic Research
---
Among today's innovation vary widely according to field, from innovations implemented immediately as the technology seeds discovered in university, and those which combine or modify a large number of technology seeds before being disseminated.
At first glance, in the fields of IT and life sciences, where innovations seem to be occurring one after another, they only become popular in society today when basic research achievements are accumulated over a long period of time in the past, and innovations require a long lead time. Basically the achievements of research at a basic level have broader possibilities of application, they have a greater impact if they are implemented, and they continue for a long time. In the US, investment in basic research continued even when the manufacturing industry was in recession in the 1980s, with the result that it contributed to the revival of the economy in the 1990s. It is often said of Japan's universities that there is little research with an awareness of implementation, but compared to universities in the US, the ratio of basic research that is not conscious of implementation is not necessarily high ( Fig. 5 ). In addition, the research expenses used by universities are growing as the years go by, but they are smaller than in the US, and there is an extremely large gap in the stocks which have been continuously invested into universities ( Fig. 6 ).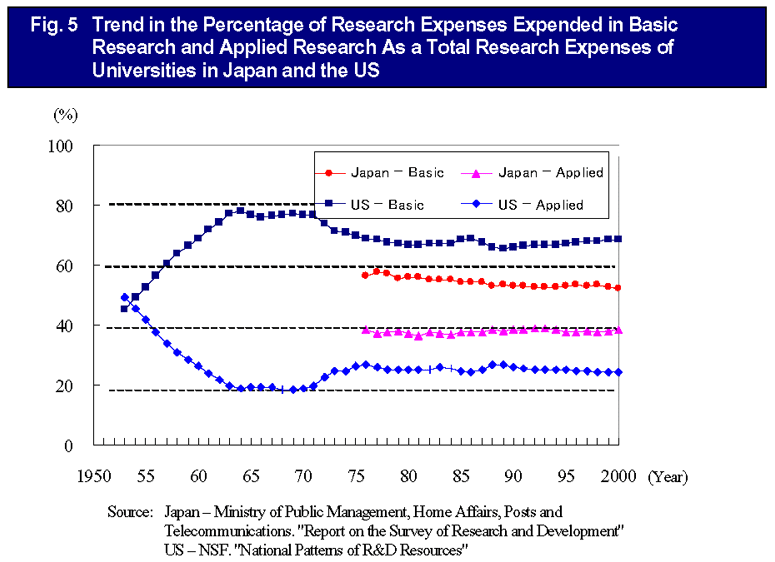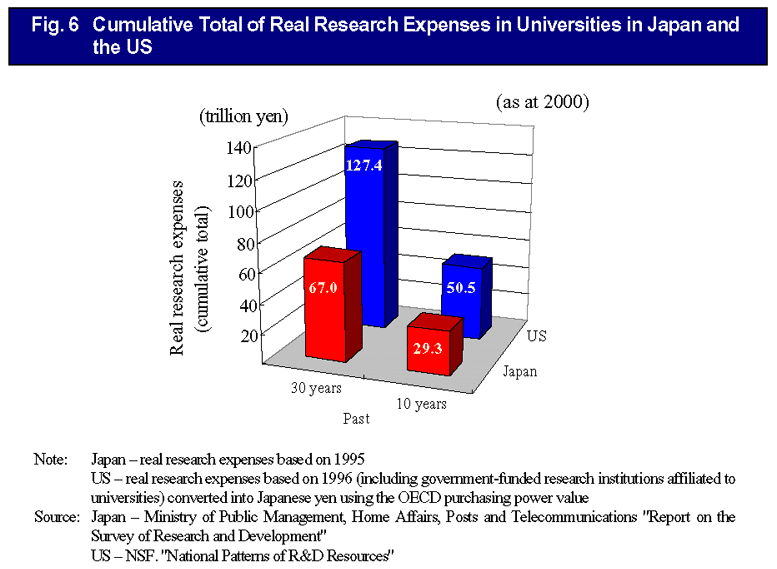 Meanwhile, companies may be described as playing an important role in basic research. In the US too the percentage of basic research expenses borne by private enterprise is increasing ( Fig. 7 ), and to increase revenues in companies in a sustained manner, and to link research achievements in universities to the development of new products, the potential of basic research is necessary, so its importance is thought to be increasing even further.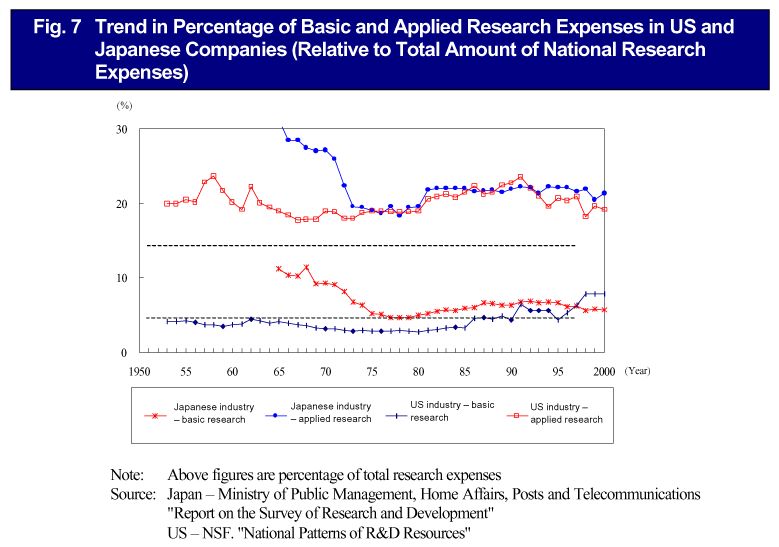 From these facts the importance of continuing initiatives to promote basic research as the source of innovations is clear. In addition, in order that universities fulfill the role of "institutions to supply specialist knowledge" required to provide sophisticated knowledge when companies are trying to solve problems, research activities in universities are expected to become more and more dynamic.
---
PREVIOUS
NEXT
---
(C)COPYRIGHT Ministry of Education, Culture, Sports, Science and Technology