---
PREVIOUS
NEXT
---
CHAPTER

SUPPLY OF TEACHERS ANDPROVISION OF SCHOOL FACILITIES
1 Characteristics of the Teaching Staff
(4) Teacher Training Institutions
a Teacher Training Institutions
---
In Japan, teachers of elementary and secondary schools are, in principle, prepared in 4-year course universities. Except teachers of elementary schools in France and the U.S.S.R., the training of teachers for the different level of education in the major countries of the world is conducted in higher educational institutions. In every country the training of teachers for elementary schools is conducted chiefly in specialized teacher training schools, while teachers for secondary schools are trained in both specialized institutes and general universities.
In Japan and the United States a certain academic career and acquisition of prescribed units are required for the teaching profession, while in the Federal Republic of Germany, France and the U.S.S.R., teachers' certificates are actually awarded to the graduates of the teacher training institutes who have passed the national public examination. In the United Kingdom there is no such national public examination, but the regional organization for. teacher training, an "Area Training Organization", usually called an Institute of Education, gives license examinations. In the Federal Republic of Germany and France 2-year probationary period is required before taking the national public examination.
According to the present teacher training system in Japan, any student who has acquired necessary credits prescribed by the Educational Personnel Certification Law at a university providing courses approved by the Minister of Education is awarded a teacher's certificate. Such an open system for teacher training being adopted, even the state universities responsible for the preparation of compulsory school teachers are not well aware of the objectives of teacher training, and standards for the teacher's certificate are low. In order to revise the present system, the Central Council for Education stressed in its 1958 report that the objectives and character of teacher training colleges and faculties should be clarified, pointing out the necessity of adoption of a probational system and planned teacher training for compulsory schools. The Council for Teacher Training made a proposal in 1962 that the organization of special curricula for the teacher training colleges and faculties, improvement of standards for teachers' certificates, adoption of a probation system, planned training of teachers for special schools, upper secondary schools and kindergartens should be effected. In1964 the Council prepared the draft standards for the curriculum for teacher training which are now under review.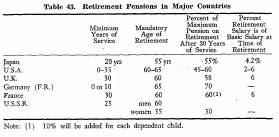 ---
PREVIOUS
NEXT
---
(C)COPYRIGHT Ministry of Education, Culture, Sports, Science and Technology