---
PREVIOUS
NEXT
---
Chapter
Chapter 4 For the Foundation of Trustworthy Schools
Section 3 Improvement of School Environment Where Children Feel Safe and Have Fun
1. Making School Facilities Safer
---
Many school buildings were built during the 1960s and '70s (baby-boom era) before the present standards for earthquake-resistant design were established (1981). Those building are now aging and many of them need reconstruction. Among total building area occupied by the public-owned elementary and lower secondary schools in the country, 65% were built more than 20 years ago (before 1981) and 23% were built more than 30 years ago (See Figure 1-4-6 ). Aging of buildings endangers children's safety, and to prevent any unfortunate accidents, rebuilding, refurbishment (repair or renovation), and reinforcement must be carried out (See Figure 1-4-7 ).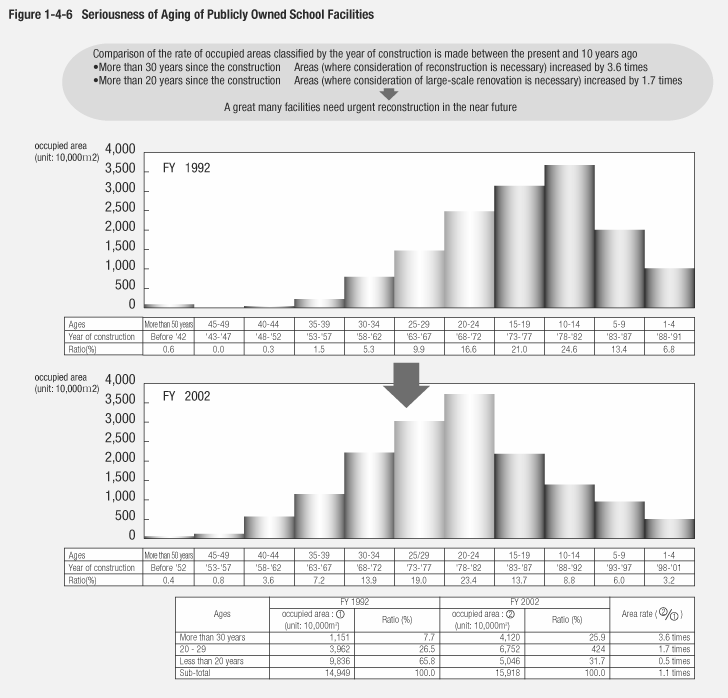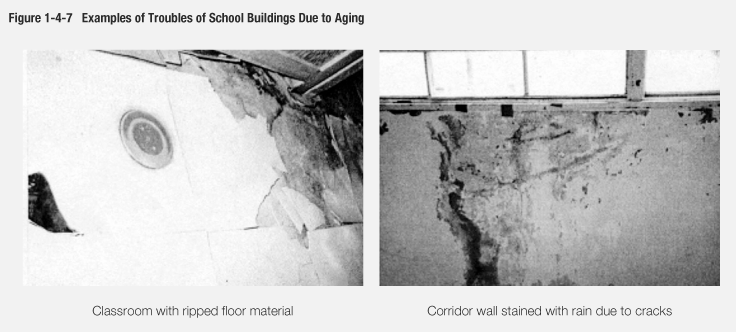 School facilities carry significance as a place where children learn and play. They also play a vital role as an emergency shelter for local residents at a time of a disaster, and therefore, it is extremely important to ensure the safety of school facilities, especially the promotion of earthquake resistance. It is clear, however, the efforts for the earthquake resistance have not been kept updated. According to the survey conducted by the Ministry of Education, Culture, Sports, Science and Technology in May 2002, it is estimated that about 43% of publicly owned elementary and lower secondary schools have inadequate earthquake resistance capacity. Moreover, among buildings built before 1981, only 30% buildings have been tested earthquake resistance tests. (See Figure 1-4-8 )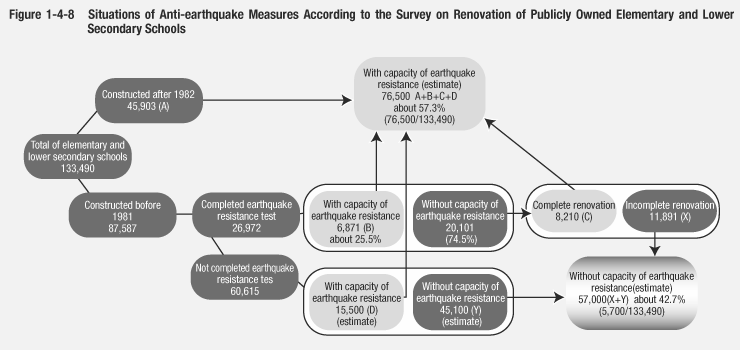 Fear of earthquakes has increased in Enshu-nada and Suruga-gulf areas since 1976, and there were rather large-scale earthquakes in 1978. To counter the growing fear, The "Special Measures Law on Large-scale Earthquakes" and "Law concerning Special Subsidy for Measures against Earthquakes in Earthquake Preparation Enhancement Areas" were enforced in June 1978 and in May 1980, respectively. Measures against earthquakes have been reinforced by these laws which increased the subsidy rate for reconstruction or reinforcement projects for school facilities in the designated 6 prefectures in Tokai area (8 prefectures covering 263 cities, towns and villages at present), (Tokai Earthquake Preparation Enhancement Area). Learning from the Hanshin Earthquake, which occurred on January 17, 1995, the "Special Measures Law on Preparation for Earthquakes", which expanded the designated areas to which the increase in subsidy rate were applied, was enforced in 1995. ( Table 1-4-7 )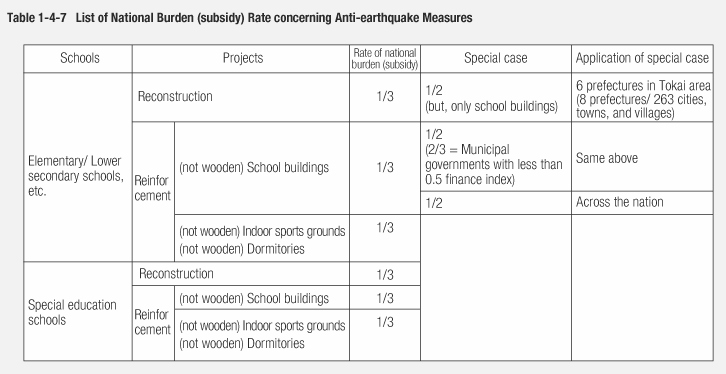 It is important to design projects based on the mid- and long-term perspectives in order to be able to afford the rush of projected renovations of school facilities in the coming years without difficulties. It is also necessary to confirm the earthquake resistance of the school buildings constructed according to the current standards by conducting periodical earthquake resistance tests and research studies in order to promote earthquake resistance for school buildings. The Ministry of Education, Culture, Sports, Science and Technology has been promoting these tests and research studies of cities, towns or villages, as well as to promote reconstruction and reinforcement of buildings based on the results of these tests. Countermeasures for earthquakes and aging of buildings appear only to compensate for something missing, but looking from a different perspective, it may be a good opportunity to transform the conventional and mundane school buildings into unique and distinctive ones responding to needs of the times and society.
In recent years, PFI (Private Finance Initiative) in the construction of the public facilities have attracted increasing attention. PFI is one of the methods of conducting public projects in which design, construction, operation and management are all carried out in an integrated manner by private companies. Especially when profits expected from the use of the facilities are included in the budget for the renovations or construction by the private companies, it promotes the use of private fund for the improvement of public facilities, and thus, it reduces the public expenditure in the end. This advantage is regarded as an effective way to promote the anti-earthquake and anti-aging projects. On the other hand, it must be pointed out that there is a problem associated with the system when profit allocation is not adequate. It may result in a simple installment of payments forcing the local government to bear a severe financial burden in the end. So, when a local government renovates school buildings using the PFI method, it is necessary to bear this point in mind.
---
PREVIOUS
NEXT
---
(C)COPYRIGHT Ministry of Education, Culture, Sports, Science and Technology