---
PREVIOUS
NEXT
---
Chapter
Chapter 4 For the Foundation of Trustworthy Schools
Section 2 The Establishment of Schools That are Trustworthy to the Parents and to the Local Communities
4. Diversifying School Education and Schools in the New Era
---
(1)
Diversifying and introducing more flexibility in upper secondary schools and the promotion of unified lower and upper secondary schools
Our society will change rapidly and dramatically, in accordance with globalization, the evolution of information technology, and the aging population, etc. Most students in lower secondary schools go on to higher education and those students should acquire the basic ability necessary to be members of society. It is also important to enhance the student-initiated learning attitude based on their interests and curiosities, and to build up individual students' capabilities.
In order to do so, the Ministry of Education, Culture, Sports, Science and Technology has launched various initiatives and projects. One of them is to expand the choice of academic courses in accordance with the interests and curiosities of students. Another is to establish various and unique schools through introducing integrated courses, credit-based upper secondary schools, or unified lower and upper secondary schools.
Integrated courses were set up in FY 1994. They fall into the same category as general educational courses or specialized subject courses, and by FY 2002, 186 schools have been established. The characteristic of education in the integrated courses is that it enables students to select academic subjects from various options, and to deepen awareness of their future plans. Students will gain a sense of achievement and thus they will be motivated to learn.
In credit-based upper secondary schools, students are not grouped by grades or curriculums. They can graduate when they meet the credit requirements. Credit-based schools were introduced to part-time and correspondence courses in FY 1988 and to full-time courses in FY 1993. 431 schools implemented the system by FY 2002. Some upper secondary schools for agriculture or industry have made some distinctive approaches for the establishment of new schools in the new era.
Goshono Gakuin Lower and Upper Secondary School of Akita City
Activities in laid-in unified lower and upper secondary school
The unified lower and upper secondary school: "Goshono Gakuin Lower and Upper Secondary School" with the basic concept of "Study with growing Akita", was founded in 2000 as the first integrated school in the country.
The school's educational objectives are to develop students' personalities and love for their hometown. Triune efforts of communities, homes and schools are promoted. The school provides some unique courses such as "Expression study" or "Folk study". Students of any grade can take the "Expression study" course. It is designed to learn the way of expressions using bodies, arts and words. By expressing themselves freely and abundantly, students can open their minds, enhance sensitivity; and as a result, capability and attitude to form good relationships with others can be cultivated. 10 lessons comprise the course: they are, for example, Theater, Noh, Computer Graphics, Chinese language, and the Korean language. Many instructors from outside of school are invited to teach these lessons.
The "folk study" is the study of Akita as their home town, and it is taught throughout 6 years. The objective of the course is to cultivate an independent individual who can examine, discuss and act on various issues like environment and welfare from the international perspective. Utilizing natural and cultural resources in Akita, students are encouraged to find their own topic of study. Students learn to do research on their own issues through mostly experiential studies. Many instructors are invited by local leaders. In the 3rd year of the lower secondary school, students write up interim research reports. In the 3rd year of the upper secondary school, they compile a thesis.
Well-planned career guidance is available throughout 6 years so that appropriate guidance is provided anytime when change is made in the interest or the purpose to help students to choose their own course of life.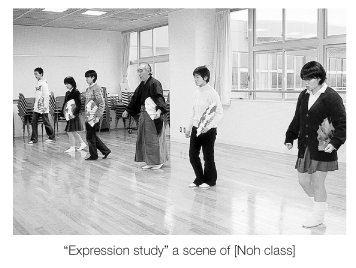 Morioka Upper Secondary School for Agriculture in Iwate Prefecture
Success to Proliferate Edelweiss Using Bio-technology
Morioka Upper Secondary School for Agriculture in Iwate Prefecture is located in Takizawa village in Iwate prefecture. The school celebrated the 120th anniversary of the foundation in 1999. The school is proud to be the core of the upper secondary school for agriculture in Iwate prefecture. The policies of the school are to respect each student and to make efforts to build attractive schools.
Students in the bio-technology department of the school have engaged in the environmental protection activities of the Hayaikerenzan in the prefecture. "Hayachine-Usuyukisoo" is designated as a protected species by the country since they grow only in the Hayachinerenzan. However, this species is endangered due to the illegal overexploitation and the natural destruction of its environment. It is currently ranked A in the red data book of the Ministry of Environment as it is on the verge of extinction. Using bio-technology, students made efforts to breed "Edelweiss" which is a very close species to Hayachine-Usuyukiso.
Students conducted research on the growing environment of Usuyukiso. They developed the culture, produced an excellent seedling, and created new growing methods. Accumulation of these consistent and reliable research and development efforts flourished when they finally succeeded in mass proliferation of Edelweiss for the first time in history.
The result was presented at scientific meetings and won the Minister's Prize at an essay contest. And the news was widely spread through media via TV, newspapers, and radio, etc. They have just won the 1st prize at the national contest in the Research Division of the School of Agriculture Club of Japan.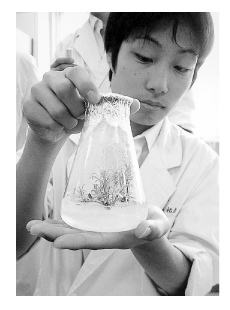 The unified lower and upper secondary education system gives more choices to students and parents who are able to study in an environment where students can learn for 6 years under an integrated curriculum in the same educational environment. The addition of this system to the conventional separate system of lower and upper secondary schools is to promote further diversification of secondary education and to facilitate an education emphasizing the personality and ability of each student. The system was first introduced in FY 1999 and 73 schools were established under this system as of FY 2002.
In order to motivate children's academic interest and to cultivate the foundation of learning as the basis of lifelong learning, it is necessary to evaluate out-of-school activities. A system has been established to accept various out-of-school activities as credit at the discretion of schools. Such activities are courses taken at other educational institutions like universities or colleges of technology, etc. or internships and volunteer activities, or the result of skill examinations.
(2)
Practical research on new types of school management
It is important to provide distinctive school education to develop the personality of each child as well as to meet the demands from local communities.
From this perspective, based on the recommendations from the National Commission of Educational Reform (December 2000), examining the feasibility and issues involved in the establishment of a "new type of schools in which local communities participate in the management" (community schools) which is proposed in the "Education Reform Plan for the 21st Century" (January 2001).
Practical research focusing on new school management started in FY 2002 and 9 research schools in 7 areas were designated for that purpose.
More flexibility was introduced to those research schools concerning recruitment of headmasters or part-time instructors and the use of the school budget. Also, coordination between schools and local communities, such as utilization of external human resources, and cooperation with local industries, are promoted. Local school committees are established as promotional bodies for these projects to work. The communities also participate in designing school curriculums and school management.
The research term is set for 3 years. It is planned to examine further the feasibility of new types of schools in which local communities participate in school management based on annual results.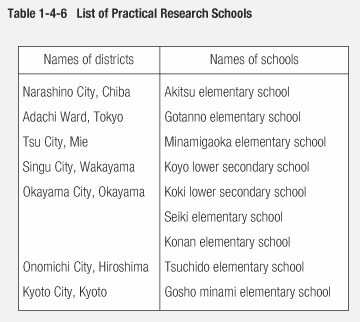 (3)
Promotion of establishment of diversified elementary and lower secondary schools - Enforcement of standards for establishment of elementary schools -
Based on the recommendations made by the National Commission on Educational Reform (December, 2000) and on the Education Reform Plan for the 21st Century, new establishment standards for elementary and lower secondary schools were formulated to promote the establishment of diversified elementary and lower secondary schools.
Minimum standards for the establishment of schools are formulated in order to comply with the needs of the local communities. The standards are intended to be as flexible and comprehensive as possible to in order to cope with various educational purposes of the founders. The standards were enforced in April 1, 2002. (Enforcement of regulations concerning class arrangement, facilities and equipment starts April 1, 2003)
The standards are composed of (1) mandatory clause on publication of self-evaluation and its result, (2) mandatory clause on public disclosure of school information, (3) basic formation of class being less than 40 students, (4) regulation on minimum space of school buildings and school grounds, (5) regulation on necessary facilities, (6) acceptance of the use of facilities of other schools when applicable (7) clarification of teachers being able to teach at other schools
All the same time (1) mandatory clause on publication of self-evaluation and its result and (2) mandatory clause on active public disclosure of school information are applied to the establishment standards of kindergartens and upper secondary schools as well.
---
PREVIOUS
NEXT
---
(C)COPYRIGHT Ministry of Education, Culture, Sports, Science and Technology