---
PREVIOUS
NEXT
---
Chapter
Chapter 4 For the Foundation of Trustworthy Schools
Section 1 To secure appealing and competent teachers
3. Strict Responses to Teachers with Problems in Teaching
---
(1)
Handling of teachers with so-called "little teaching ability"
Success and failure of school education are determined by the ability and skills of the teachers who are the direct instruments of school education, and therefore, securing appropriate and eligible teachers is a vital issue.
A presence of a teacher who is unable to develop proper relationships with children not only affects the children seriously, but also damages the trust of parents and guardians placed in the school.
Each local and regional board of education needs to improve the environment for the provision of continuous guidance and training to so-called "teachers with little teaching ability" and for the implementation of an appropriate dismissal system whenever necessary. In order to promote the creation of such a personnel management system, research and study projects were commissioned to every board of education in prefectures and designated cities in FY 2001.
With a partial amendment of the "Law on Organization and Management of Local Education Administration" in June 2001, boards of education of prefectures have been granted the power to transfer "teachers with little ability to teach", who do not deserve such severe treatment as dismissal, from teaching positions to other positions (such as clerical positions at the board of education offices). This amendment was enforced in January, 2002.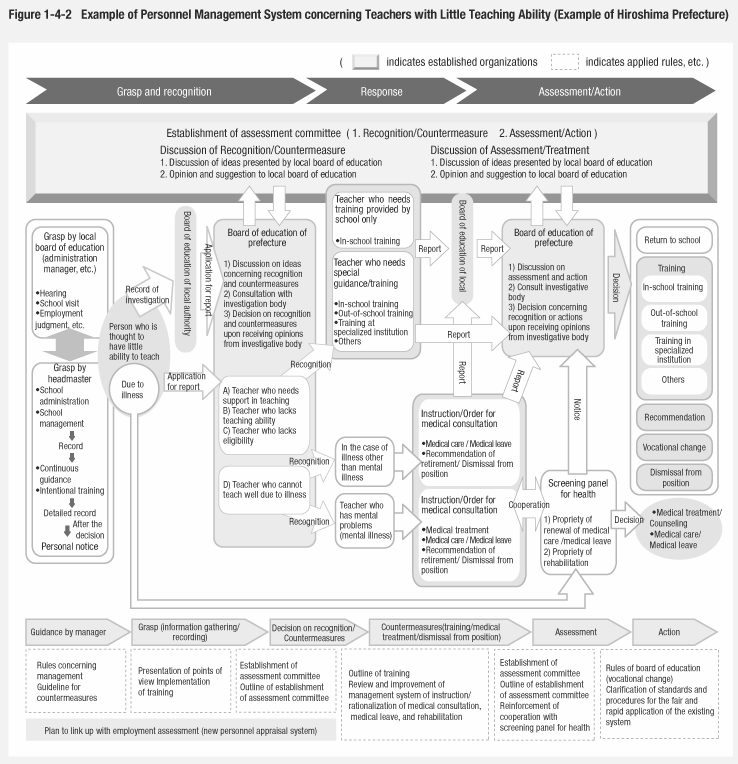 (2)
Strict responses to teachers who commit undesirable conduct
Misconduct of teachers is not forgivable because the public loses its trust in teachers and that damages trust in school in the end.
In order to prevent any misconduct of teachers, each board of education is required to maintain thorough disciplines of teachers and to work on more elaborate measures regarding recruitment and training. Especially indecent conduct towards children is something unforgivable as teachers, and therefore, it is important to apply rigid disciplinary action, so basically, anyone, who does commit such conduct should be given a dishonorable discharge from his or her position.
With a partial amendment of the Educational Personnel Certification Law, measures concerning expiration and withdrawal of teacher certificates were enhanced. For example, any teacher who is given a dishonorable discharge loses the teaching certificate. This amendment was enforced in January 2003.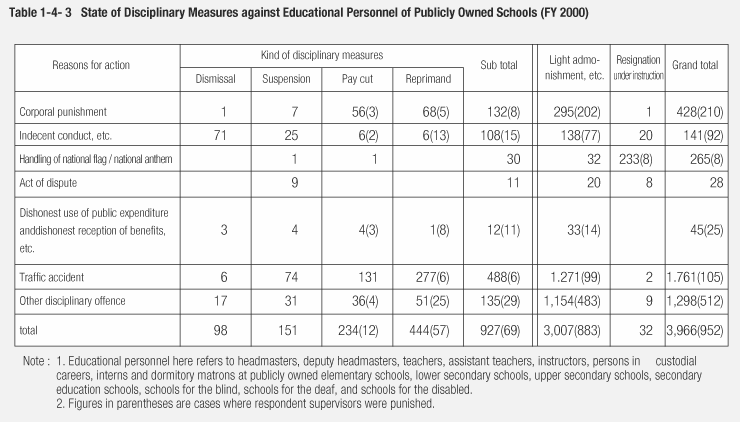 ---
PREVIOUS
NEXT
---
(C)COPYRIGHT Ministry of Education, Culture, Sports, Science and Technology