---
PREVIOUS
NEXT
---
Part2 Educational Reform Q&A
Q62: Recently,there has been much discussion about dwindling birth rates.It seems that alt-hough some people would like to have children,they are very conscious of the burden and therefore hesitate to marry and have chiidren.What strategies is the Ministry of Education,Science,Sports and Culture(MESSC)implementing?
---
A:At MESSC,we are implementing variousmeasures aimed at addressing dwindlingbirth rates,such as enhancing home education.
The present status of dwindling birth rates
In recent years,there has been a rapid decreasein birth rates in Japan.The number of childrenthat a woman will bear in her lifetime is calledthe total fertility rate.This began to fall sharplyfrom1950,reaching a record low of1.38in1998.This is far lower than the total fertility rateneeded to maintain the current population infuture,which is2.08( the diagram on theright ).
MESSC measures to address dwindlingbirth rates
Against this backdrop,the Government of Japan has taken various measures to address dwindling birth rates,beginning with the promotion of the Angel Plan from1994and the Cabinet Council on Promoting Measures to Address Dwindlings Birth Rates established in May1999.In order to enhanee strategy to address dwin-dling birth rates,MESSC is implementing the National Children's Plan(Emergency Three-year Strategy)for creating a structure to promote parent-child activities and provide a quality en-vironment for raising children in the local com-munity,and the other measures outlined below.
Implementing hands-on projects to promote exchange and interaction between lower and upper secondary school students and young children by supporting the daycare provided by lower and upper secondary students.
Conducting research and surveys on daycareat kindergarten outside teaching hours(
SeeQ61
).
Supporting kindergartens that are conductingresearch and surveys into strengthening theirfunctions as community infant educationcenters by running parenting advice sessionsand holding open days for children who havenot yet started kindergarten and their parents(
See Q61
).
Publishing and distributing the Home Educa-tion Handbook to parents of infants and theHome Education Notebook to parents of ele-mentary and lower secondary school children(
See Q7
).
Establishing a telephone counseling systemoffering24-hour advice for parents to respondto parents' concerns about child-rearing(
SeeQ7
).
Publishing and distributing leaflets to provide the generation of boys and girls who will next be parents with an understanding of the joy and significance of raising children.
Enhancing the Japan Scholarship Founda-tion' s programs in order to reduce the burdenof educational expenses and allow students tostudy independently(
See Q36
).
In addition,special grants to address dwindling birth rates were provided in the supplementary budget for FY1999 for daycare and education projects tackling the problem.Projects relating to education that are eligible for grants include the rapid provision of equipment at kindergar-tens,the creation of an environment tailored to providing daycare services at kindergartens,the provision of space for children(such as infant and child rooms)at educational,cultural,sports and other public facilities,and the implernenta-tion of creche services.The realization of meas-ures to address dwindling birth rates is expected in the municipalities.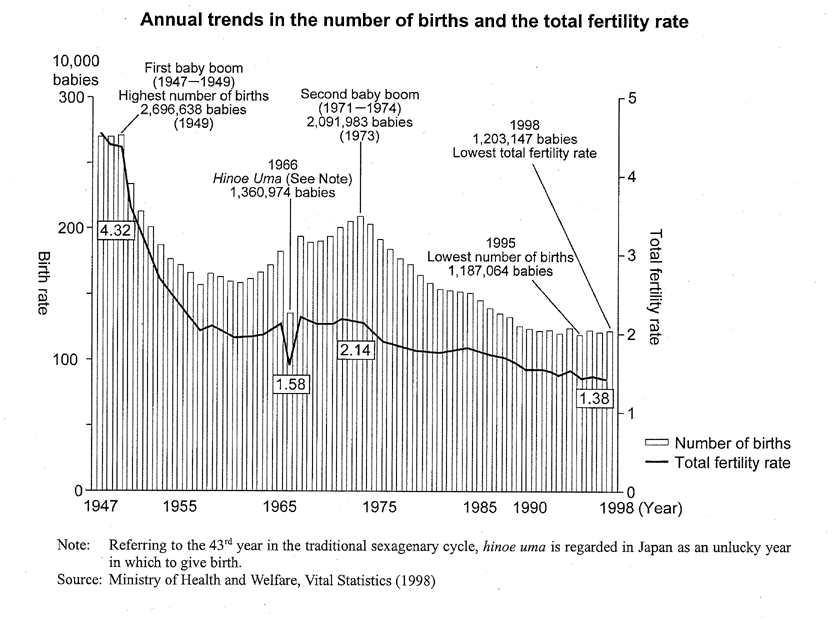 ---
PREVIOUS
NEXT
---
(C)COPYRIGHT Ministry of Education, Culture, Sports, Science and Technology