---
PREVIOUS
NEXT
---
Part2 Educational Reform Q&A
Q61: Is it possible to diversify the functions of kindergartens,such as by assisting local famili-es where both parents work and households with young children?
---
A:The following approaches are being taken"bykindergartens to assist with raising children.
Parenting support activities at kindergartens
Kindergartens are using their function as spe-cialized pre-school education institutions to car-ry out parenting support activities,not only for the parents of students,but also for local people.For example,programs include running par-enting advice sessions with kindergarten teachers and counsellors,holding open days for local chil-dren and their parents and providing broad com-munity access to their grounds and buildings.Through these kinds of activities,kindergar-tens are thus playing a role as local pre-school education centers.
Examples of Parenting Support Activities at Kindecgartens
Parenting consultations by teachers and specialists
Establishment of extension courses on parenting
Support for parenting group activities
Establishment of open days for children yet to attend kindergarten and their parents
Community exchange with the elderly,volunteer groups,parenting groups,etc.

Daycare outside hours
The standard kindergarten day is four hours,and children usually go home early in the afternoon.However,some kindergartens provide daycare after the end of the normal school day in respon-se to the needs of the community.During day-care,the children can spend time with friends and teachers in a home-like atmosphere which considers educational needs.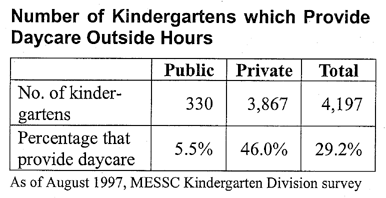 Strengthening Cooperation between Kin-dergartens and Daycare Centers
Daycare centers are facilities that look after children who need care.In cooperation with daycare centers,kinder-gartens have been carrying out more integrated support for raising children.For example,the Ministry of Education,Sci-ence,Sports and Culture(MESSC)and the Ministry of Health and Welfare have produced cooperative plans for measures that include the implementation of collaborative projects to sup-port parenting by kindergartens and daycare centers,and the implementation of joint training of kindergarten teachers and daycare workers,and exchange of personnel aimed at improving standards.In addition,there are also examples of kin-dergartens and daycare centers sharing the same building or the same ground.MESSC and the Ministry of Health and Wel-fare are cooperating in the promotion of these measures.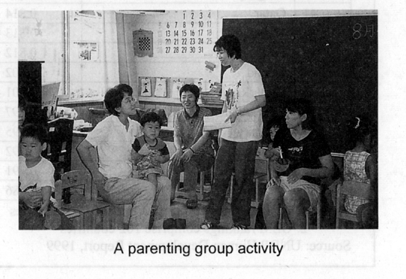 ---
PREVIOUS
NEXT
---
(C)COPYRIGHT Ministry of Education, Culture, Sports, Science and Technology