---
PREVIOUS
NEXT
---
Part2 Educational Reform Q&A
Q63: I understand that the government ministries and agencies will be reorganized in January 2001.What will happen to the Ministry of Education,Science,Sports and Culture(MESSC)?
---
A:MESSC is to merge with the Science andTechnology Agency(STA)to become theMinistry of Education,Science,Technology,Sports and Culture(tentative name).
Amidst the rapid changes taking place today-such as the aging society with dwindling birth rates,internationalization and the advance of informatization-the post-war administrative system,which functioned effectively in the past,is experiencing system fatigue.In addition,there have been criticisms about vertical administration and an over-expanded organizational structure.To achieve a simplified,transparent and ef-fective government administration that meets the needs of a new era,the current system has been completely reviewed,and a variety of adminis-trative reforms are being promoted,including the reorganization of government ministries and agencies,to create a system that can respond positively to both internal and external change.
The integration of MESSC and the STA
Scientific administration under the jurisdiction of MESSC has promoted a bottom-up style of scientific research based on freedom of thought for researchers,mainly at universities,in all academic fields.Meanwbile,science and technology admin-istration under the jurisdiction of the STA has mainly promoted research and development in response to socioeconomic needs to promote science and technology.With the heightened importance in recent years of fundamental research helping to forge a closer relationship between the administrations,the MESSC-STA merger will make it possible to promote an integrated science and technology policy utilizing the respective advantages of scientific administration and science and tech-nology administration.The Ministry of Education,Science,Tech-nology,Sports and Culture(tentative name)will conduct a reorganization of bureaus which will merge academic administration and science and technology administration and aim for further integration of the two.
Organization of the Ministry of Education,Science and Technology,Sports and Culture
In order to develop Japan as creative and active nation for the21 st
"century and to play a positive international role,it is important for the Ministry of Education,Science,Technology,Sports and Culture(tentative name)to make efforts to:
(1)promote educational reform that aims to develop a rich humanity;
(2)ensure the strengthening of comprehensive,active and systematic policies in science and science&technology,and integration and coordination in science and science&tech-nology research;
(3)enhance its cultural administrative functions.Considering these objectives,the new mis-sion of the Ministry of Education,Science,Technology,Sports and Culture(tentative name)is"to foster creative human resources with a rich humanity based on the promotion of education and lifelong learning,the promotion of science,sports and culture,the integrated promotion of science and technology and the appropriate ad-ministration of religion."


Everyone is welcome to visit MESSC!MESSC Tour At the Ministry of Education,Science,Sports and Culture(MESSC),we have tours inside the ministry so that elementary,lower and upper secondary school students can under-stand our work and learn things they nor-mally wonder about at school,as well as to let everyone get to know us.These days,many elementary,lower and up-per secondary school students visit us as part of group learning activities during their tours.
Tour times
Approximately one hour between10:00-12:00and13:00-17:00(weekdays only)
Content
(1)Briefing on the role of MESSC and an-swers to questions(about30minutes).
(2)A look inside the ministry,including the Minister's Office,the Office of Press and Information in the General Affairs Divi-sion,the press conference room and the Gakumon-no-ki Courtyard.

Numbers
Generally,numbers are limited to around20,but if you would like a tour with a larger number,such as a class or a year group,please contact us in advance.
Inquiries
Office of Press and Information,General Af-fairs Division,Minister's Secretariat,MESSC3-2-2Kasumigaseki,Chiyoda-ku,Tokyo100-0013Tel:03-3581-4211(ext.2171)Fax:03-3595-2017Trends in the Number of People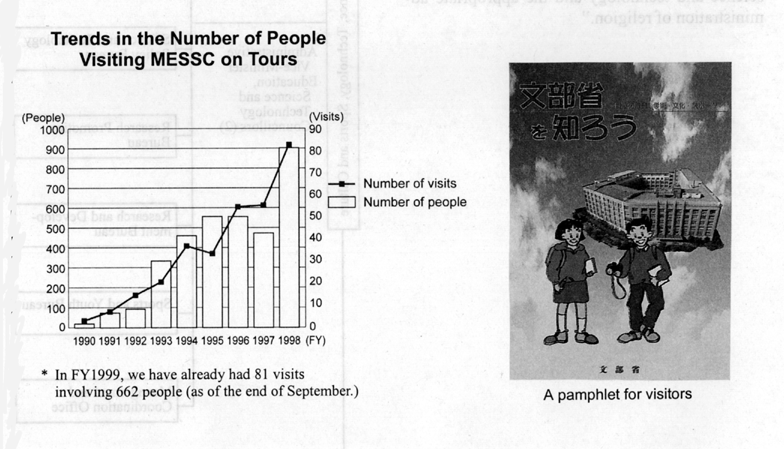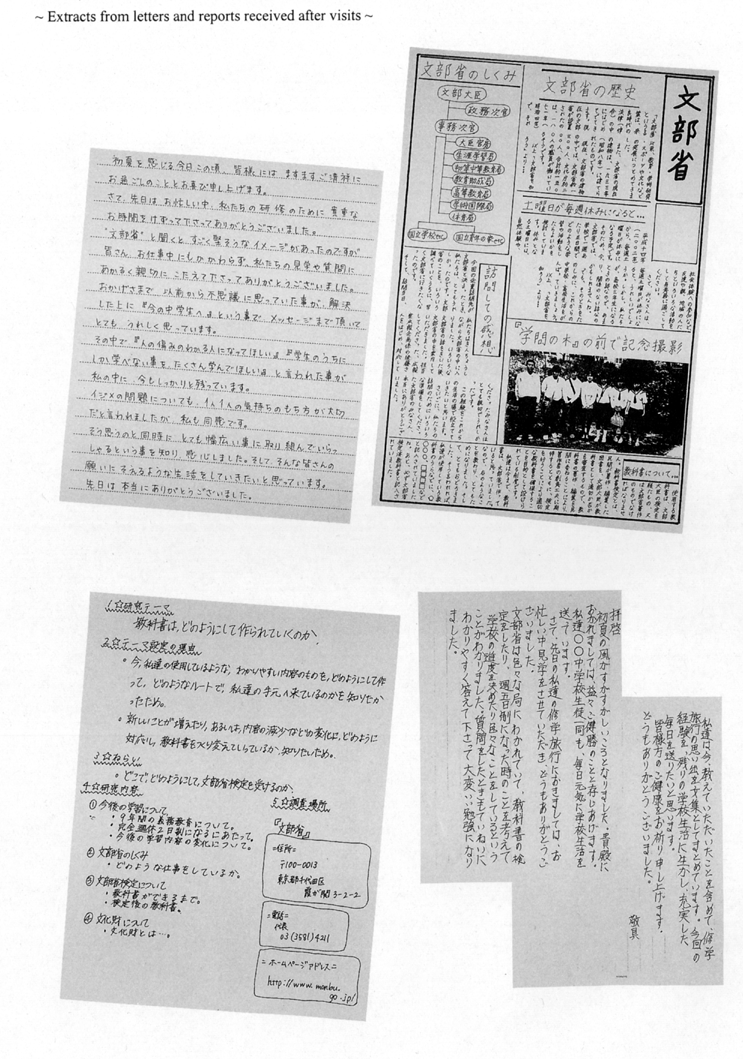 ---
PREVIOUS
NEXT
---
(C)COPYRIGHT Ministry of Education, Culture, Sports, Science and Technology