---
PREVIOUS
NEXT
---
Part2 Educational Reform Q&A
Q53: I must have spent hours each week studying English during six years of lower and upper secondary school,but I have still not mastered it.It may be that I didn'ttry hard enough,but shouldn'tEnglish classes focus more on communication?
---
A:T7Ve are trying to improve foreign languageeducation in the ways outlined below with agreater focus on fostering the ability tocommunicate in order to be used to speakingand listening in a foreign language and tocommunicate with foreigners actively.
Aiming to foster the ability to communicate
In the revised Courses of Study,Foreign Lan-guage has been deemed a compulsory subject for lower and upper secondary school.In particular,considering its wide usage as the language of international communication,English is a course subject at lower secondary school as a rule.In the past,we have aimed to develop a willingness to attempt active communication in a foreign language.In future,by focusing more on actual speaking and listening,we are working to develop the basic and practical ability to communicate in terms of daily conversation and simple information exchange,for example,using a foreign language for greetings and self-introductions,shopping and travel.In addition,children at elementary schools will also learn English conversation through the introduction of hands-on learning appropriate for elementary school students,such as having for-eign language contact and learning about foreign lifestyles and culture as part of international understanding education during the new Periods for Integrated Study.
Japan Exchange and Teaching(JET)Pro-gram
In order to expand opportunities to study lan-guage with students receiving direct language instruction from native speakers,the Ministry of Education,Science,Sports and Culture(MESSC)has run the JET(Japan Exchange and Teaching)Program since FY1987.The Program invites young foreigners to conduct language instruction in Japan in cooperation with the Ministry of Foreign Affairs and the Ministry of Home Affairs with local governments running operations.Under JET,in addition to team teaching with Japanese foreign language teachers mainly in lower and upper secondary schools,Assistant Language Teachers(ALTs)take part in a wide range of activities,including school club and extracurricular activities,and interacting with teaching staff.They may also work in elemen-tary schools.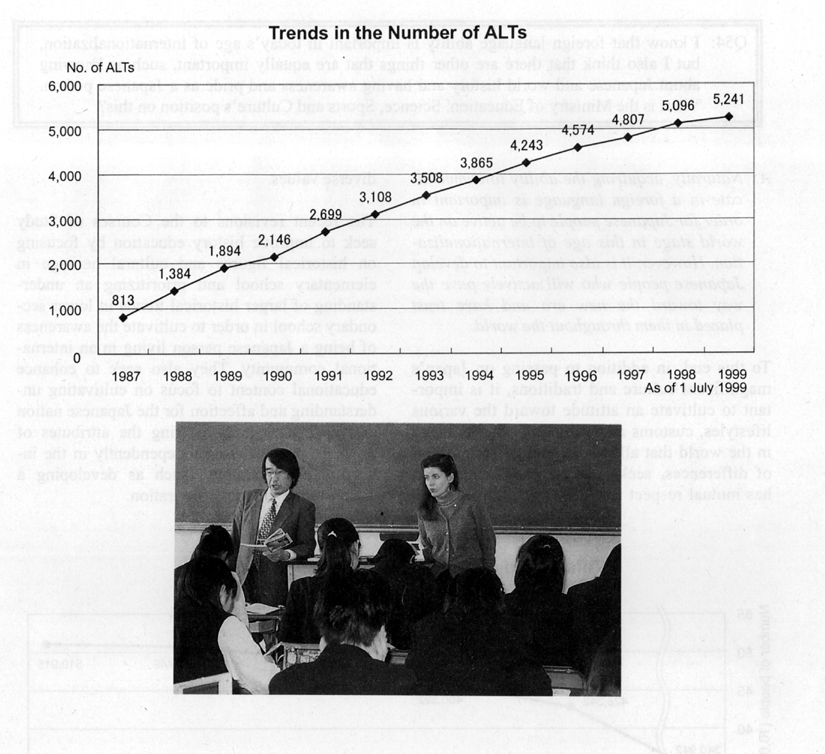 ---
PREVIOUS
NEXT
---
(C)COPYRIGHT Ministry of Education, Culture, Sports, Science and Technology