---
PREVIOUS
NEXT
---
Part2 Educational Reform Q&A
Q49: When I go to lower secondary school,I' d like to play a lot of my favorite sports,but the lower secondary school that I' m going to doesn' t have an extracurricular sports club I want to join.I sit going to be easier to play?
---
A:We are seeking to promote an environmentwhich responds to the diverse sports needsof children by developing an establishingcomprehensive community sports clubs andrevitalizing extracurricular sports dub ac-tivities in response to the decline in studerttnumbers.
The revitalization of extracurricular sportsclub activities
Due to the decline in student numbers and the fall in for extracurricular sports club instructors as a result of the decrease of new teaching staff and the aging of teaching staff,in some regions there are schools that can not maintain extracur-ricular sports club activities by themselves or are unable to maintain a wide range of sports activi-ties.In response to this situation,the Ministry of Education,Science,Sports and Culture(MESSC)is studying the implementation of joint extracur-ricular sports activities between a number of neighboring schools and working to promote the use of external instructors by providing subsidies to outstanding human resources from the local community to accommodate for the shortfall in instructors.
Development and establishment of compre-hensive community sports clubs
In addition,it has been pointed out that as sports in Japan are overly concentrated in school,there are fewer opportunities to play sport when peo-ple leave school.In order to remedy this situation,MESSC is working to enhance the sports environment in the community.In particular,we are promoting the development and establishment of compre-hensive community sports clubs where anyone can actively involves themselves in a wide vari-ety of sports.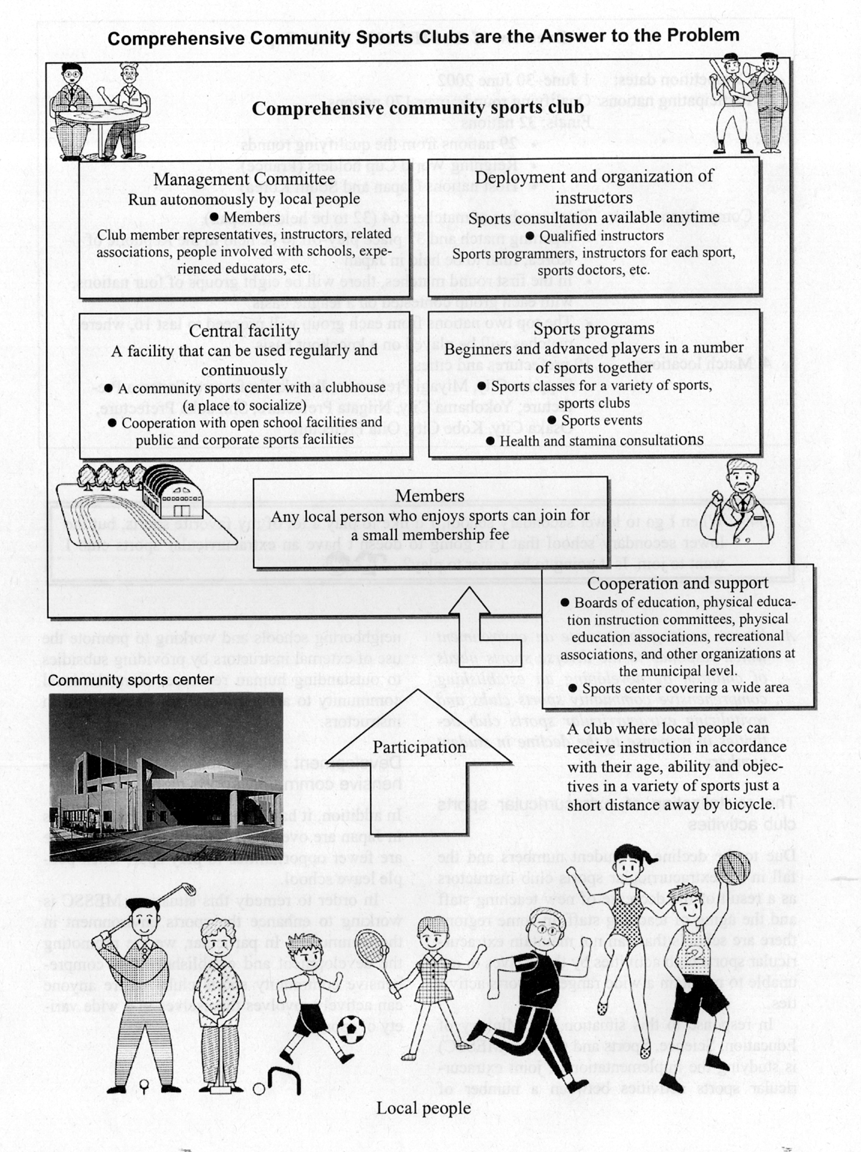 Narawa Sports Club in Handa City,Aichi Prefecture is an example of the attempt to revitalize extracurricular sports club activities through cooperation with a comprehensive community sports club.The Narawa Sports Club is a comprehensive community sports club independently managed by local residents in the Narawa area.Established in FY1996,the Club promotes cooperation among and integration of extracurricular sports club activities and community sports activities from the perspective of opening schools to the community and providing an environment for the development of children in the community as a whole.
Management of the Sports Club
1)Management of the club by local residents
2)Creation of an enriched club social life through the establishment of five departments,including events promotion and sporting circles
3)Use of schools as community assetsThe club manages and runs all school facilities in the evenings and at weekendsApproximately60%of teaching staff,including the Principal,take part in the man-agement of the club as volunteers

Cooperation
Revitalization of extracurricular sports club activities
1)Shift from compulsory to voluntary extracurricular sports club activities
2)Club activities take place on three weekdays only.
3)At weekends,only voluntary sports activities may be chosen at Narawa Sports Club.
4)Local people who take part in club activities participate in the teaching of sports ac-tivities as external instructors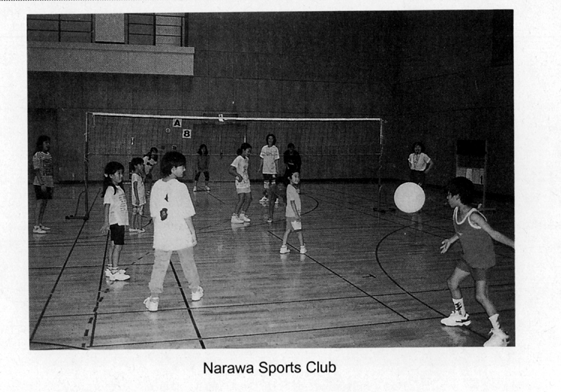 ---
PREVIOUS
NEXT
---
(C)COPYRIGHT Ministry of Education, Culture, Sports, Science and Technology