---
PREVIOUS
NEXT
---
Part2 Educational Reform Q&A
Q48: Japan made its debut in the FIFA World Cup soccer championships,and we were very impressed.In2002,Japan and South Korea will co-host the World Cup,and we are expecting even great erachievements for the Japanese national team.How are preparations going for the2002competition?
---
A:The Japan Organizing Committee for the2002 FIFA World Cup Korea/Japan(JA-WOC)is organizing and running the Japanside of the championships.
JAWOC is making various preparations con-cerning match scheduling,broadcasting facilities,ticket sales systems and policing systems in co-operation with the Korean Organizing Commit-tee for the2002FIFA World Cup Korea/Japan in order to enable players to perform to the best of their ability and all the spectators to watch games in comfort.In additiorr stadium preparations are being carried out at the ten venues in Japan where matches will be played.The central government has also provided a variety of support,including the Cabinet expres-sion of support in February1995for Japan's bid to host the World Cup and the establishment of the Special Measures Law for Supporting the2002World Cup(May1998).This will also be the first time that the World Cup has been co-hosted by two nations and the first time it will have been held in Asia.JAWOC,the cities hosting matches and the central government are all working together in the preparations need-ed to make the2002World Cup a success.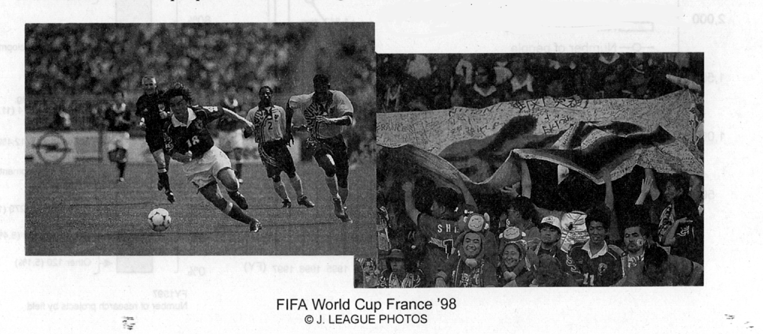 Overview of the FIFA2002World Cup
1.Competition dates:1June-30June20Q2

2.Participating nations:Qualifying rounds:over170nations Finals:32nations
29nations from the qualifying rounds
Reigning World Cup holders(France)
Host nations(Japan and South Korea)

3.Competition format:Total number of matches:64(32to be held in Japan)
Opening match and3rd place play-off to be held in the Republic of Korea,final to be held in Japan
In the first round matches,there will be eight groups of four nations,with each group contested on a league basis
The top two nations from each group will proceed to last16,where matches will be played on a knockout basis

4.Match locations:10prefectures and cities Sapporo City,Miyagi Prefecture,Toaraki Prefecture,Saitama Pre-fecture,Yokohama City,Niigata Prefecture,Shizuoka Prefecture,Osaka City,Kobe City,Oita Prefecture
---
PREVIOUS
NEXT
---
(C)COPYRIGHT Ministry of Education, Culture, Sports, Science and Technology