---
PREVIOUS
NEXT
---
Part2 Educational Reform Q&A
Q50: I think that Japan's cultural properties,such as works of art,are something to display to the world with pride.I think that we should introduce our cultural properties more overseas and increase interest in them.Are there any efforts being made in this regard?
---
A:In order to introduce cultural propertiesthe valuable assets of the Japanese people?more actively,we are advancing such as ef-forts as holding overseas art exhibitions on,for example,ancient works of art,andproviding information about cultural prop-erties on the Internet.
Overseas art exhibitions on ancient works ofart
With the aim of deepening understanding of Japanese history and culture and promoting in-ternational cultural exchange,we have held47overseas art exhibitions,from the San Francisco Peace Treaty Memorial Exhibition(Exhibition of Ancient Japanese Art.)in1951to the exhibi-tion entitled Edo:Art in Japan1615-1868held in1998.Overseas art exhibitions are major events which include national treasures and important cultural properties,and requests for exhibitions from other countries are increasing every year.Overseas aft exhibitions are an extremely im-portant form of cultural exchange as they build mutual understanding and trust between nations.That is why we will continue to work toward enhancing them in the future.Exhibitions that have been held recently are shown in the table on the right.
Information System on Cultural Propertiesand Art in Japan
Since1995information about cultural properiti-es and art works held at the Agency for Cultural Affairs,national museums and art galleries and cultural property research institutes has been stored in a database and publicized through the Internet on the Information System on Cultural Properties and Art in Japan accessible at http://www.bunka.go.jp(Japanese only).In FY1997,the Common Index System was established to enable people to search for informa-tion about cultural properties and art works publi-cized on the Internet by public and private mu-seums and art galleries by"Title,""Period"and"Owner,"as well as to obtain images of and refer-ence information about cultural properties from their computers at home.This database is available in English at http://www.tnm.go.jp/bnca/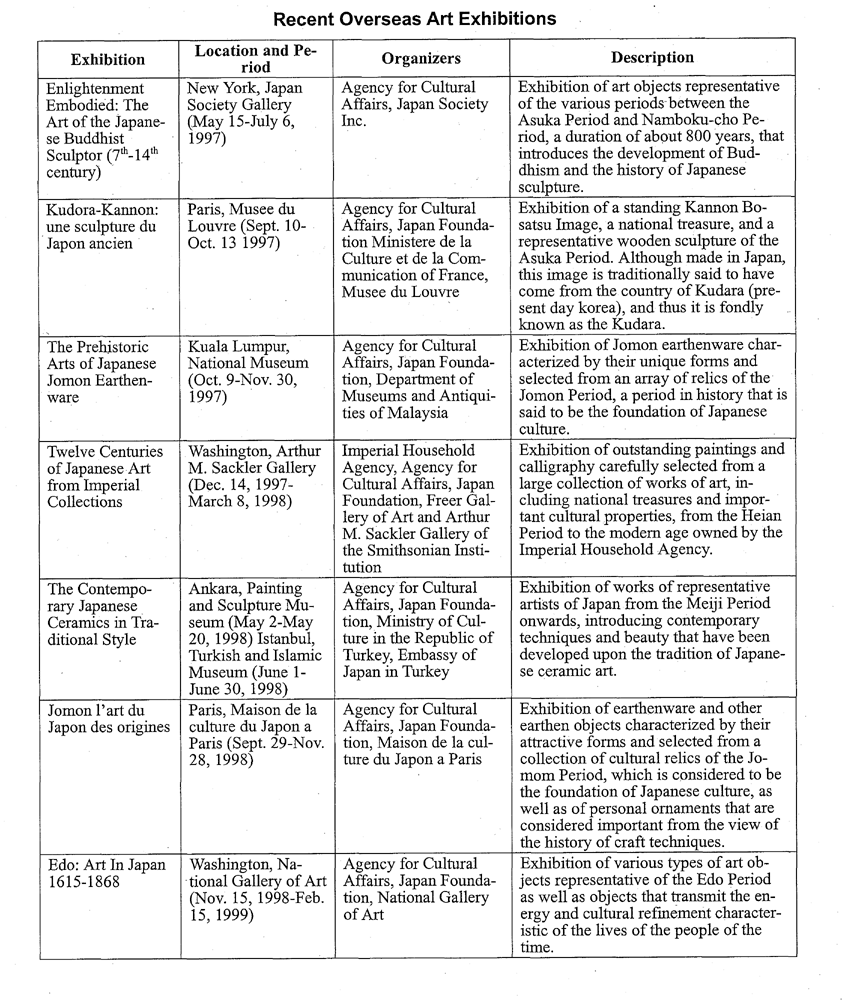 ---
PREVIOUS
NEXT
---
(C)COPYRIGHT Ministry of Education, Culture, Sports, Science and Technology