---
PREVIOUS
NEXT
---
Part2 Educational Reform Q&A
Q42: I hear that in recent years various steps have been taken to assess the ability and aptitude of candidates more thoroug hlyin university entrance exams.What steps have universities taken?
---
A:Recently,universities have improved theirentrance exams geared toward making abalanced assessment of the ability and apti-tude of candidates.
Universities have taken steps to diversify selec-tion methods and to add more dimension to evaluation criteria by using the National Center for University Entrance Examinations,imple-menting interviews,essays,proficiency tests and listening exercises and introducing admission on recommendation and special selection for re-turnees from overseas and adults.In addition,recently some universities have adopted a new experiment called the Admission Office Entrance Examination.After specifying the desired student profile as a qualification for applications,the university accepts a wide range of application documents,including a statement of reasons for application and theses.The university makes a comprehen-sive evaluation of the student's motivation to study at university,abilities and objectives by combining a detailed examination of the docu-ments submitted with thorough interviews and other techniques.The examination is therefore characterized by the objective of getting a better match between applicants and universities.Three national universities-Tohoku Univer-sity,the University of Tsukuba and Kyushu Uni-versity-will also adopt the Admission Office Entrance Examination from the FY2000 en-trance examinations.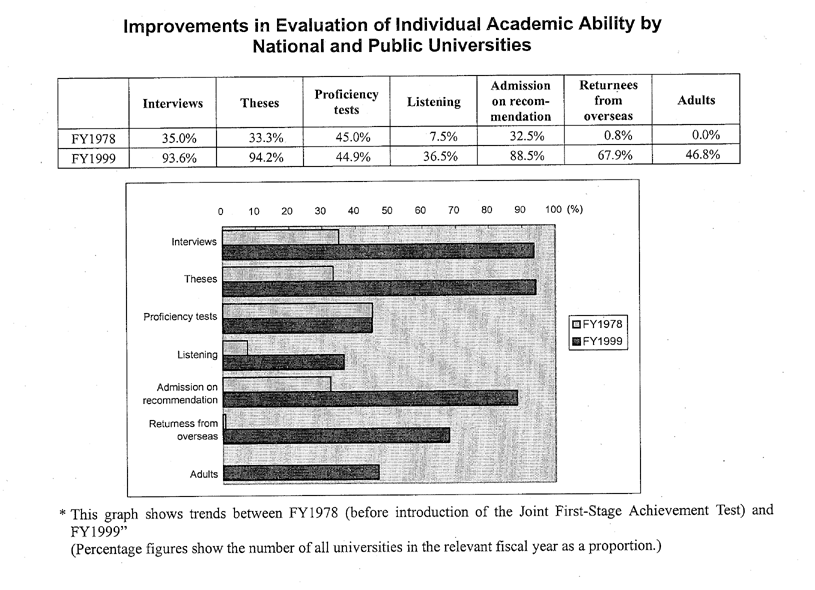 ---
PREVIOUS
NEXT
---
(C)COPYRIGHT Ministry of Education, Culture, Sports, Science and Technology