---
PREVIOUS
NEXT
---
Part2 Educational Reform Q&A
Q5: I have heard that the comprehensive five-day school week is to be introduced from FY2002,but even now with every second and fourth Saturday off,the children do not know what to do with themselves.Is the Ministry of Education,Science,Sports and Culture considering any special measures?
---
A:We are moving forward with measures for children geared towards the implementation of the comprehensive five-day school week from FY2002.
With the cooperation of the relevant ministries and agencies,we are promoting urgent and sys-tematic measures by FY2001 to develop an envi-ronment for raising children in the community and to establish a system for promoting parent-children activities.This will allow children to take part in a variety of hands-on activities on Saturdays and other school holidays.(National Children's Plan[Emergency3-year Strategy])The main features are as below.
Children will be able to view interesting pro-grams in real time at local libraries and pub-lic halls(Opening of Children's BroadcastingStations).
This will provide programs featuring direct discussions with athletes scientists and other people via satellite broadcasts at public halls,libraries,museums and children's halls on Sat-urdays and other school holidays.
Information about when and where weekendand summer holiday activities will be heldwill be readily accessible.(Establishment ofChildren's Centers).
We will publish information booklets aboutwhere and when various hands-on activities forchildren will be held and distribute them to postoffices and convenience stores so that childrenand parents can obtain them at their convenience(We plan to set up this system in around1000locations nationwide at the municipal level.)( See Q6 ).
Locations for children's learning opportuniti-es will be expanded.
We are working to expand hands-on learning opportunities and locations for children,includ-ing joint projects in collaboration with the rele-vant ministries and agencies shown in the dia-gram below.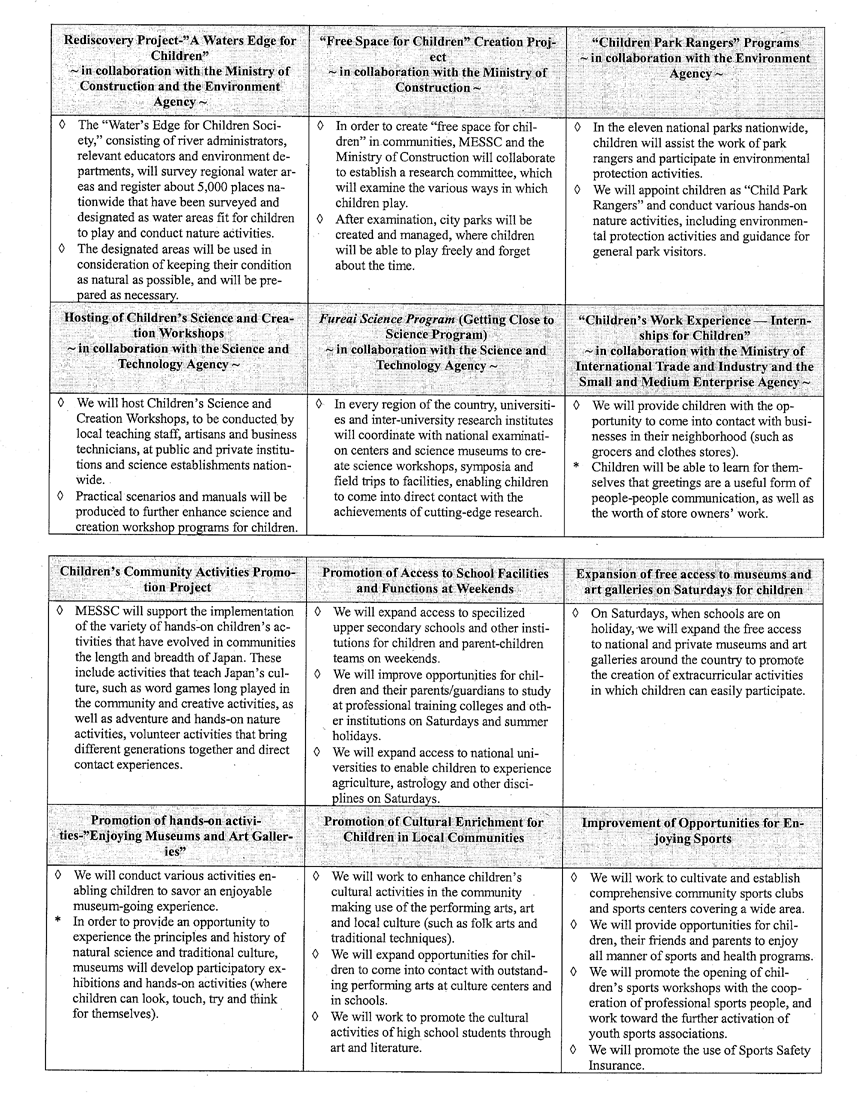 ---
PREVIOUS
NEXT
---
(C)COPYRIGHT Ministry of Education, Culture, Sports, Science and Technology