---
PREVIOUS
NEXT
---
Part2 Educational Reform Q&A
Q6: I would like my children to experience outdoor and daily-life activities at the weekends.How can I find out what is going on and where?
---
A:The ChiIdren's Center in your town will help you.
The results of an Ministry of Education,Science,Sports and Culture survey conducted in FY1998 demonstrated clearly that the more a child has an enriched experience of daily-life activities,helping out with housework and outdoor activi-ties,the greater the sense of morals and justice he or she is endowed with.It is therefore important to expand opportu-nities that promote experience of outdoor and daily-life activities for children.However,many people say that although they want their children to experience outdoor and daily-life activities,they do not know how and where to do it.To this end,Children's Centers will answer ques-tions as to what and where parents and children can do things together on Saturdays,which are school holidays.Children's Centers will:
1)gather information on outdoor activities,volunteer activities,reading clubs and par-enting groups for local children
2)publish the information they gather in booklet form and distribute the booklets to local convenience stores and post offices
3)provide counseling programs via telephone and other means in collaboration with the Government and private sector.

Children's Centers will be managed by a variety of community groups and organizations including local PTAs,youth,sport and cultural associations,non-profit organizations,business and local industry,schools,post offices and local volunteers.Within three years from FY1999,we aim to establish approximately one location for each municipal unit nationwide(a total of about1000locations nationwide).Currently,activities have begun in363loca-tions which cover959municipalities(30%of total municipalities).For details,contact the Lifelong Learning De-partment at your Prefectural Board of Education.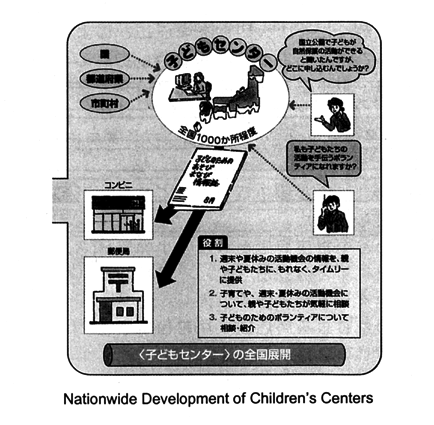 Children Helping at Local Shopping Centers-Child Internship Program-
As part of the National Children's Plan,theMinistry of Education,Science,Sports andCulture(MESSC)will implement the ChildInternship Program with the aim of providingchildren with the opportunity to develop aspi-rations and to consider their futures by expe-riencing various occupations and learning theimportance of working.It will be a jointproject conducted by MESSC,the Ministryof International Trade and Industry(MITI)and the Small and Medium Enterprise Agen-cy with the cooperation of the National Fed-eration of Shopping Centers Promotion As-sociations,the National Congress of Parentsand Teachers Association of Japan and theNational Federation of Kodomo-Kai.
While the new project was set to begin in FY1999,the two shopping centers below have begun implementation early.
Yanaka Ginza Shopping Center,Taito-ku(Yanaka Elementary School PTA) Twice on Saturday,27February1999,and Saturday13March1999 Eleven4th-6th grade elementary schoolstudents participated on each occasion
Togoshi Ginza Shopping Center,Shinagawa-ku(Togoshidai Lower Secondary SchoolPTA) Saturday,27February1999 Twenty-one1st and2nd grade lower secondary school students participated

The shopkeepers told us how it went for the children who participated.
(At the pharmacy)
The children were impressed with a machine for wrapping medicine powders in packages automatically.They were surprised at the number of people who came into the store for a variety of reasons,not just to buy medicine.They attached price labels to products and worked the cash register.
(At the bakery)
The children packed the cakes in boxes awkwardly.They seemed to be very worried about squashing the cakes.At the beginning,they were softly saying"Hello"and"Thank you,"and as the time passed,they gradually became a little louder.Customers in the shop encouraged them kindly.
(At the florist)
The children worked hard removing rose thorns.They were very pleased when the ro-ses were sold.It was a moment when they re-ally experienced reward for their efforts.It seems that they had had a rosy view of flo-rists.But Pm sure they realized that the work involves a variety of difficulties after ending their work experience.
(At the toy store)
The children learned some ideas for display-ing products and tried hard to help with the wrapping.
(At the bookstore)
The children were surprised at the variety of work,which was more than they had ex-pected,such as putting supplements in maga-zines and removing the bands from paper-back books and new books.At a glance,there was a lot of work that seemed a bit boring,such as arranging the books,but the children must have actually experienced what it is to sell something.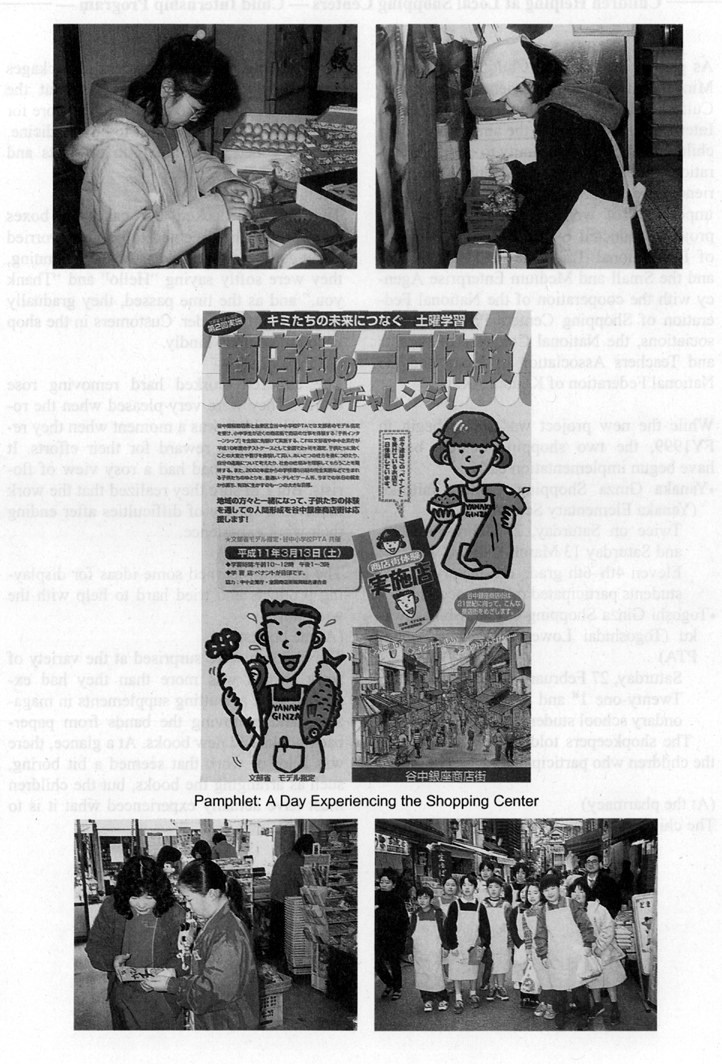 ---
PREVIOUS
NEXT
---
(C)COPYRIGHT Ministry of Education, Culture, Sports, Science and Technology