---
PREVIOUS
NEXT
---
Part2 Educational Reform Q&A
Q4: I have heard that there is a"University of the Air" that allows you to gain credits studying at home.What sort of university is it?
---
A:The Urtiversity of the Air is a formal university that holds classes via television and radio.There are currently73,000students studying in a wide range of fields and more than13,000graduates.
Anyone over the age of18can be admitted re-gardless of their academic credentials.It is a university where anyone,including new upper secondary school graduates,working people and housewives can study,and there is no entrance examination.As long as compulsory education has been completed at the time of admission,anyone can be admitted as a one-year or one-term non-degree student.In addition,even stu-dents who do not have the qualifications for university admission may be admitted as regular students at the University of the Air provided that they gain the basic16or more credits as a one-year or one-term non-degree student.
Two Annual Admission Intakes
One year is divided into two terms-April-September and October-March,and the cur-riculum is organized for each term.Registration for classes is therefore on a term basis,with students admitted in April or October depending on their convenience.
Large Range of Subjects Offered
The Faculty of Liberal Arts,which comprises an epoch-making six specialist areas,offers ap-proximately300appealing courses through radio and television in a wide range of fields,includ-ing humanities,social studies,nature and indus-try in order to cultivate an enriched education and deepen specialist learning applicable in daily life.
Classes are broadcast on television and radio from6:O0am until12midnight.Students who miss classes can catch them again on video or audiotape at the Learning Center in their pre-fecture.Learning Centers are also open on Saturdays and Sundays(closed Mondays and public holidays).
[Regular students]Regular students enroll in the subjects needed to graduate from university.They enroll for four years or more,and achieve university graduation upon gaining124or more credits,including schooling,and are awarded with a B.A.in Liberal Arts.[0ne-year non-degree students and one-term non-degree students]One-year non-degree students and one-term non-degree students register for one year and one six-month term respectively,studying the subject of their choice.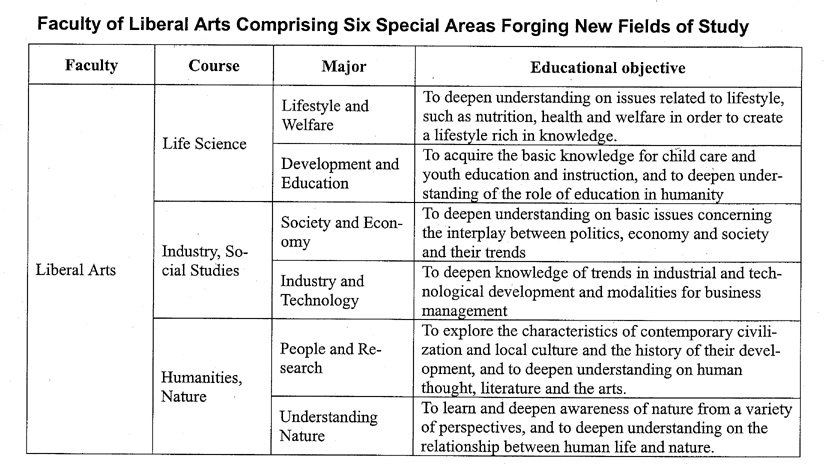 *Nationwide Expansion of Broadcast Area
Since October1998,all homes throughout Japan are able to receive university classes via satellite broadcast.For further information pease contact The Uni-versity of the Air,Tel:043-276-5111http://www.u-air.ac.jp/
---
PREVIOUS
NEXT
---
(C)COPYRIGHT Ministry of Education, Culture, Sports, Science and Technology