---
PREVIOUS
NEXT
---
Part2 Educational Reform Q&A
Q3: I have been thinking of going back to university or graduate school to improve my skills as it has been ten years since I graduated from university and started working.Is there any special system?
---
A:Universities and graduate schools are implementing the following systems and measures to respond to the needs of adults who want to acquire high levels of knowledge and technical skills throughout their lives.
Special Selection Procedures for Adults
This is a special entrant selection system for adults based on interviews.Evening and Day/Evening Programs in Un-dergraduate and Graduate Courses These are systems which make it easy for adults to take courses.They include holding classes solely in the evenings,in the daytime and the evenings depending on student's convenience and establishing satellite classrooms in locations to which students can conveniently commute.
Admittance of One-term Non-degree Stu-dents
In this system,students can take classes as and when they like and acquire credits on comple-tion of a specific subject or course.Expansion of Extension Courses Universities and other institutions are expanding their extension courses,which naturally come from educational and research functions,to provide learning opportunities for adults to ac-quire occupational knowledge and skills.
Establishment of Correspondence GraduateSchool
It has been possible to establish a correspon-dence masters degree course since FY1998.This measure was taken to respond to the growing demands of adults who would like to study at graduate level but can not attend college due to geographical and time restrictions or other cir-cumstances.Six departments were established accordingly at four universities in FY1999.
Seitoku University:Child Studies department
Meisei University:Humanities department
Bukkyo University:Humanities,Educationand Social Studies departments
Nihon University:Integrated Social Informa-tion department

The Nationwide Expansion of the Universityof the Air
The University of the Air is a formal university which allows people in Japan to study via radio and television.Previously,the reception area for classes was limited to part of the Kanto region,but as of January1998,the reception area na-tionwide has expanded nationwide using satellite broadcasts,and learning centers have been es-tablished in all prefectures.
Consequently,students aiming to graduatehave since been enrolled throughout Japan from October 1998( See Q4 ).
Many universities are also opening their libraries and other facilities to local people.Furthermore,where certain training courses designated by the Minister of Labour are taken at a student's own expense,the following were added to the system for paying part of the neces-sary costs in June1999;
1.Course registration systems held by graduateschools and other institutions of higher edu-cation
2.Evening graduate schools
3.Institutions that mainly hold evening coursesout of day/evening program graduate schools
4.Correspondence graduate schools
5.A system in which those who have complet-ed training courses are entitled to be recom-pensed for part of the expenses paid

When adults study at university or graduate school,they can utilize these kinds of systems.
Due to clear objectives for studying based on business experience,adult enrollment in univer-sity is expected to provide stimulation for regular students and to vitalize educational and re-search activities in universities.A positive response is anticipated from universities.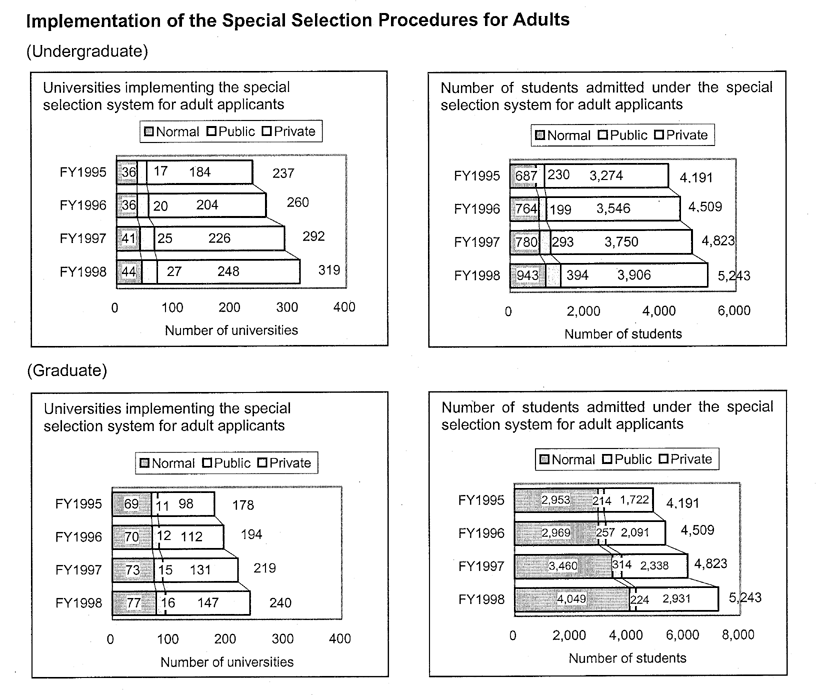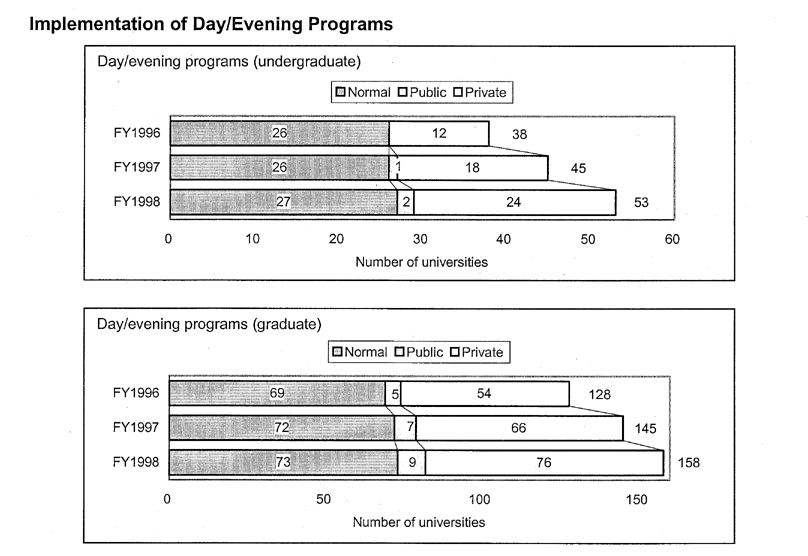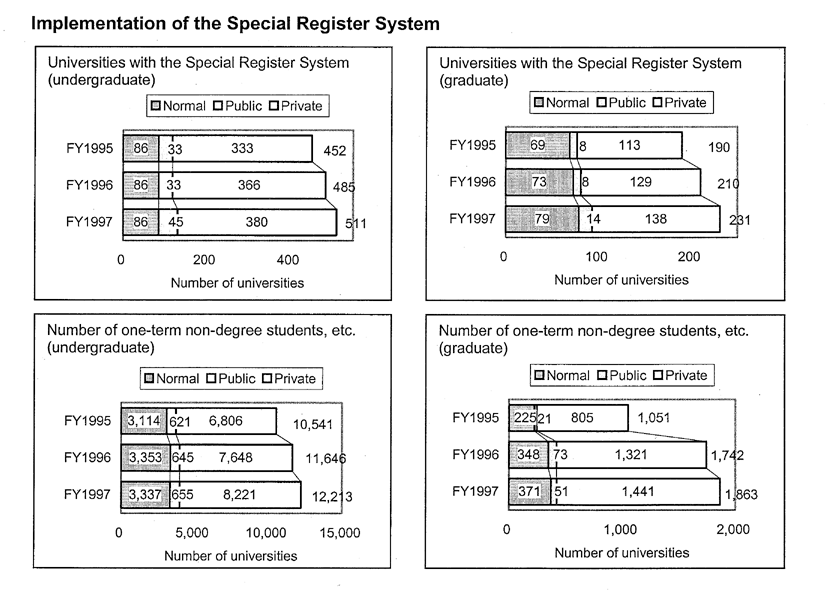 ---
PREVIOUS
NEXT
---
(C)COPYRIGHT Ministry of Education, Culture, Sports, Science and Technology