---
PREVIOUS
NEXT
---
Part 1 Using Knowledge to Create Society and Economy for a New Era
Chapter 2 In the Era of Mega-Competition for Knowledge
Section 1 Foreign Countries Devoting Effort to Social and Economic Development Through Innovations
1. Intensifying International Competition Surrounding Innovation and Innovation Systems
---
(1)
The Advent of the Era of Mega-Competiton
Today, with the developments in IT and the spurt in cross-border corporate activities, the world economy is facing a period of mega-competition. The world has entered a phase of shifting from competition centering on developed nations to competition that includes developing nations, and in which international competition will further intensify. Against this background of new countries and regions making inroads into the world economy, companies are seeking the optimum environment, and making capital and personnel move drastically. Cross-border alliances of corporates and corporate takeovers are also gaining momentum.

(2)
Innovation Systems
The process by which innovations are generated is related to a variety of factors outside companies, and the combinations of these are referred to as innovation systems. In the process by which technology is commercialized and launched onto the market, the social and economic systems, which are different in individual countries, have a great impact, so the innovation systems of countries are referred to as national innovation systems ( Fig. 1 ).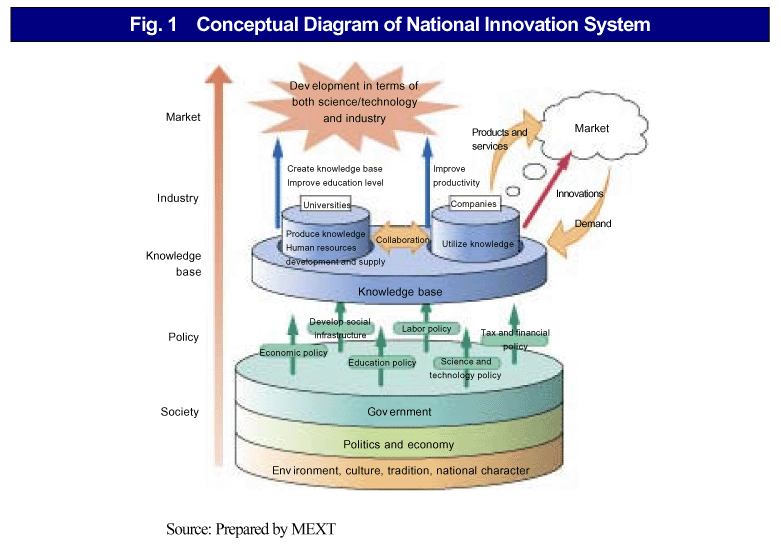 Today, against the background of intensifying world competition, initiatives are underway with the awareness not merely of increasing the quantity of research and development resources such as research expenditure and research personnel, but of correcting systematic defects that lower the relative efficiency of research and development efforts, interfere with the flow of knowledge and technology, and hamper the function of innovation systems. In engaging in such initiatives, it is necessary to incorporate the outstanding parts of the innovation systems of other countries, and establish national innovation systems best suited to the countries concerned.
---
PREVIOUS
NEXT
---
(C)COPYRIGHT Ministry of Education, Culture, Sports, Science and Technology