---
PREVIOUS
NEXT
---
Part 1: Towards the 21st Century
Chapter 3: The Relationship Between Science and Technology and Society in the 21st Century
Section 2: Responding to a Knowledge-Based Society
3. Promotion of Basic Research
---

In the 21st century, it is necessary to further promote basic research in order to create revolutionary science and technology knowledge.

In order to continue to generate creative research results, it is important to build a flexible and competitive research environment that is opened both domestically and internationally, while at the same time working to improve the quality of research personnel.
(Enhancement of Competitive Research Environment)

The competitive research funds- that Japan has enhanced recent years has been more than 100 million yen over three to five years per case in majority, but there are many researchers who want to do research in research laboratory units or individual units ( Fig. 12 ), and the majority of researchers desire a scale of funds from 5 million to 20 million yen per year ( Fig. 13 ). Based on the situation that medium size research funds are required, it is necessary to enhance competitive research funds that is flexible, and easily to use.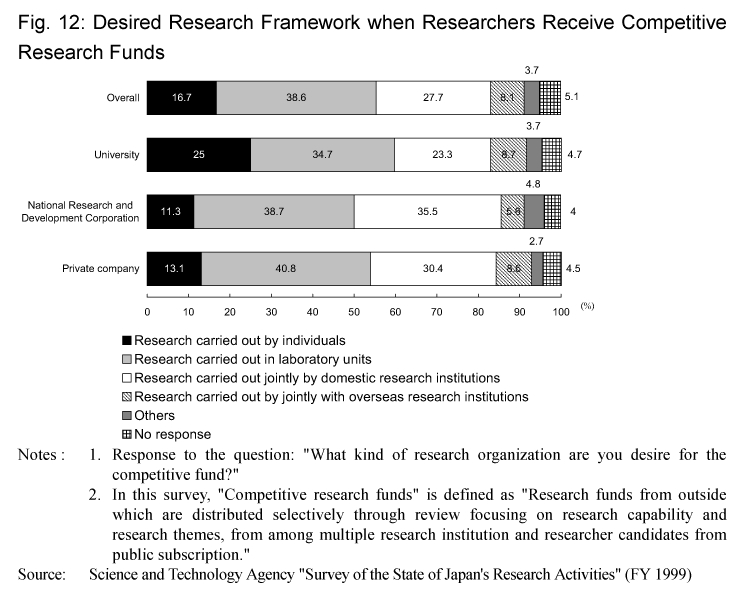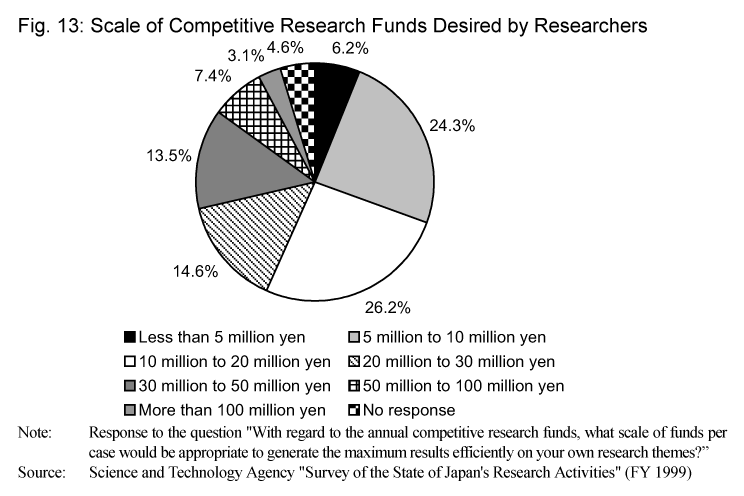 Many researchers also feel there are problems in securing research space in universities and in the support framework for clerical work such as operation of funds in the National Research and Development Corporation and private companies, so it is necessary to develop support frameworks according to the circumstances of individual organizations to utilize obtained research funds effectively and to enable research smoothly.
(Ensuring Fluidity of Research Personnel)

Until now, the government has introduced tenured job appointments for national universities and the National Testing and Research Institutions, but there is still only a small number of research organizations that have realized a fluidity environment ( Fig. 14 ).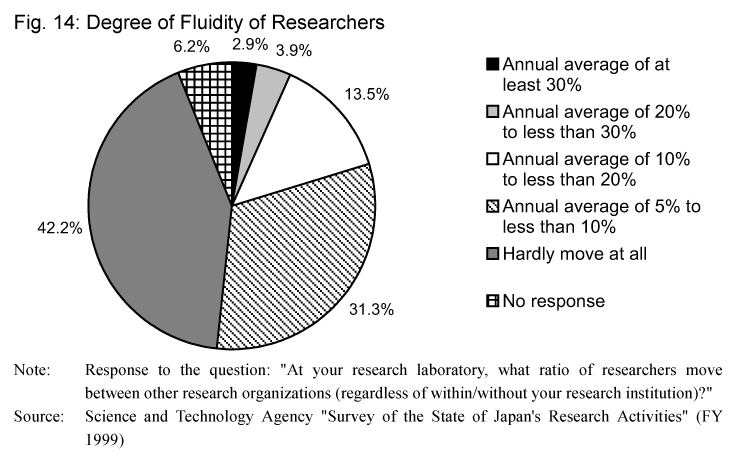 In the future, in addition to creating an environment in which researchers can concentrate on their research without bothering with miscellaneous matters, the impartial evaluation of results and the development of a flexible research framework that realizes appropriate conditions and salary in accordance with the evaluated results are necessary to increase personnel fluidity.
(Nurturing of Young Researchers)

In Japan, efforts are being made to nurture and enhance post doctorates and other young researchers, and quantitatively situation becomes satisfactory.

However, post doctorates have not achieved an established rank within society, and may not necessarily be fulfilling their original role. Since post doctorates are keys to promote the fluidization in the research workplace, efforts are required to promote the fixation in the research workplace.
---
PREVIOUS
NEXT
---
(C)COPYRIGHT Ministry of Education, Culture, Sports, Science and Technology