---
PREVIOUS
NEXT
---
MENTAL AND PHYSICAL HEALTH AND SPORTS
CHAPTER3 TOWARD THE REALIZATION OF LIFELONGPARTICIPATION IN SPORTS
SECTION1: STAMINA AND ABILITY TO EXERCISE OF JAPANESE PEOPLE AND THE IRINTEREST IN SPORTS
1. Stamina and Ability to Exercise of Students and Their Interest in Sports
---
(1)
Students';Stamina and Abililty to Exercise
In recent years,the basic stamina and ability to exercise of students has been on a long-term downward trend as the opportunities and spaces for physical activity in daily life diminish.
The findings of the Sports Test conducted byMESSC reveal tbat the stamina and ability to exercise of students,while improving from around1965to1975,and staying unchanged from1975to1985,have deteriorated in varying degrees in almost allschool grades since then( see Figures3-1 , 3-2 ).
According to the"Opinion Survey on Stamina and Sports"conducted by the Prime Minister's Office in October199774.2%of the respondents felt that today's children did not getenough exercise.As for the reasons,many citedthat today's children"spend a lot of time watching television and playing games instead ofplaying outside"or that they"do not have anytime because they are busy studying and going tojuku(cram schools)and private lessons"( seeFigures3-3 , 3-4
).At the same time,it was also found that there was a widening gap between students who were interested and actively participating in sports and those who were not.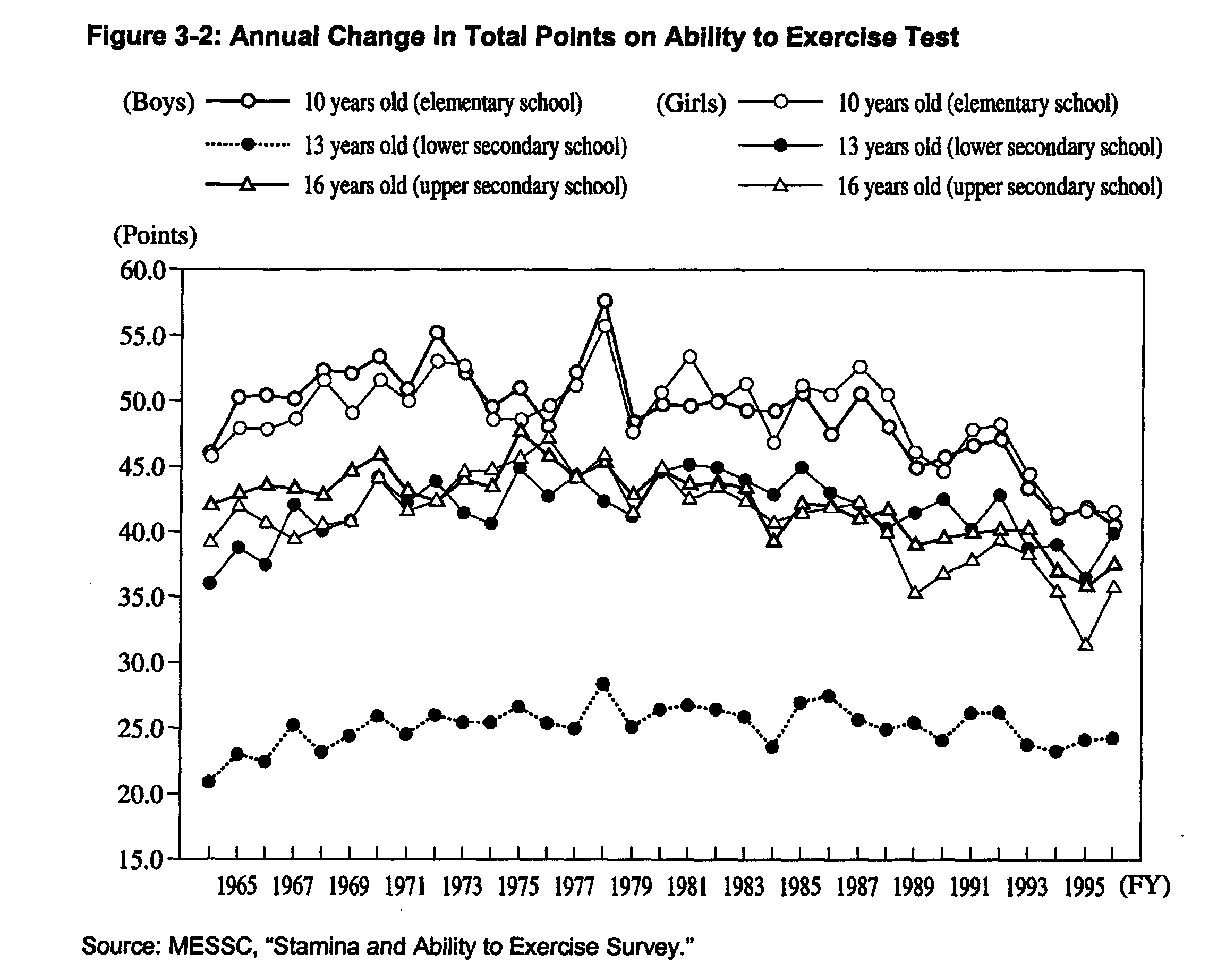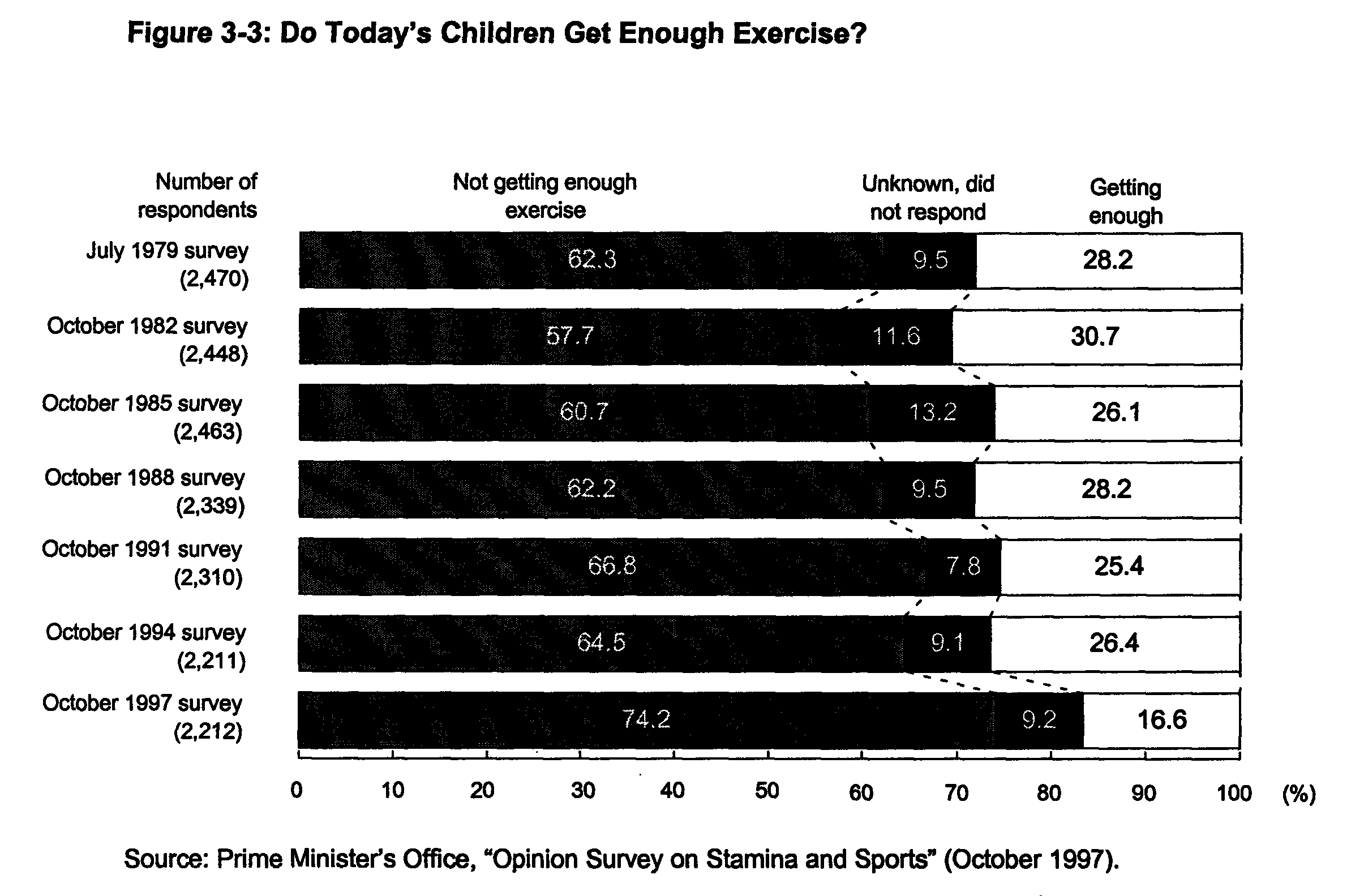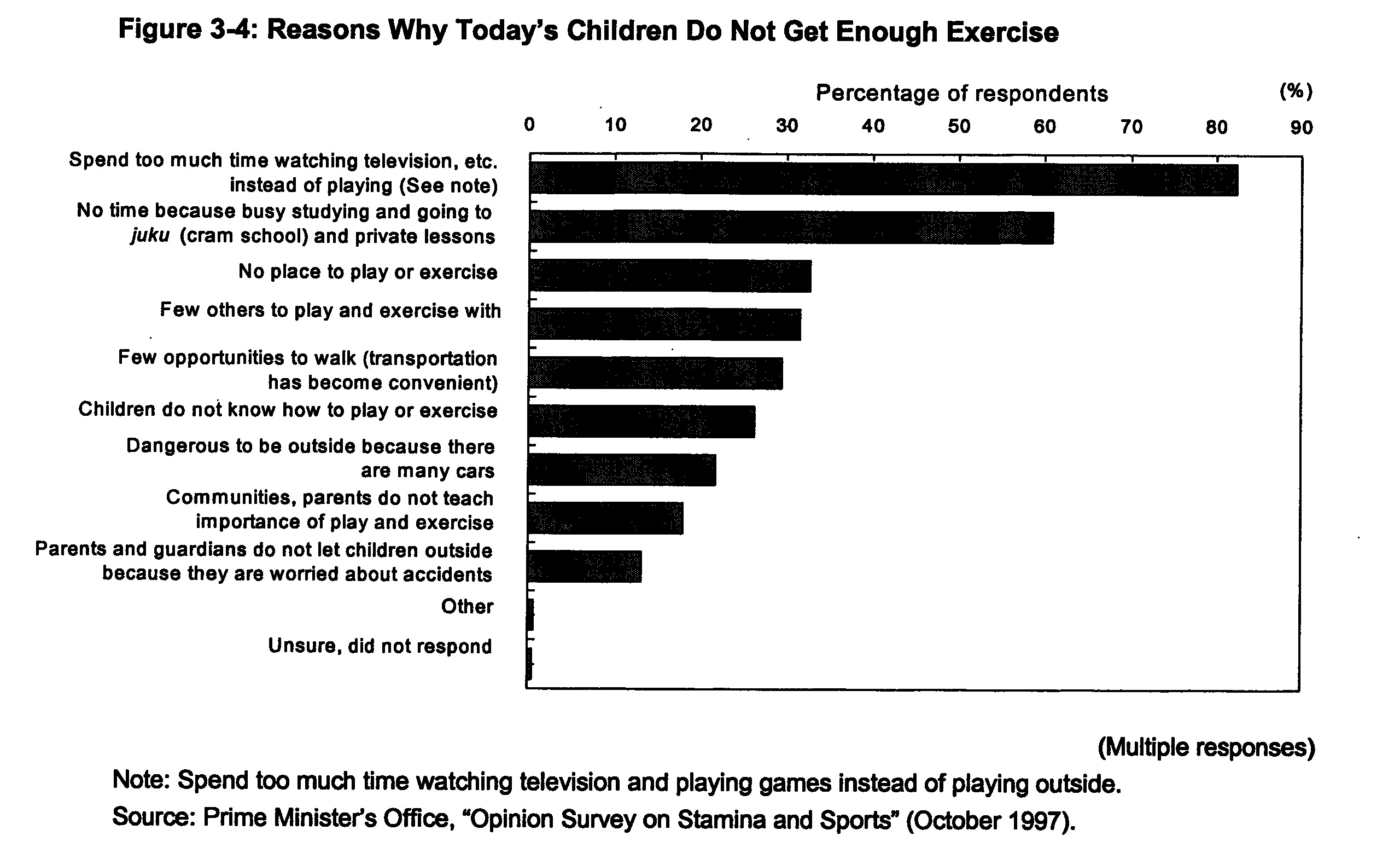 By comparing the stamina and ability to exercise of students by differences in the amount of exercise they get daily according to the findings of the Sports Test,it is clear that students who exercised almost everyday scored higher than students who did not exercise(see Figure3-5).
According to the findings of tbe MESSC"Survey on Health and Sports,"students whobelonged to extracurricular sports clubs or community sports clubs were more likely to haveconfidence in their stamina than students who didnot,showing that daily exercise marked the differences in stamina and the ability to exercise( see Table3-1 )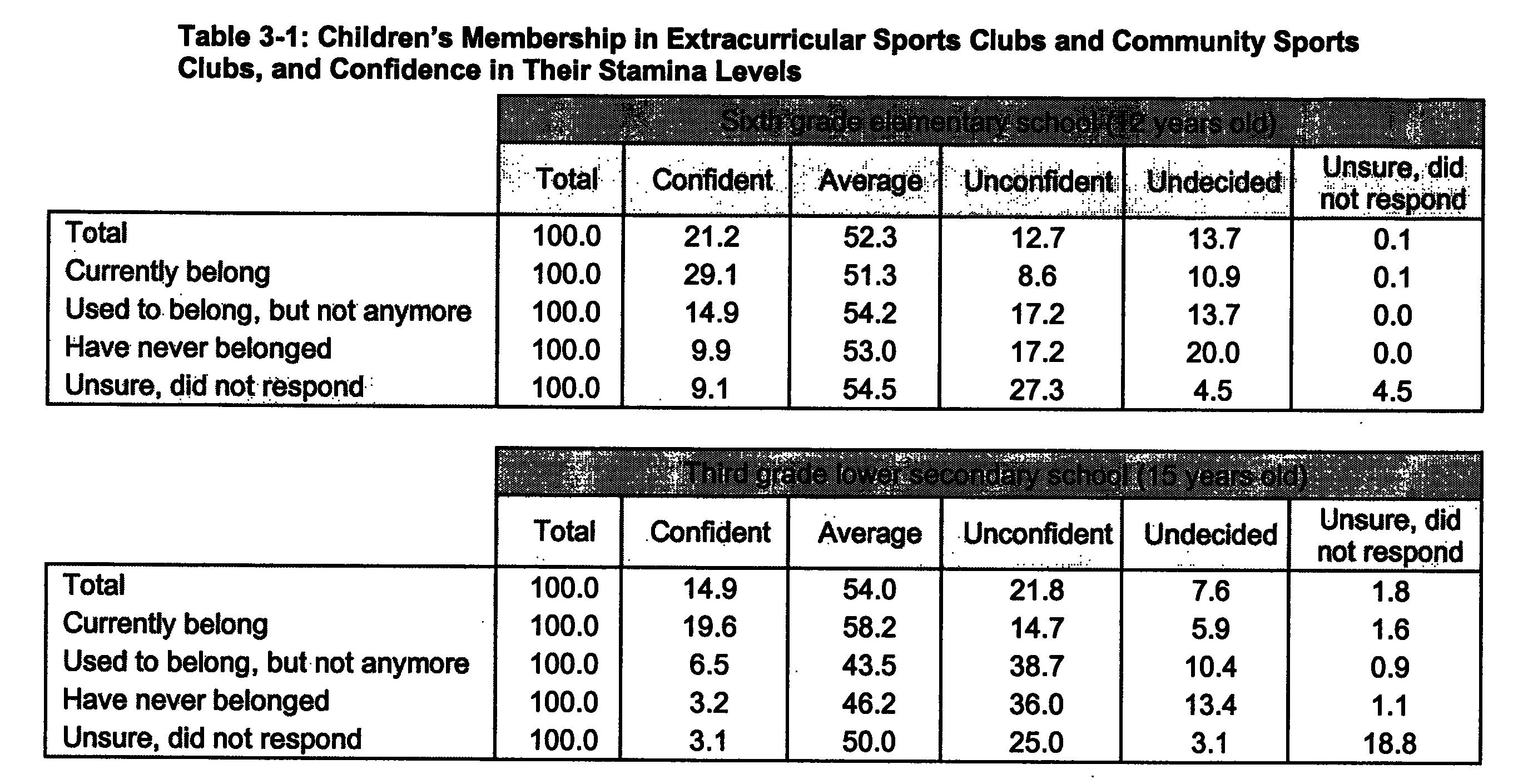 (2)
The Interest of Students in Sports
Students who were asked which were their favorite subjects in school ranked Health and PhysicalEducation at the top of their lists,likely because itprovides a special opportunity for students tomove their bodies( see Figure3-6 ).
For the reasons as to why they took part insports,many students responded"to promotehealth and stamina,"reflecting the health consciousness of students who exercise and the parents and guardians who encourage them to do so.Many also said"because exercise is fun"and"tobe with friends."It is notable that many lowerand upper secondary school students said"to reduce stress"( see Figure3-7 ).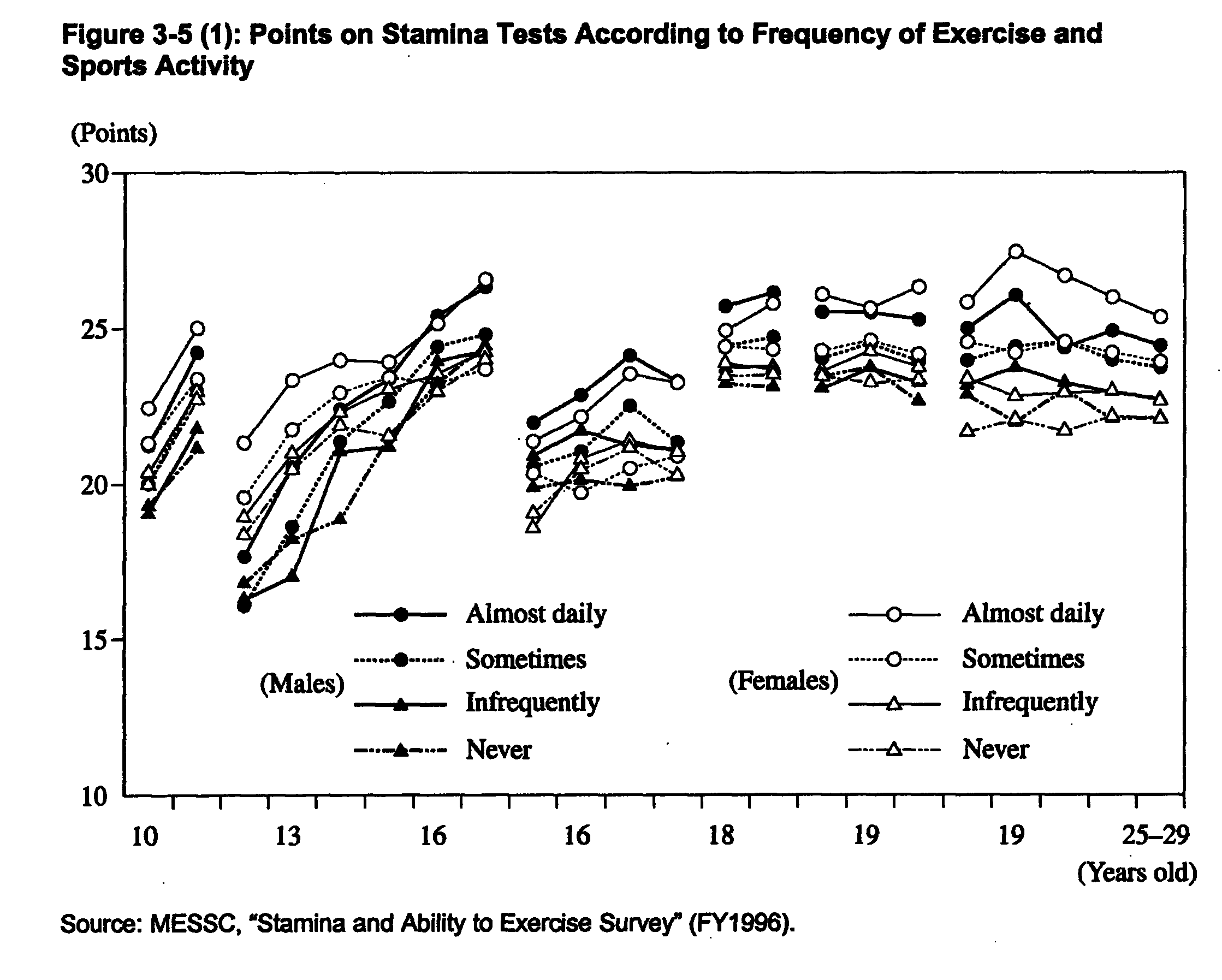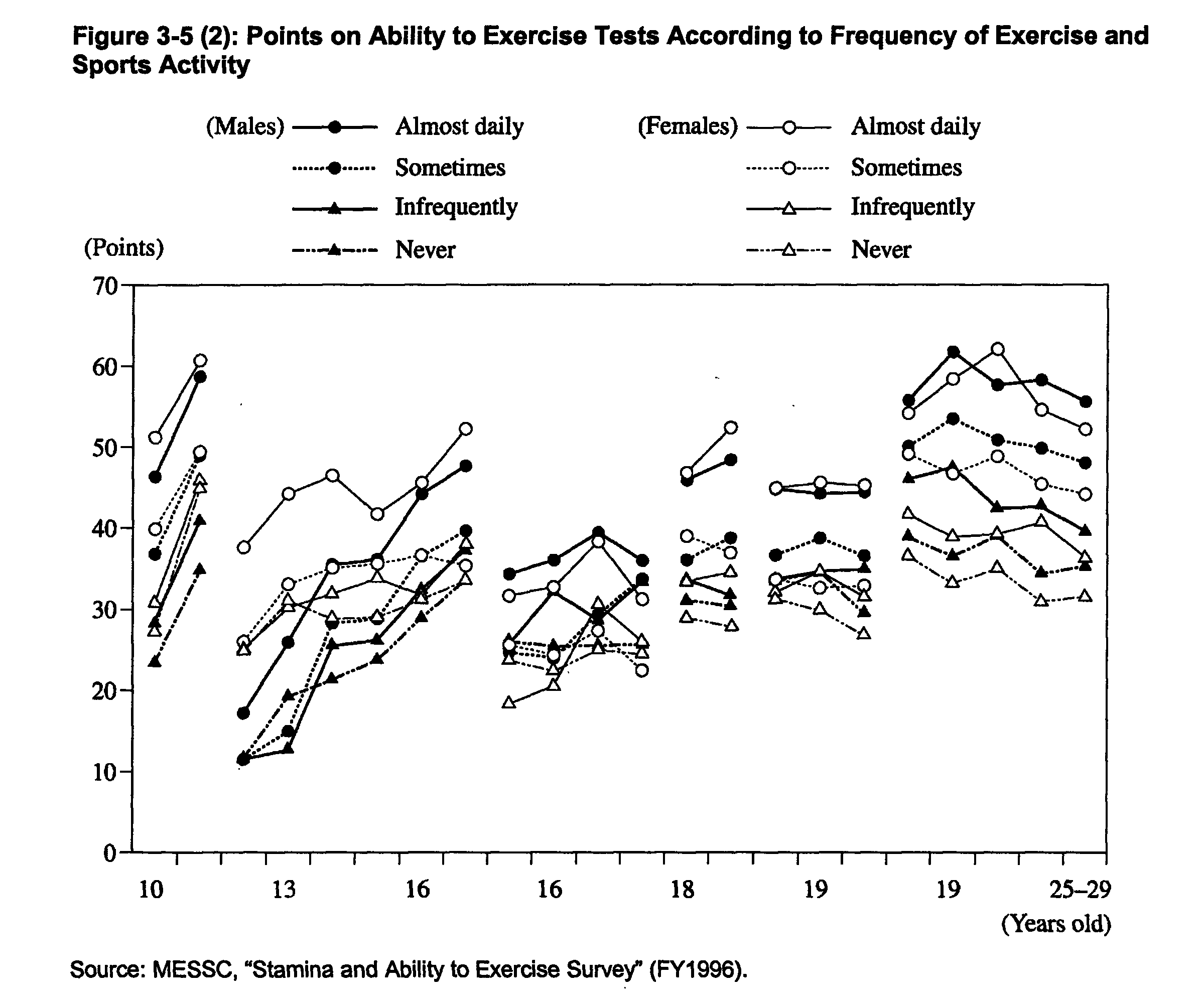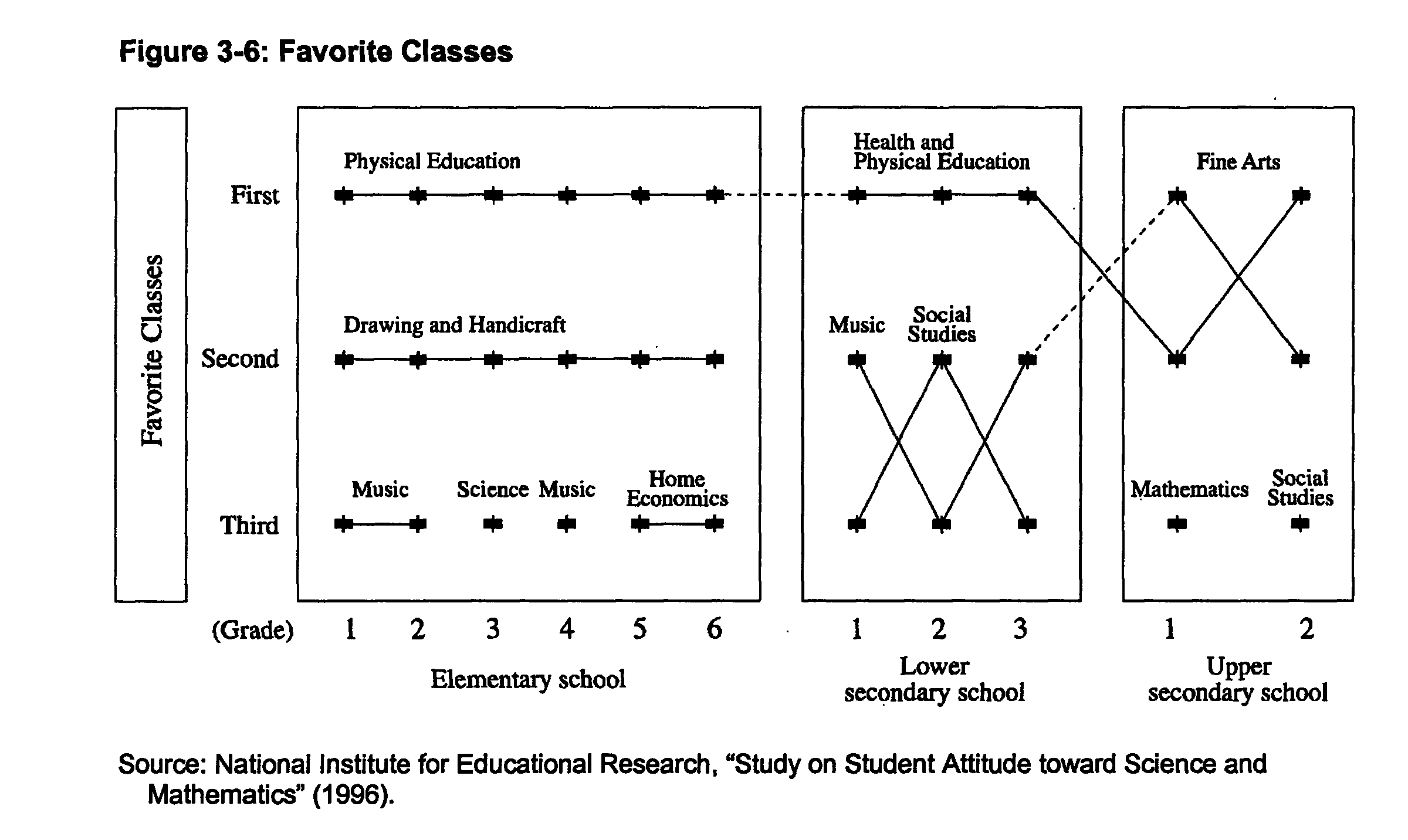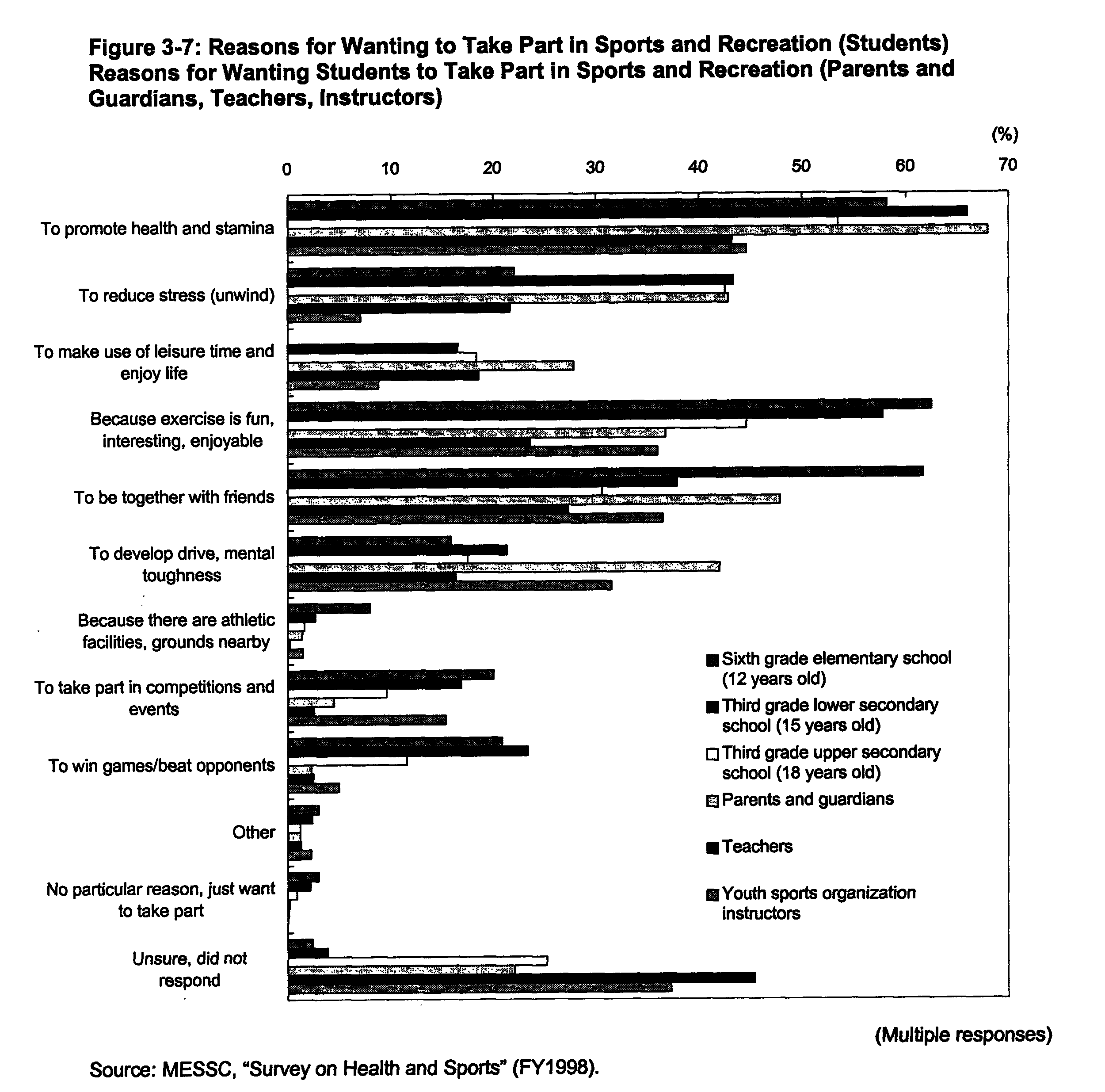 With regard to the awareness of children towardhealth and sports,the"Survey on Health andSports"asked respondents how they try to promote their health and stamina.While many elementary and lower secondary school studentssaid they hied to"exercise and play sports,"fewer gave that response in upper secondaryschool;more said that they tried to"have a goodnight's sleep and rest"( see Figure3-8 ).
In terms of students'membership in extracurricular sports clubs or other sports clubs,56%of sixth grade elementary school students,66%of third grade lower secondary school studentsand38%of third grade upper secondary schoolstudents said that they belonged.However,35%of the upper secondary scbool students questioned said that tbey"used to belong but do notanymore,"indicating that they had stopped in order to prepare for entrance examinations or dueto other circumstances( see Figure3-9 ).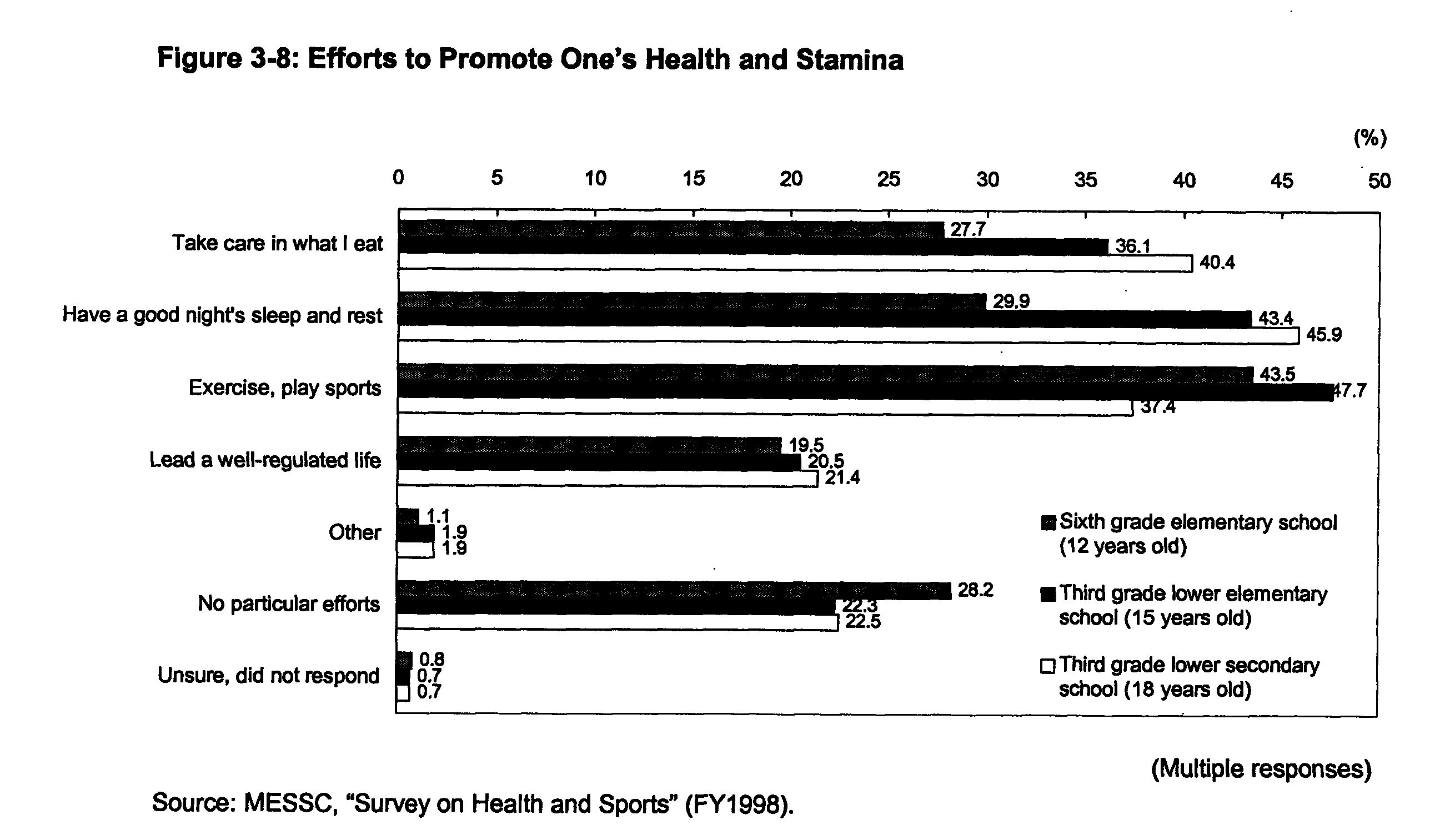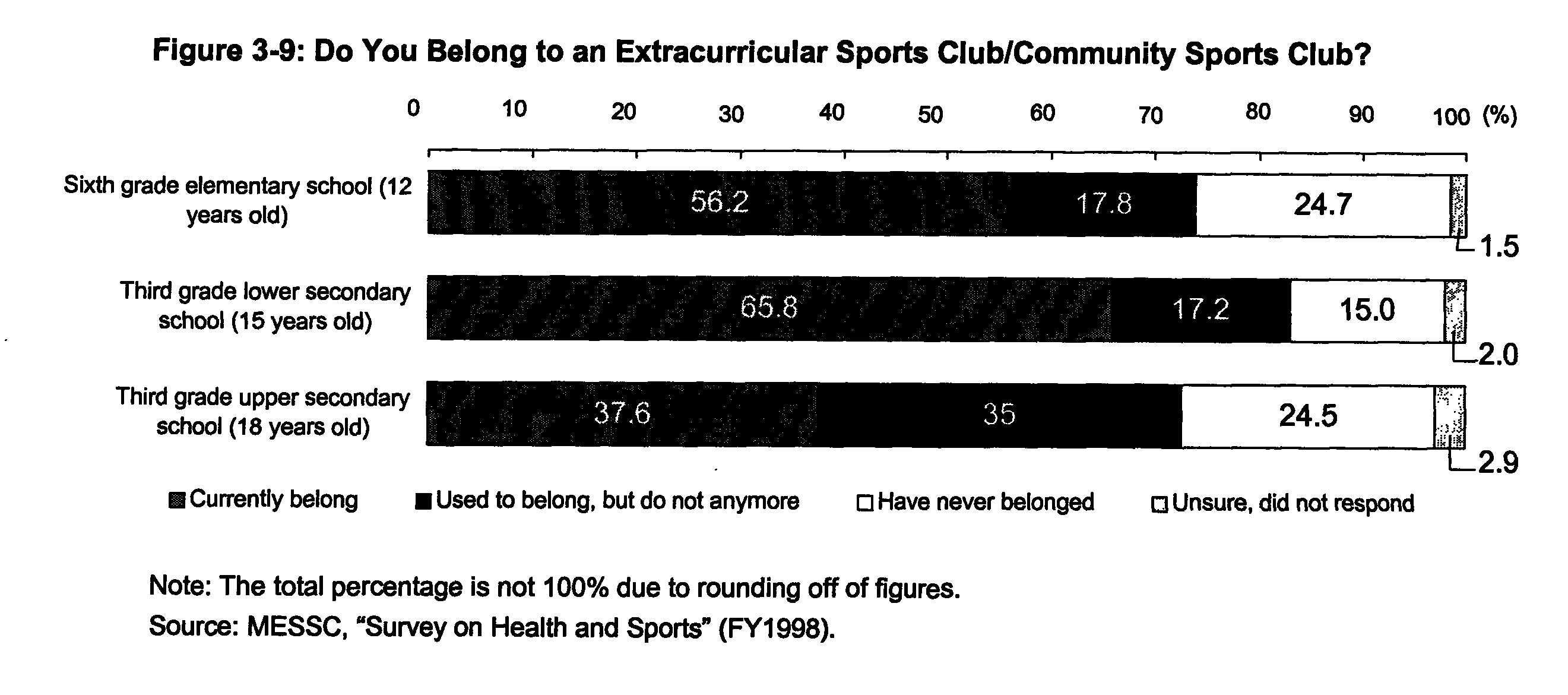 Elementary school students differed from lower and upper secondary school students in terms of the associations to which they belonged.Fiftyfour percent of the former belonged to extracurricular sports clubs and circles,while more than90%of the latter did.Furthermore,41%of elementary school students belonged to clubs with people generally living in the same area and25%to private membership sports clubs,reflecting the influence of youth sports associations and swimming clubs for them,while fewer of the lower and upper secondary school students had contact with the local associations.As for sports and recreation over the previous year,swimming and jumping rope were popular among elementary school students,while basketball,bowling and soccer were popular among lower and upper secondary school students.
---
PREVIOUS
NEXT
---
(C)COPYRIGHT Ministry of Education, Culture, Sports, Science and Technology