---
PREVIOUS
NEXT
---
MENTAL AND PHYSICAL HEALTH AND SPORTS
CHAPTER1 HEALTH AND SPORTS INTO THE FUTURE
SECTION1: FUNDAMENTAL CONCEPTS
2. State of Modern Society and Health Related Learning and Sports
---
(1)
Changes in the State of Society Which Surrounds the Japanese
At present the Japanese are confronted by many changes in the state of the society.First,there is the problem of an aging society with fewer children,in which life expectancy is high and the birth rate has remained low for a long period.In the year2050,it is predicted that almost one in three people in Japan will be over65years old,the so-called aged population.Accompanying this,there is also the fear of an increased burden on the working population in areas such as pensions,healthcare and welfare,and restricted economic growth due to a decrease in the workforce population and aging.In such a society,the public as a whole leading healthy,enjoyable lives full of energy is not merely confined to the happiness of the individual,but is strongly sought in order to support energetic activity throughout society.While on the one hand developments such as advances in science and technology and informatization greatly benefit the public,problems concerning mental and physical health continue to arise,such as the breakdown of human relations,the increase of mental stress and the decrease in opportunities for physical activity in daily life.Above all,as will be discussed in Chapter3,stamina and the ability to exercise tend to stagnate and decrease in life,in every stage of aging.Furthermore,changes in the role of the family are also accompanied by tbe growth in nuclear families,marriages at a later age,an increase in families in which a working parent is transferred to a location where he or she must live away from the family,and changes in lifestyle.Changes in basic lifestyle,such as eating habits,are also evident.
In particular,for children,added to a lack ofparental understanding or recognition of lifestyleupbringing and changes in lifestyle hours suchas children going to bed later,problems arearising,such as the decrease in basic staminaand ability to exercise due to the development ofpublic transportation,and moreover,drug abuse,sexually deviant behavior and lifestyle-relateddiseases.Thus the development of a sound bodyand mind is becoming an important issue for thewhole Japanese population( see Figure1-3 ).
On the other hand,a new lifestyle structure is being sought after,which is appropriate to the"80-year life span."This could lead to the realization of an abundant sports life in which people make independent use of spare time and room to grow,due to an increase in extra available hours created by the implementation of the five-day school week and a reduction in yearly working hours,and changes in awareness which focus away from work to an emphasis on personal lives.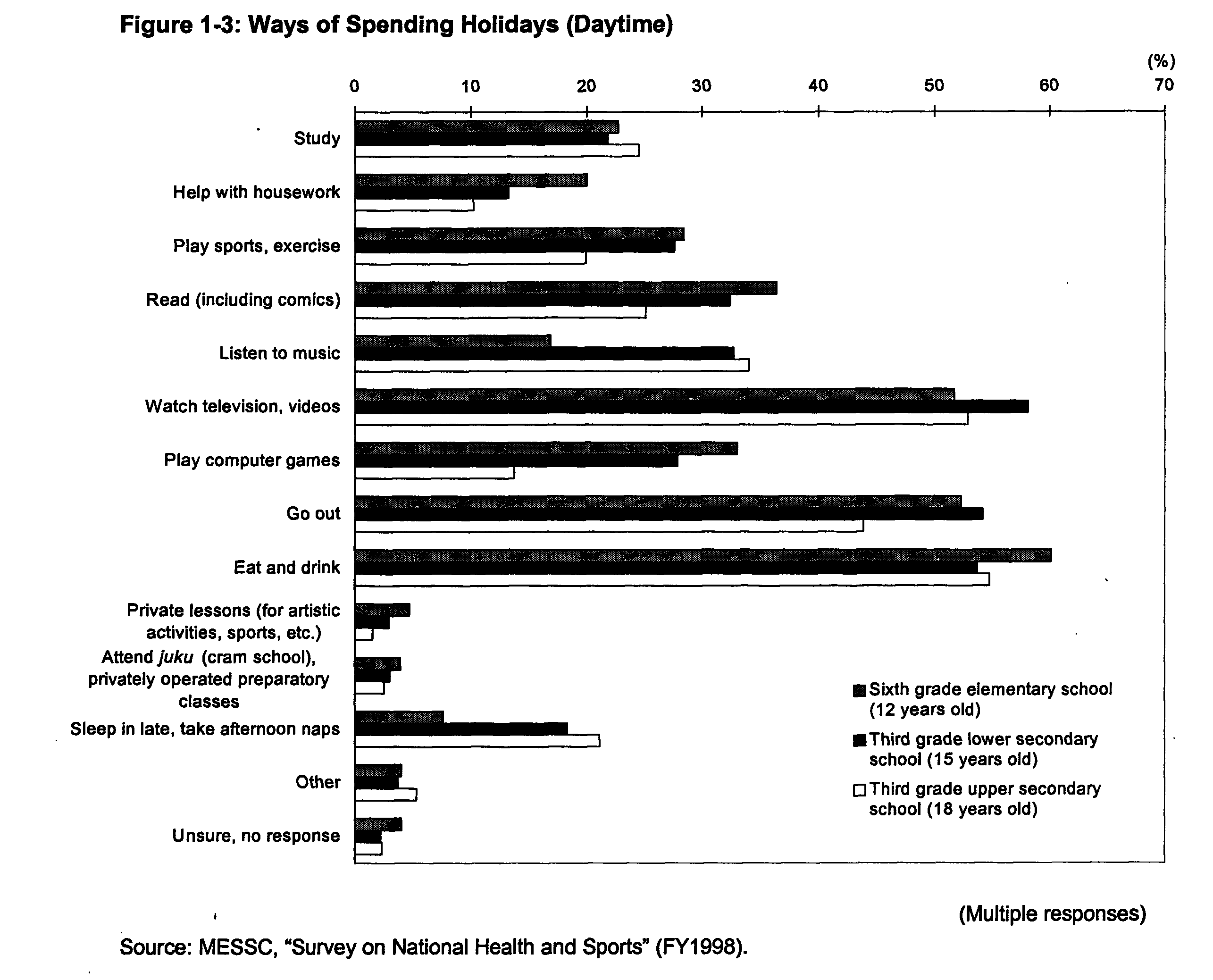 (2)
Public Perception of Health,Stamina and Sports
Along with social changes such as those mentioned above,changes are also being seen in the public perception of health and stamina,and attitudes toward sports.
According to the"Opinion Survey onStamina and Sports"conducted by the PrimeMinister's Office in October1997,the percentage of people who responded that they were"very healthy"when asked about their presenthealth condition,was a100%decrease compared to a1985survey.In addition,the percentage of people who responded that they had"confidence in their stamina"also decreasedas compared with the previous survey( seeFigures1-4 , 1-5 ).
Work-related mental and physical exhaustion isalso seeing an upward trend.According to theresults of the"Survey on the State of EmployeesHealth,"conducted by the Ministry of Labour inNovember1997,people who suffer from eitherphysical or mental exhaustion in everyday workreached70%for both( see Figure1-6 ).
Based on the recognition of the situation ofhealth and stamina,what means of response arethe public taking?According to the"OpinionSurvey on Stamina and Sports,"77%of peoplepay attention to their health and stamina,thehighest figure in the last20years.The followingresponses were given as efforts made to increase the maintenance of health and stamina:"take care in what I eat,""have a good night'ssleep and rest,""lead a well-regulated life,"and"exercise and play sports,"In addition,among the people who had actually exercisedor played sports over the last year,the percentage of those who felt physical or mental exhaustion,stress,or a lack of stamina was lowerthan the percentage of those who had not exercised or played sports.It suggests that sportsexert an influence in this area( see Figures1-7 , 1-8 , 1-9 ).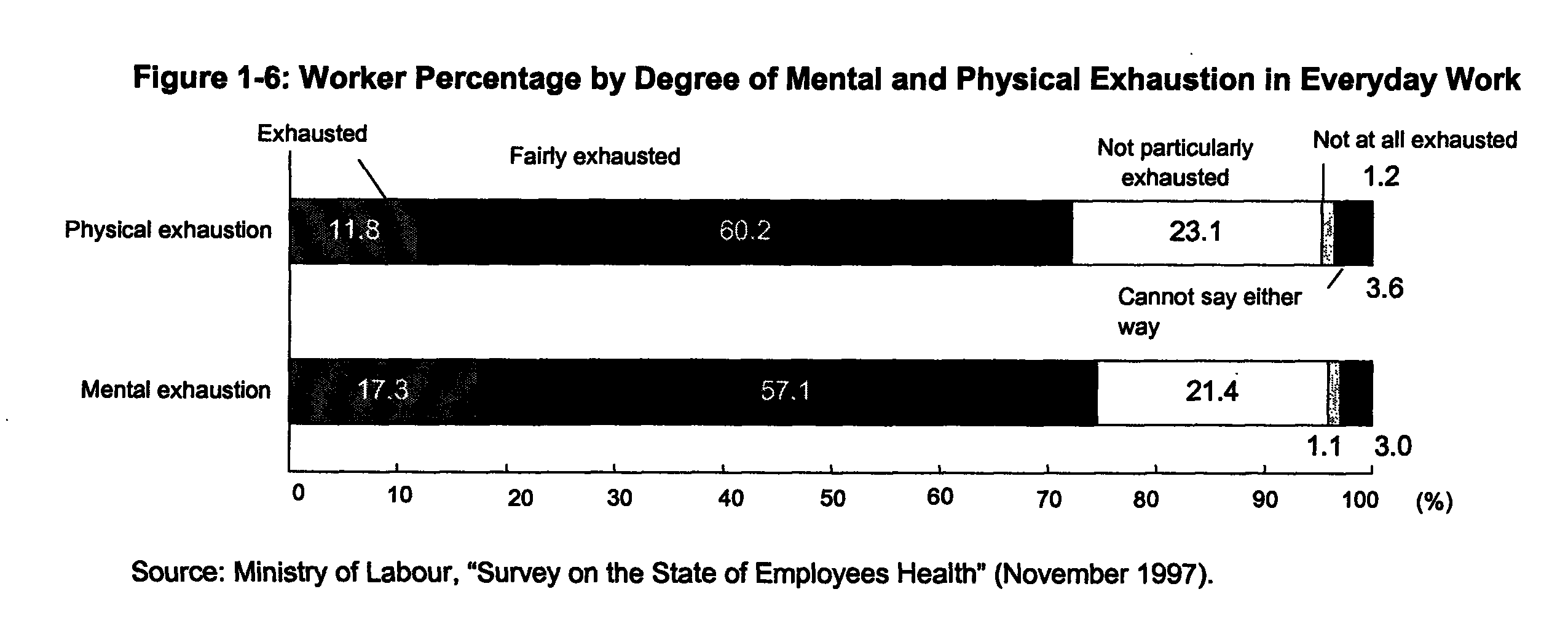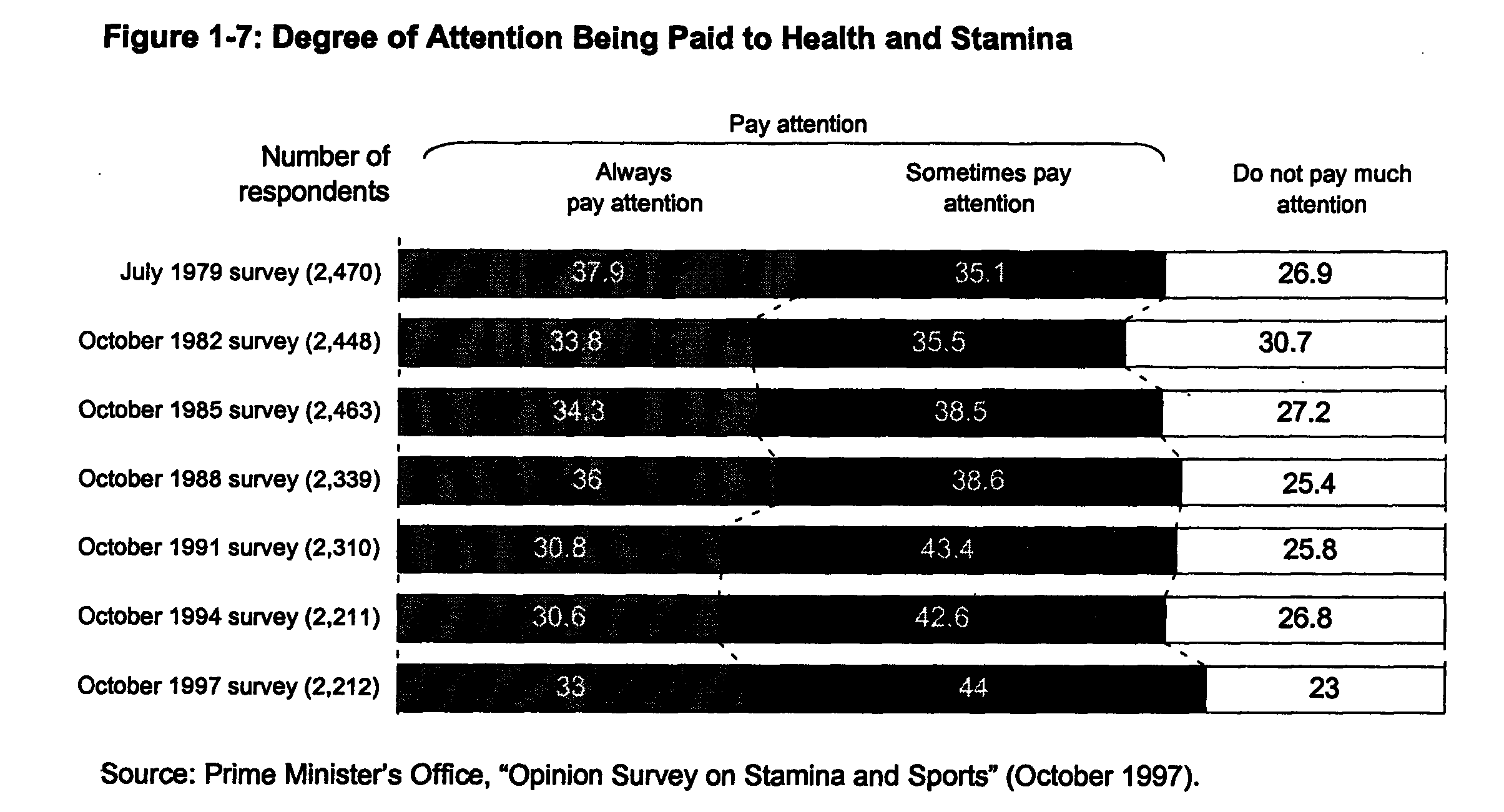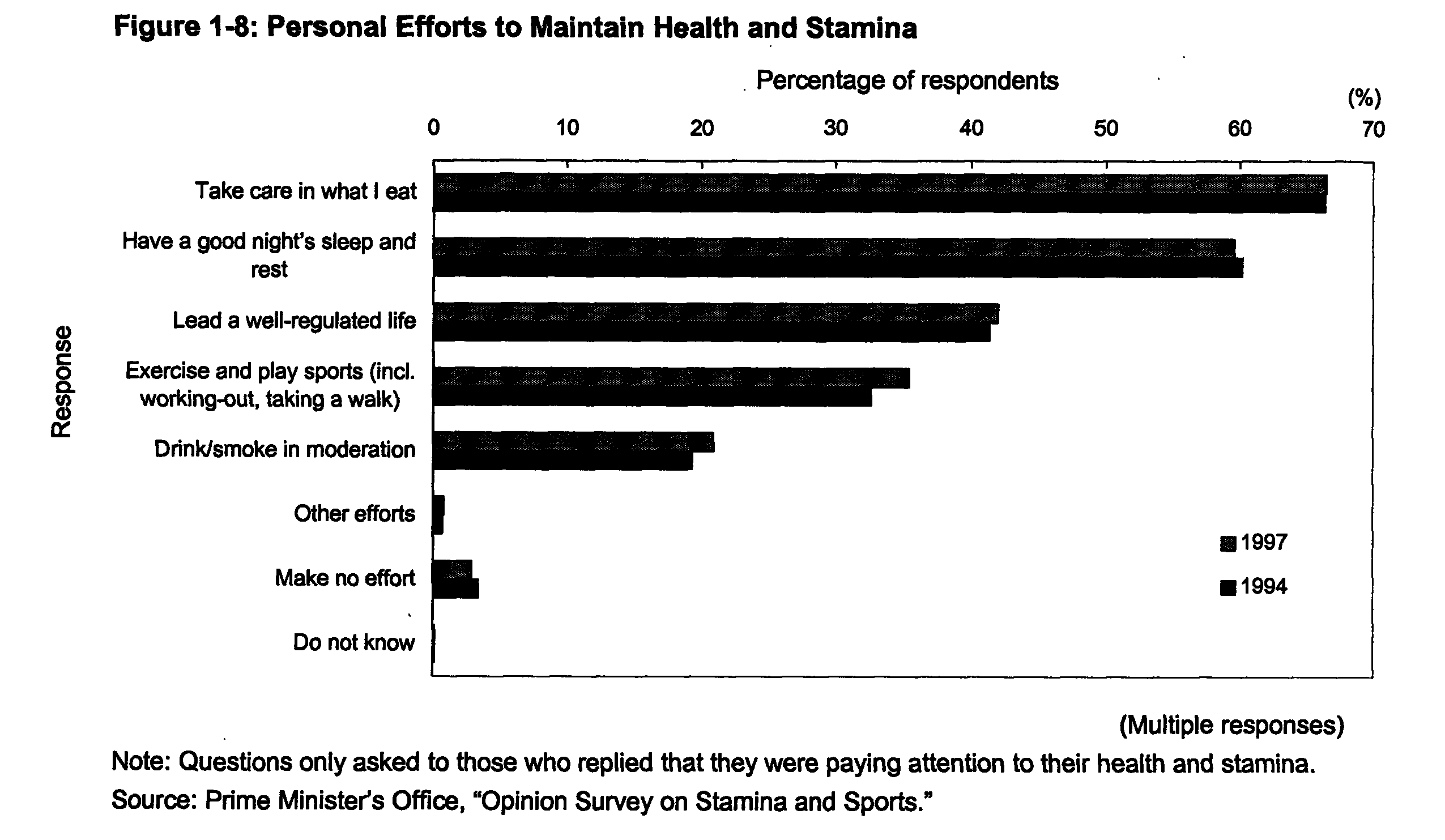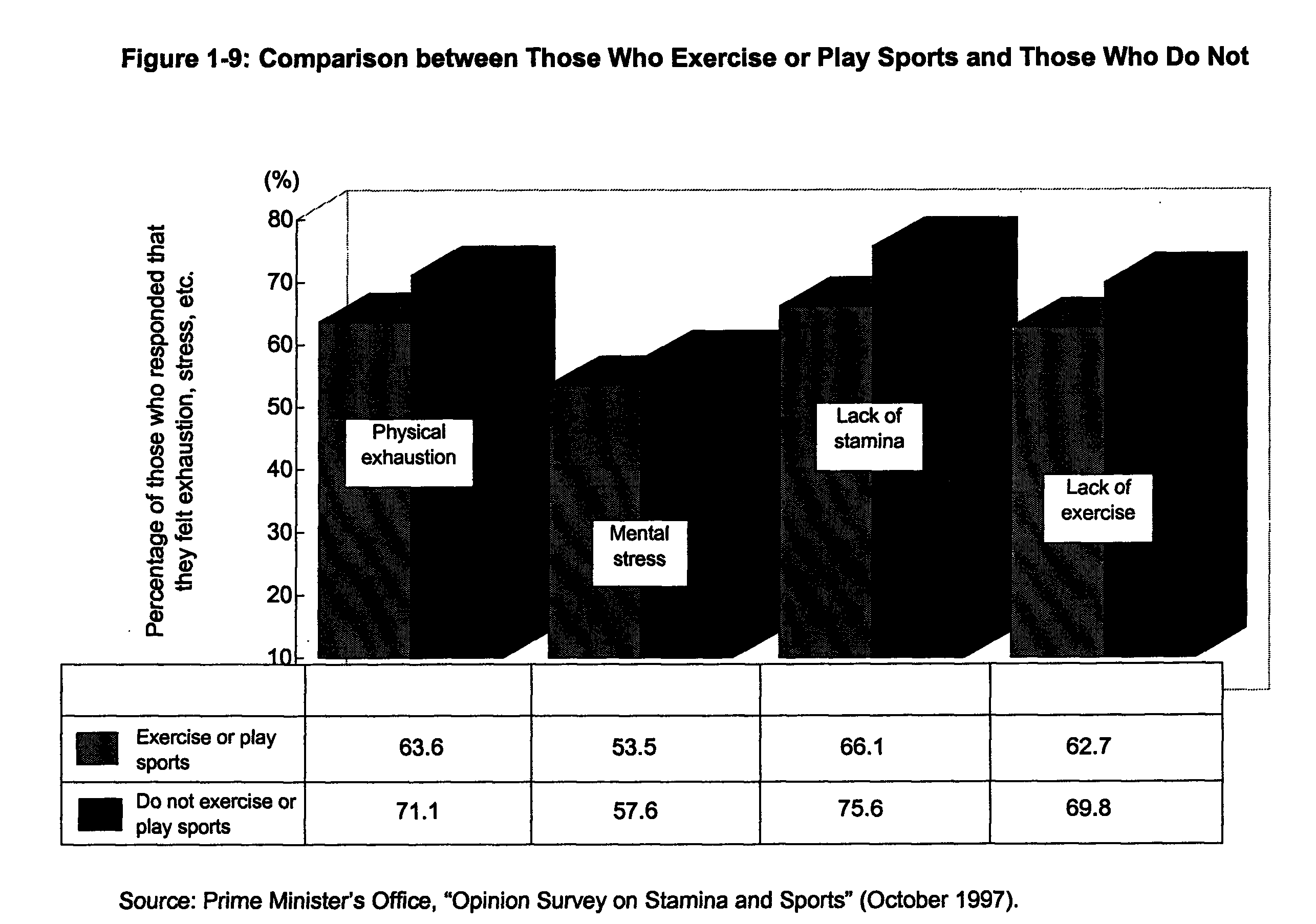 Looking at the"Survey on the State of Employees Health,"as ways of reducing exhaustion andstress,70%of people responded,"getting sleepand rest"-the highest percentage.Trends wbichsupport a recreational element were also evident,such as"drinking alcohol,""driving,traveling,""playing sports,""eating out,shopping,"and"watching television,listening to the radio"allappear around30%( see Figure1-10 ).Furthermore,83.7%say that they"usually do something"for their health.Breaking this down furtber,percentages are high for"try to get as muchsleep as possible,""take care in what I eat,""getlight exercise such as walking,working-out andjogging,"and"play sports such as tennis,goingswimming,golf."There is a clear trend amongworkers that the combination of sleep and sportsprovides relief from exhaustion and improveshealth( see Figure1-11 ).
People naturally seem to maintain a life in which sports,sleep and food are well-regulated,but based on the results of the survey,it is evident that people actually maintain this type of lifestyle for their health and stamina.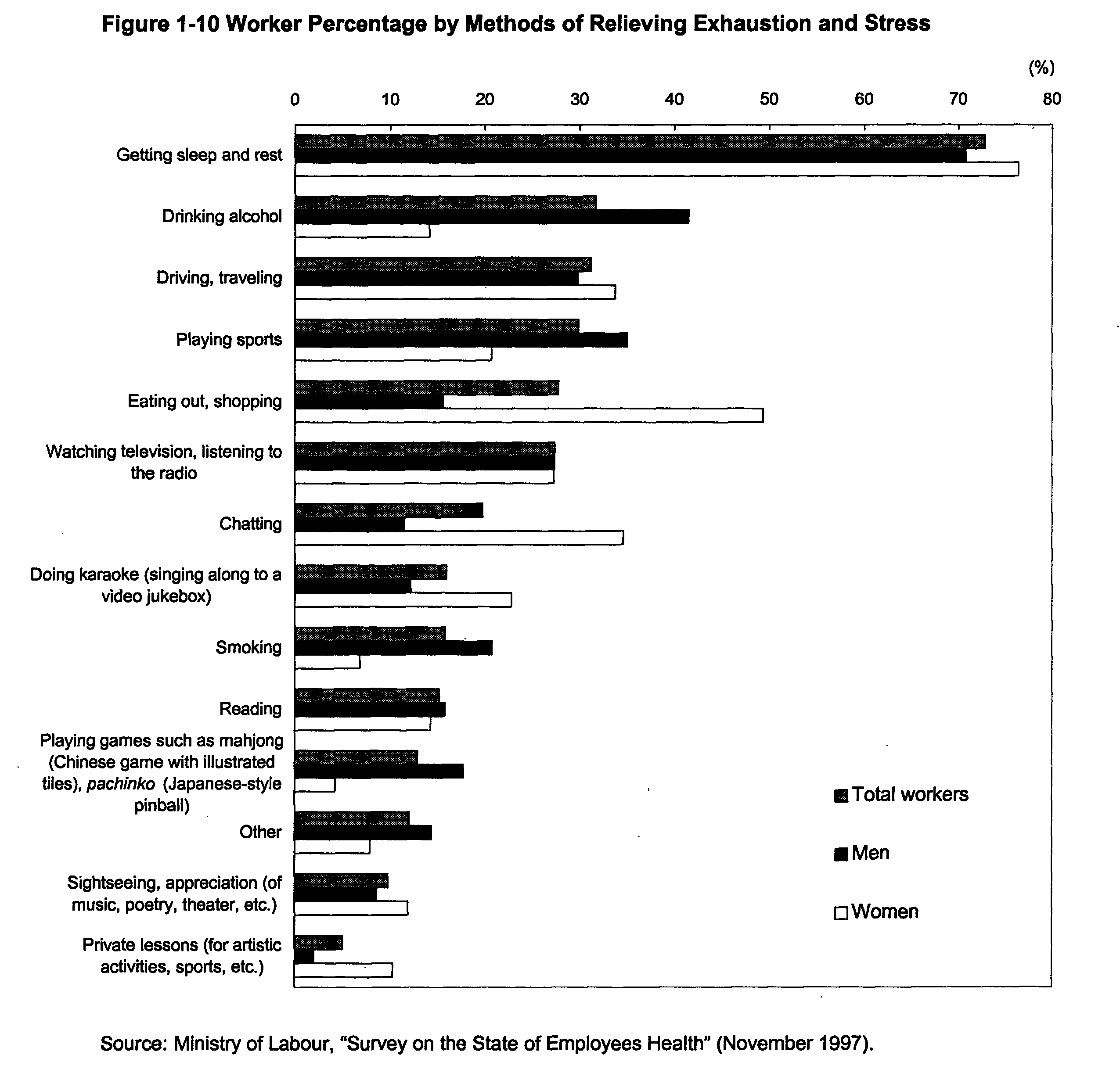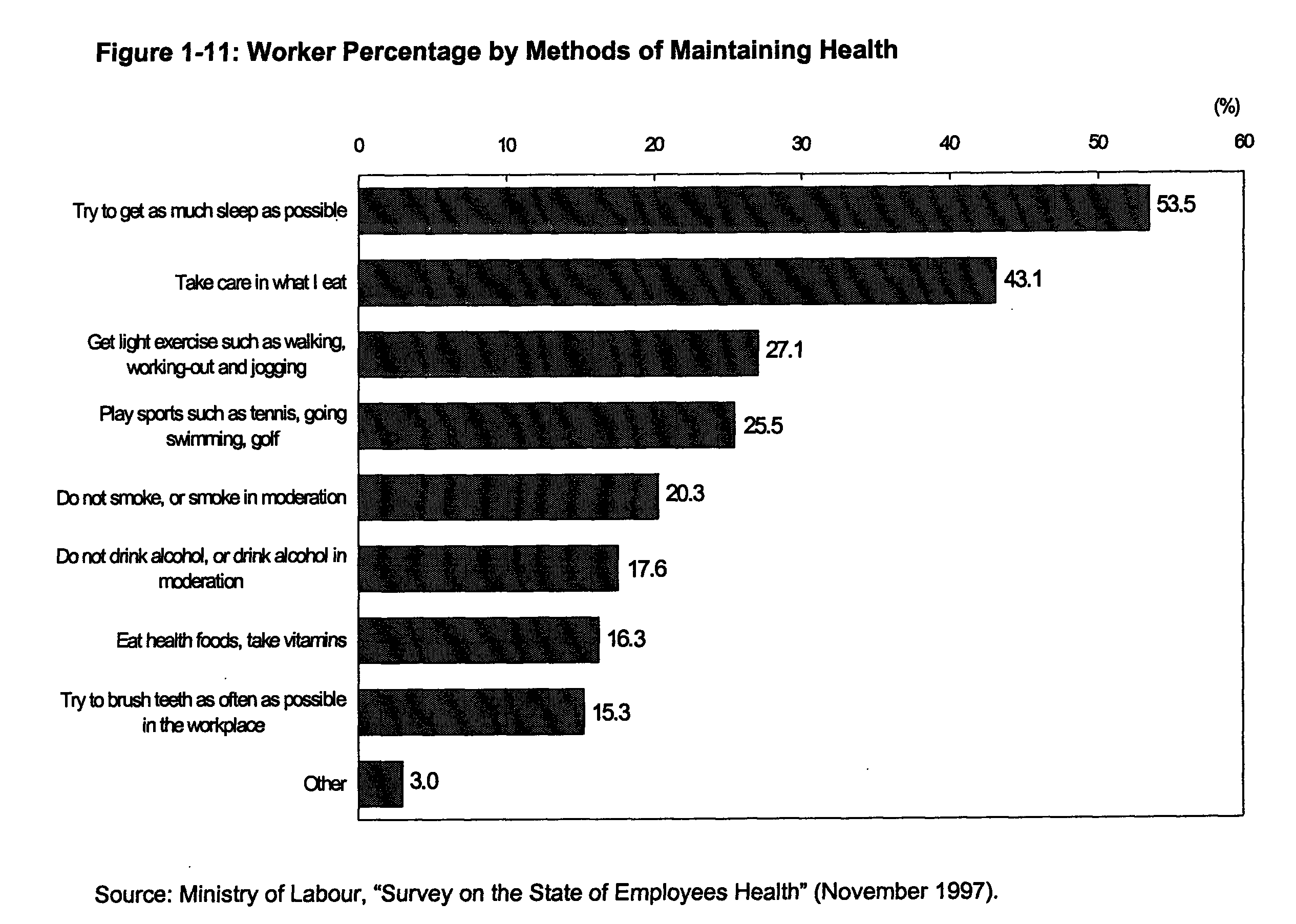 (3)
Future Health-Related Learning and Sports
When considering a twenty-first century society based upon the current situation of social change and changes in the perceptions of the Japanese people,health-related learning and sports takes on a higher significance.The concept of health promotion as"the process of enabling people to increase control over,and to improve,their health,"is proposed in statement of the World Health Organization Ottawa Charter for Health Promotion(1986),and indicates that in rapidly changing societies it is essential for the individual to independently solve his or her own health-related problems.Health-related learning and sports are the most basic form of practicing this idea of health promotion.Central and local governments must adopt policies and measures which allow each individual to acquire healthy lifestyle and sports habits in childhood,while cultivating the fundamental knowledge,ability and attitude for increasing the maintenance of mental and physical health throughout their lifetimes;moreover,to have each individual be continuously independently involved in health-related learning and sports in every stage of their lives.Above all,due to the present trends of lifestyle disorder,the increase in stress,and the decrease in stamina and ability to exercise,it is necessary to fully harmonize health-related learning,physical education and sports,relying on the notion that it is important to promote sound growth through the further integration of mind and body.In September1997the Health and Physical Education Council published a report entitled How the Education of Health and Promotion of Sports from Now on Should Be in Order to Maintain the Health of the Body and Mind in Lifetime.This report also pointed out that it is necessary for central and local governments to develop the following three policy pillars:
(1)To provide the appropriate education,learning opportunities and facilities so that people are able to acquire the knowledge,ability,attitude and habits essential to the increase in maintenance of lifelong mental and physical health.
(2)Establishment of an environment geared toward the realization of a lifelong sports society in which people are able to fully incorporate sports into their everyday lives.
(3)To promote competitive sports,and to generate interest in sports to provide people with dreams and to invigorate them.In particular,regarding the promotion of sports,the allocation of sufficient revenue sources and the drafting of basic programs in the central government are important issues.

How the Education of Health and Promotion of Sports from Now on Should Be in Order to Maintain the Health of the Body and Mind in Lifetime(Summary)(2)September1997Report by Health and Physical Education Council)With the current situation showing trends such as the rapid advancement of aging,the decrease in the opportunity to exercise and an increase in the causes of stress,based on the July1996first report of the Central Council for Education,which indicated the significance of the"zest for living"in students,deliberations were conducted in response to a request of the Minister of Education,Science,Sports and Culture.The main contents of the proposal are outlined below:1.The enhancement of lifelong learning related to mental and physical health

To enhance health-related learning based on the idea of health promotion in order to increase the maintenance of mental and physical health.

To propose policies which respond to contemporary health-related issues such as drug abuse,sexually deviant behavior and lifestyle-related diseases.2.The realization of lifelong participation in sports

To propose appropriate lifestyles suitable for all stages of life.

To establish a local sports environment through the creation of sports and health-related learning spots initiated by local residents,and transferring s chool physical education facilities to"common use type"facilities for all members of the community.

To improve the activities content of physical education and extracurricular sports club activities in schools in response to the decrease in children's stamina and ability to exercise.3.Promotion of competitive sports

To form a consistent system of instruction and establish a system for the promotion of sports medicine and science in order to improve Japan's international competitive strength in sports.

The promotion of various sports-related activities through the expanding opportunities for"spectator sports

and encouraging more volunteers at sports events.
---
PREVIOUS
NEXT
---
(C)COPYRIGHT Ministry of Education, Culture, Sports, Science and Technology