---
PREVIOUS
NEXT
---
MENTAL AND PHYSICAL HEALTH AND SPORTS
CHAPTER1 HEALTH AND SPORTS INTO THE FUTURE
SECTION1: FUNDAMENTAL CONCEPTS
1. The Promotion of Health in Relation to Sports
---
(1)
The Significance of Health-Related Learning
Health-related learning encompasses tbe knowledge,ability,attitude and learning of habits necessary for increasing the maintenance of mental and physical health.In order to increase the maintenance of mental and physical health,it is needless to say that illness must be prevented and stress eliminated.It is also necessary to acquire a lifestyle that is able to incorporate exercise,nutrition,rest and sleep,to recognize the value of health and maintain an attitude of respecting oneself,to be knowledgeable about coping with stress,and to acquire the practical ability of giving up things harmful to one's health.To this end,it is extremely important,through health-related learning,to acquire on a day-to-day basis,accurate knowledge and understanding regarding health,and to put into practice matters essential to sustaining lifelong health.
It is necessary,through these kinds of health-related learning,not only to nurture the"zest for living,"(ikiru-chikara)whereby,par-.ticularly with children,the will and the desire to grow up strong and a sense of values can be instilled,but also for each individual to lead a bealthy life full of energy.
(2)
The Significance of Sports
Sports,as well as being a way of responding to the inherent desire in humans to move their bodies,also endow the person with mental satisfaction,such as a sense of reinvigoration,a sense of achievement and a sense of teamwork,and contributes to the increase in maintenance of health and stamina.Above all,for children,in addition to being a foundation for a strong body and nurturing lifelong enjoyment of exercise and a healthy lifestyle,sports have a great effect on character building,through exchange with friends,activities in accordance with sportsmanship,practice toward definite goals and efforts to achieve them.Sports provide a platform to test the limits of human potential,and top-level sports arouse interest and passion in people for sports,and provide them with dreams and invigorate them.Through these,sports contribute greatly to building a vital and sound society.In recent years,due to urbanization and the increasing convenience of life,there have been many changes in everyday life:the decrease in opportunities for and areas in which to take part in physical activities;the rapidly aging society;changes in the social enviromnent such as the improvement in standards of living and an increase in spare time;and changes in public awareness and values which focus away from work to an emphasis on personal lives.The recognition that sports are indispensable for leading a sound life both mentally and physically has become deeply rooted in the Japanese people,and its importance is growing further.
It is an important task to widely promotesports by establishing sports as a form of cultureessential to the Japanese lifestyle,and by encouraging the individual to independently address sports in order to lead a healthy life full ofenergy in an aging society with fewer children( see Figures1-1 , 1-2 ).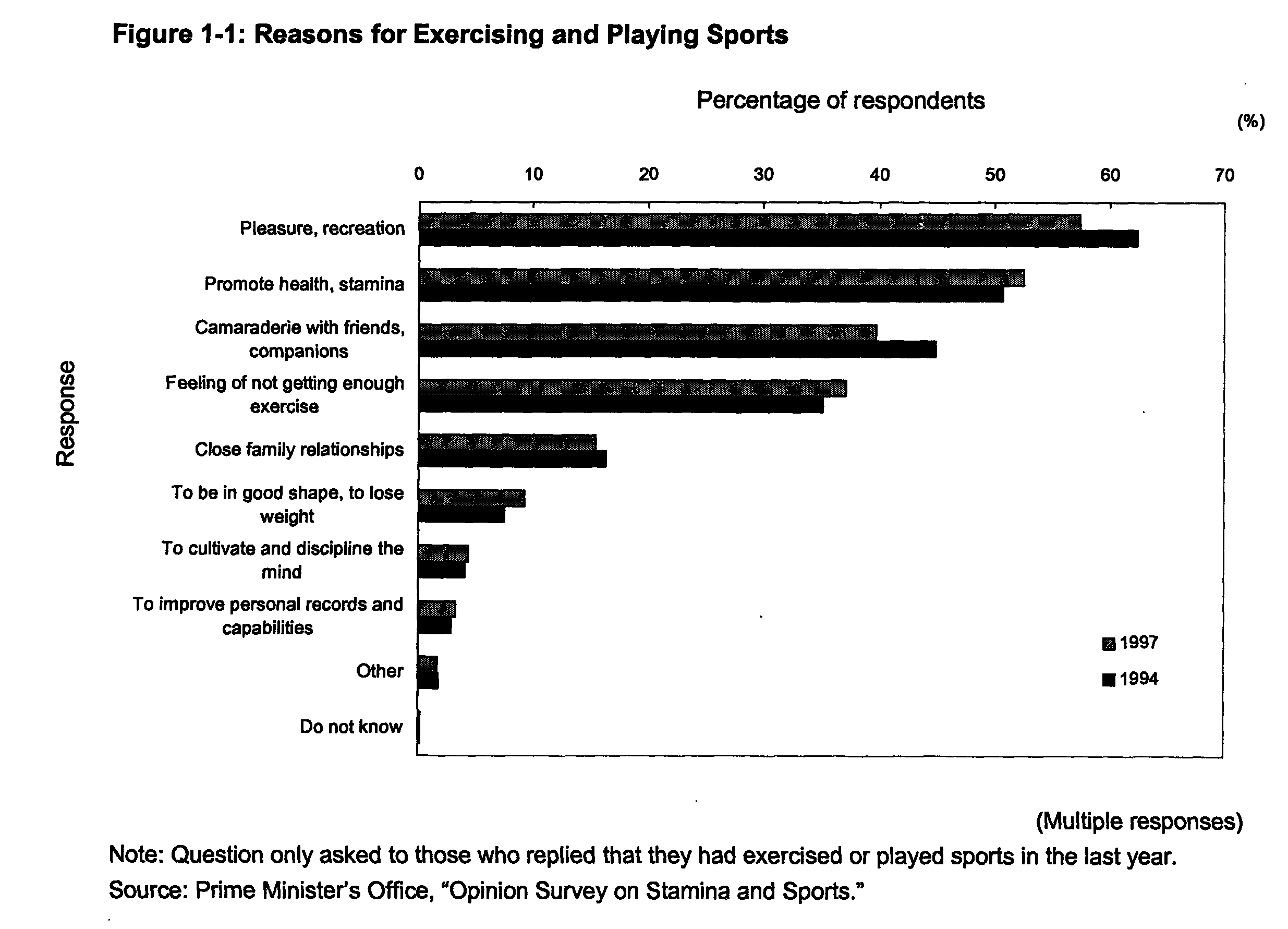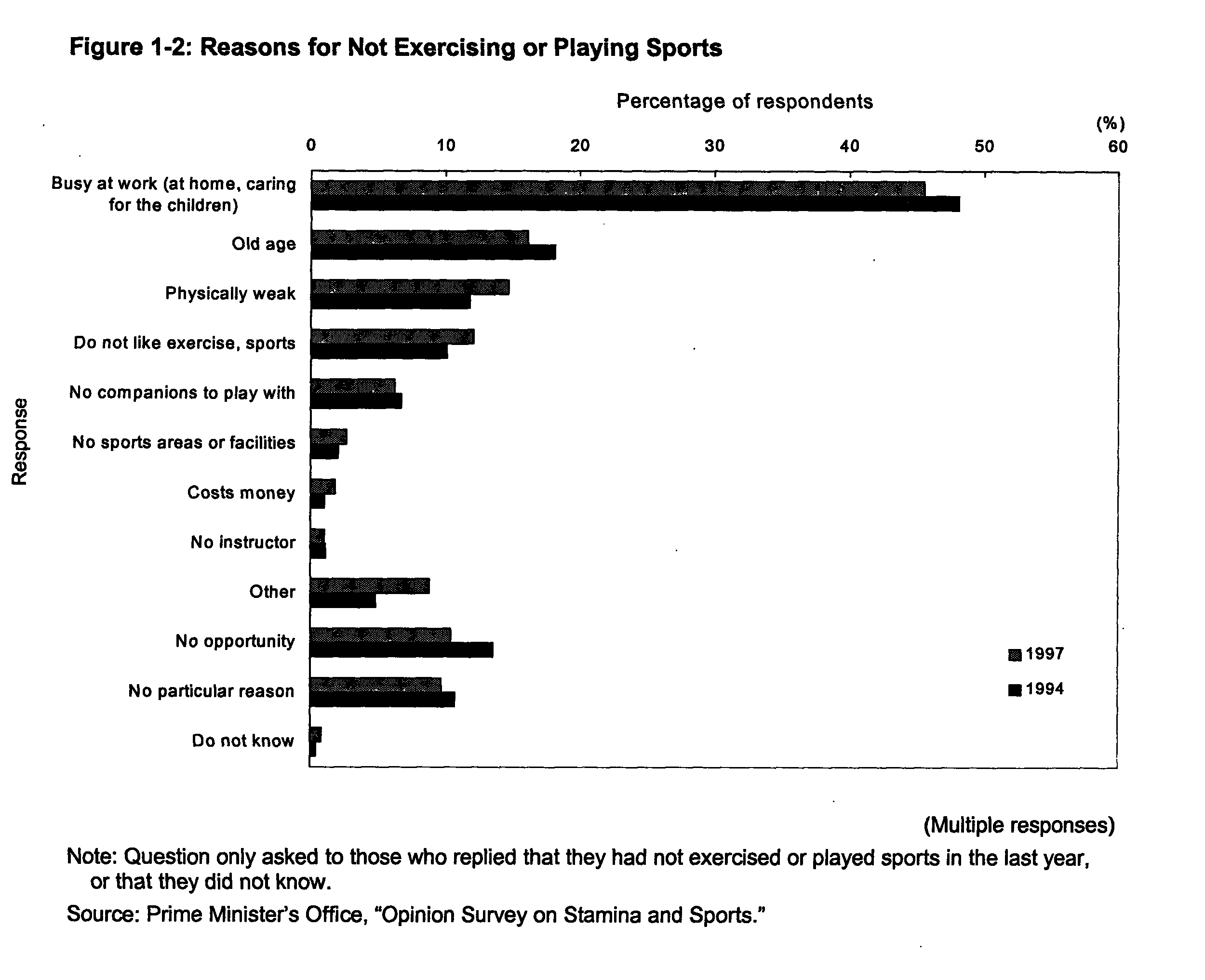 ---
PREVIOUS
NEXT
---
(C)COPYRIGHT Ministry of Education, Culture, Sports, Science and Technology