---
PREVIOUS
NEXT
---
Scientific Research: Opening the Door to the Future
Chapter 4 Domestic and Overseas Trends in Scientific Research
Section 1: The Level of Research in Japan
2. Research Levels in Terms of Citations from Scientific Papers
---
"National Science Indicators on Diskette (1981-1996)," which is produced by the American company Institute for Scientific Information using its Science Citation Index, can be employed as a basis for international comparisons of numbers of citations. A comparative analysis of numbers of papers and citations was carried out using statistics published over the period from 1981 to 1996 in 19 categories (agricultural sciences, astrophysics, biology & biochemistry, chemistry, clinical medicine, computer science, engineering, ecology & environment, geosciences, immunology, molecular biology & genetics, materials sciences, mathematics, neuroscience, physics, plant & animal sciences, pharmacology, microbiology, and multidisciplinary fields).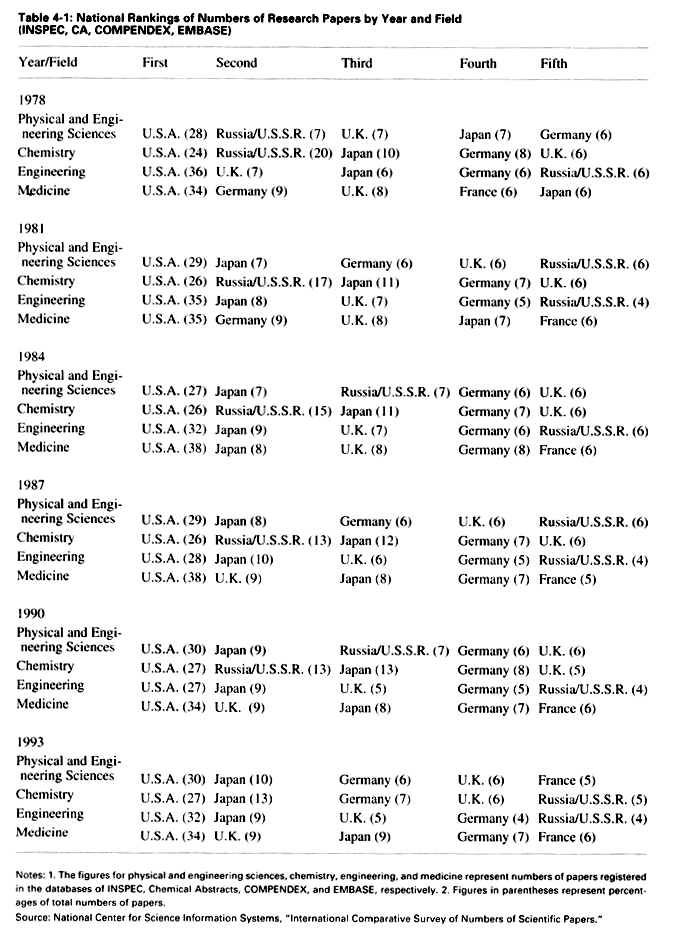 In all categories, the United States ranked first in terms of the total number of citations. In recent years, however, Japan has ranked second or third in many categories. Table 4-2 shows national percentages and rankings based on numbers of citations at three-year intervals (totals for the preceding five years) since 1981. These figures reveal a gradual rise in the number of citations from Japanese papers and in Japan's share of world totals. At the start of the 1981-85 period, Japan ranked second in three categories (agricultural sciences, chemistry, and materials sciences) and third in two (biology & biochemistry and engineering). Since then there has been a gradual rise in its overall shares and rankings in all categories. While it still ranked second in the same categories in the 1990-94 period, it had achieved third place in four categories (biology & biochemistry, clinical medicine, physics, and pharmacology) and was fifth or higher in 13 of the 19 categories.
The graph in Figure 4-1 shows how national shares of world totals of papers in each field have changed over the years. Although the United States' share has gradually declined, it still accounts for about one-third of the international total. The rate of increase in the number of papers produced in Japan is higher than the rates for the United Kingdom, Germany, and France. Japan's total has increased about 2.4 times over the past 16 years, and its share of the world total has also risen from 6.3% to 8.4%. In 1993 it moved into second place, putting it ahead of the United Kingdom.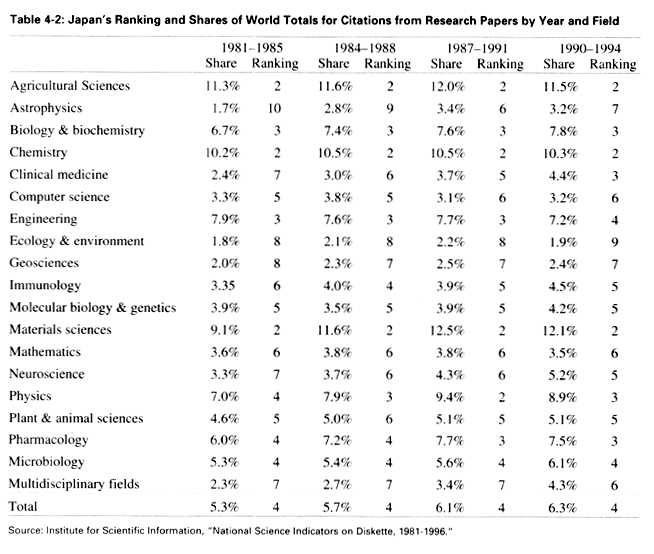 Figure 4-2 shows annual shifts in national shares of citations from papers. In all categories, the United States accounts for about one-half of citations, but its share has gradually declined. While the figures for the United Kingdom, Canada, and Russia (the Soviet Union) have tended to stagnate, Japan, Germany, and France have registered gradual uptrends. Japan has boosted its share of all citations from papers by around 30% over the past 15 years and now compares favorably with European countries.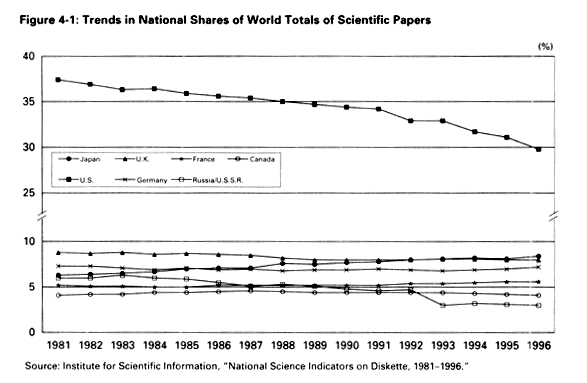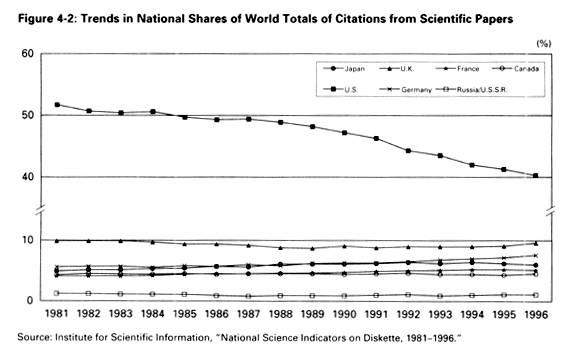 ---
PREVIOUS
NEXT
---
(C)COPYRIGHT Ministry of Education, Culture, Sports, Science and Technology