---
PREVIOUS
NEXT
---
Scientific Research: Opening the Door to the Future
Chapter 3 New Trends in the Promotion of Science
Section 4: Fostering Public Understanding of Scientific Research and Expanding Learning Opportunities
3. Efforts by MESSC
---
(1)
Enhancing Science and Technology Education in Schools
To a large extent, Japan's social and economic development has been supported by science and technology. Science and technology education in the schools has played an extremely important role in this and efforts must be made to enhance it further.
Improvements have been made in the content of science education from the standpoint of fostering scientific attitudes and interests, including the use of observation and experimentation to look at and think about nature. The present courses of study have been revised at all levels to emphasize observation and experimentation and to expand learning activities based on independent exploration and problem-solving. As part of its efforts to achieve the aims set out in the courses of study, MESSC holds seminars and publishes guidance materials. It is also revising equipment standards for science education and systematically installing and upgrading experimental equipment.
In the area of technology education, too, MESSC is working to expand practical and experience-based learning. In addition, it is revising the standards for industrial education facilities and equipment in preparation for upgrading experimental and learning facilities in upper secondary schools to reflect changes in educational content resulting from advances in industrial education. In addition. MESSC is establishing joint-use industrial education facilities with state-of-the-art information equipment and advanced technical apparatus and systematically improving facilities and equipment for industrial education.
In fiscal 1996 MESSC began designating model districts for practical research on ways to foster interest in science through hands-on experience of advanced science and technology. Science education equipment that meets the new standards is also being installed in education centers, which are, core facilities for teacher training at the regional level. The ministry is also setting up science education centers to promote experience-based scientific learning for schoolchildren. In addition, MESSC is expanding opportunities for schoolchildren to come into contact with researchers and technicians by assigning special part-time teachers, who are not required to have teaching certificates, to public elementary and lower secondary schools.
(2)
Providing Diverse Opportunities to Gain Familiarity with Science
Because of the rapid progress and increasing sophistication of science and technology, people must constantly acquire new knowledge and skills, so learning opportunities must be expanded.
In cooperation with museums, schools, and other relevant institutions, MESSC is undertaking a wide variety of pilot projects to extend the functions of science museums and promote their effective utilization. In fiscal 1997 it launched a project to spread these programs throughout Japan. To improve the quality of curators and other museum staff, MESSC is also providing specialized training for natural science museum personnel. The ministry is also promoting research and development relating to special science education programs for young people that take advantage of the locations and specialized services of various facilities, such as museums. National Youth Houses, and Children's Nature Centers. In addition, MESSC is working to achieve national coverage for the University of the Air, which employs television and radio to provide courses relating to science and technology.
The National Science Museum undertakes a variety of educational and information activities designed to foster understanding of science and technology. These include science courses and field trips for young people and families.
Universities and colleges of technology are also helping to make science and engineering more attractive by actively disseminating information about these fields and offering trial enrollment programs to provide young people and the general public with opportunities for hands-on experience. In response to requests from organizers of science exhibitions and similar projects, MESSC is compiling and distributing a register of "science volunteers" who can present lectures, experiments, and other activities for young people.
It is also necessary to return the benefits of scientific research in universities to the community and to familiarize the public with that research. Measures to achieve these goals include the Universities and Science public symposiums, at which the results of a wide variety of research supported by grants-in-aid for scientific research and other forms of funding are presented to the general public. In addition, MESSC subsidizes the cost of scientific lecture programs and other activities put on by academic societies and private sector research organizations for young people and the general public (See Chapter 2, Section 1, 4(4) and (5) ).
University research institutes and inter-university research institutes are increasingly opening their research facilities to the general public and providing information or lecture programs about their research activities. For example, the National Astronomical Observatory holds an Astronomy Symposium for the general public, including young people, twice a month. In the first week of August each year, it also holds "Star Week" in cooperation with supporting organizations and institutions throughout Japan. In the field of space science research, the Institute of Space and Astronautical Science organizes "Space Schools" three times a year, primarily as a way to foster dialogue between the public and researchers. Universities and research institutions are striving to become more accessible to the public through such open-house days, exhibitions, and other events. In January 1997 the National Science Museum held "The Antarctic Exhibition-A Continent of Wonder" to mark the 40th anniversary of polar observations. This exhibition provided an opportunity for the general public to view the results of research spanning many years.
(3)
The Science Council's Response
Under a new system introduced in March 1997, all proceedings of the Science Council will, in principle, be disclosed. The purpose of this measure is to ensure transparency in the management of the Science Council, which studies and deliberates important matters pertaining to science.
In view of the reaction in Japan and overseas to the aforementioned cloning of a sheep, a working group has been established within the Science Council to study, from the scientific and specialist's perspective, new ethical issues relating to cloning research in universities and other institutions. This group has been studying related issues since June 1997. A July 1997 report by the Council for Science and Technology on Basic Plans for Research and Development on Life Science includes a recommendation that there should be no cloning of humans. In line with a statement made by the Prime Minister after receiving this report, it has been decided to set up a Panel on Life Ethics within the Council for Science and Technology.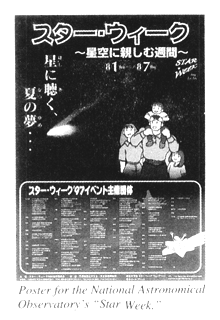 ---
PREVIOUS
NEXT
---
(C)COPYRIGHT Ministry of Education, Culture, Sports, Science and Technology