---
PREVIOUS
NEXT
---
Scientific Research: Opening the Door to the Future
Chapter 1 Conceptual Foundations for Promoting Scientific Research
Section 1: The Significance and Role of Scientific Research
3. Implementing the Science and Technology Basic Plan
---
Against this backdrop of heightened expectations of science and technology, the Science and Technology Basic Law was promulgated and put into effect in November 1995, and the Science and Technology Basic Plan was formulated by the Council for Science and Technology and approved by cabinet decision in July l 996.
This plan, which looks ahead over the next decade, was created as a concrete policy for science and technology in the five years between fiscal l 996 and 2000. It defines two basic directions for the promotion of research and development:
(1) the vigorous promotion of research and development in response to social and economic needs; and
(2) the active encouragement of basic research having aims like explaining the origins of matter and the behavior of the universe or discovering new laws and principles.

The plan also defines a number of goals. First, Japan should create systems to expand creative research and development: The Program to Support 10,000 Postdoctorals should be implemented by the year 2000; research support staff should be recruited and trained; and the amount of research funding provided in a competitive environment should be substantially increased. Second, systems should be created to facilitate cooperation and exchange between sectors, regions, and nations. Such systems should, for example, encourage joint research with the private sector and promote industrial-academic-governmental cooperation by facilitating approval for government personnel to work in the private sector. Third, new research and development systems should be created, including setting up appropriate evaluation mechanisms and implementing impartial evaluation of work. Fourth, suitable infrastructure should be created through such measures as the prompt improvement of superannuated or cramped facilities and equipment.
The plan also calls for expanding the government research and development investment by the early 21st century to a level comparable with industrially advanced Western nations in terms of the percentage of gross domestic product. Along the same lines, the plan strongly advocates doubling science and technology expenditures within the period covered, which would mean spending a total of approximately \17 trillion by FY2000. At the same time, however, fiscal reconstruction is also an urgent priority for Japan. So the plan calls on the government to give proper consideration to science and technology when the budget is drafted each year, increasing expenditures as needed to implement the plan, while at the same time taking account of the fiscal situation and other factors. The June 1997 cabinet decision on the Promotion of Fiscal Restructuring identifies the years from FY 1 998 to FY2000 as a period of intensive reform. In view of the fiscal crisis, the government will adopt a flexible approach in implementing the plan to ensure compatibility with the restructured budget.
Promoting research and development means encouraging both basic research and research and development in key fields. Care must be taken to achieve balanced progress in the three areas of basic, applied, and development research, as well as between the natural sciences and the humanities and social sciences. Progress in research must harmonize with human lifestyles, society, and nature. In addition, researchers' autonomy must be respected, and the characteristics of research in universities must be taken into consideration.
In line with Science Council and other recommendations, MESSC has for some time been making systematic, prioritized efforts to bring Japan's research infrastructure up to international standards and to create a scientific research system that is open to the world.
MESSC is actively taking measures to advance the scientific research and related policies laid out in the Science and Technology Basic Plan. Specific steps taken In the first year, fiscal 1996, included
(1) substantially increasing grants-in-aid for scientific research,
(2) creating a system to provide funding to the Japan Society for the Promotion of Science (for the Research for the Future Program),
(3) enhancing the research environment, including facilities and support systems,
(4) forming Centers of Excellence in research (COEs),
(5) promoting research under the New Program (Creative Basic Research) system,
(6) recruiting and training young researchers in preparation for the Program to Support 10,000 Postdoctorals,
(7) improving scientific information infrastructure,
(8) promoting basic research in selected fields, such as space science,
(9) setting up a program to establish high-tech research centers at private universities,
(10) promoting research cooperation between universities and industry, and
(11) promoting international exchange and cooperation in science.

These measures are being furthered in fiscal 1997 through continued substantial budget increases that have brought funding for scientific research to \112.2 billion (\10.4 billion over FY 1996) and support for the Japan Society for the Promotion of Science to \20.6 billion (a \9.6 billion increase). Grants were also awarded to 5,701 researchers under the Program to Support 10,000 Postdoctorals (an increase of 1,145 over 1996), and the Private University Scientific Frontier Promotion Program was established (\3.85 billion).
MESSC will continue making special efforts to expand the budget for expenditures that are essential to promote scientific research in universities and will make every effort to achieve the goals laid down in the Science and Technology Basic Plan.
Underlying Idea of the Science and Technology Basic Plan Proposal to Promptly Double the Government Research and Development Investment
The Science and Technology Basic Plan states that it is necessary to raise the total budget for science and technology to some \17 trillion by FY2000. This figure represents the total of the annual expenditures that would be required to double the government research and development investment and bring it up to a percentage of GDP that is comparable with major Western nations by FY2000 ( Figure 1 shows the most recent data).
The inclusion of such a specific numerical target in the Science and Technology Basic Plan derives from the perception that, while Japan's investment in development and applied research, especially by private sector firms, is exceedingly high by international standards, research and development investment by the government, which is the main supporter of basic research, is very low compared with Western nations ( Figure 2 ), and that the improvement of this situation is extremely important to the advancement of science and technology in Japan. The total government budget for science and technology in fiscal 1997 is \3,002.8 billion. Of this, MESSC has been given jurisdiction over \1,289.0 billion (42.9%), the largest allotment of any government agency ( Figure 2-8 ).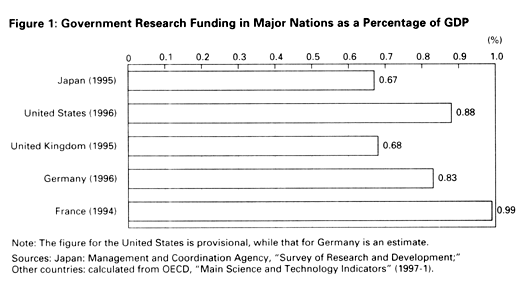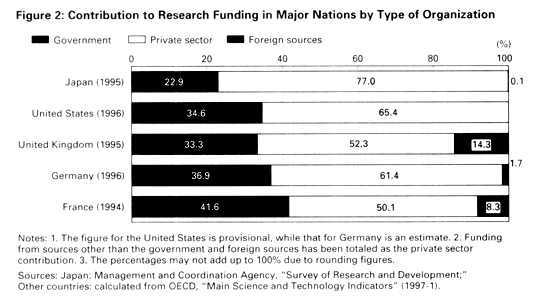 ---
PREVIOUS
NEXT
---
(C)COPYRIGHT Ministry of Education, Culture, Sports, Science and Technology