---
PREVIOUS
NEXT
---
Chapter
Chapter 2 Towards Advancement of "Academic Ability"
Section 4 Increased efforts for the secure improvement of "Academic Ability"
2. Efforts in Each Schools
---
Schools nationwide have been making various active efforts towards the attainment of "Academic Ability". Some examples are: (1) introduction of an elective course to attract their interest, (2) flexible class scheduling for effective learning time, and (3) expansion of vigorous efforts for improvement of teaching method, such as achievement-based teaching and a small-group class.
It expects that many more schools will start such activities nationwide and improve their teaching methods considering their own regional and school characteristics.
Cases: Inventive approach and selective subjects
[Ena-City Ena-Nishi Junior High School: Gifu Prefecture]
Point to the realization of teaching for maximum expanse of each student's ability, the school prepared a wide range of selective subjects. In particular, students can select English classes depending on their particular level of achievement; either a class for basics or a class for the advanced level.
< Selective subjects for third graders >
English A: GROW UP COURSE
A catch-up course to relearn the contents for the first and second graders and acquire reliable basic knowledge through repetitive practices

English B: CHALLENGE COURSE
A course to help students develop abilities required to take the STEP Test (Eiken) (e.g. listening comprehension)

English C: BRUSH-UP COURSE
An advanced course to further develop acquired skills, through the making of closed caption for movies, conversation, and story reading

[Gifu-City Kano Junior High School: Gifu Prefecture]
In selective subjects of science, students can work on their own choice of research or study based on their achievements in compulsory subjects depending on their own interest.
< Selective subjects for the third graders >
Recognize Nature Course
- Objectives
To help students improve their understanding of basic knowledge and develop observational and experimental abilities, as well as the ability and attitude to watch natural phenomena from a scientific point of view.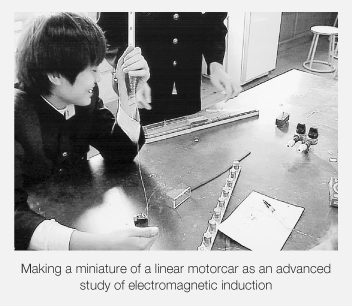 - Learning activities
Primary (First half): Common basic learning
- Master the basic operation skills (how to use experimental devices, observational and experimental abilities
- Develop problem-solving ability (how to pursue a solution, how to learn)

Secondary (Latter half): Pursuit for each one's research
- Select a theme of research
- Develop a research plan
- Practice (experiment) and compile data
- Look back at daily life from acquired scientific viewpoint

Cases: Flexible learning schedule
[Semine-Cho Semine Junior High School: Miyagi Prefecture]
To achieve the goal of the new Course of Study, the school is scheduling classes flexibly and encouraging study before regular curriculum.
< Basic class schedule for seven terms per year >
To further improve selective subjects and Period for Integrated Study, the school rearranged the timetable so that particular subjects could be focused on as necessary.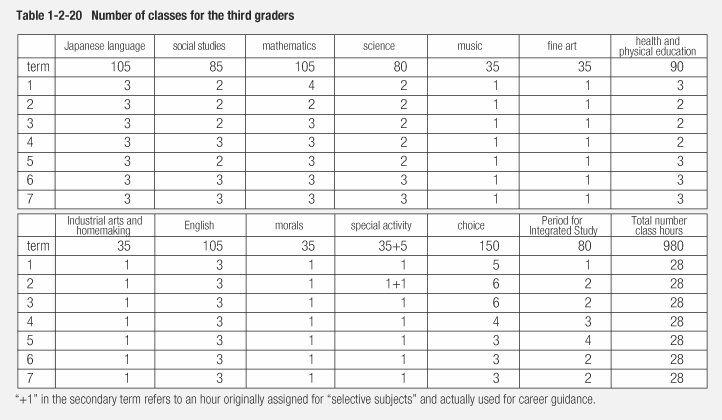 < Improvement of daily class schedule >
(1) Reading club: Morning reading time for all students
(2) Arithmetic drill & Kanji drill: Learn by drill work to improve reading and calculating abilities
(3) Self-learning time: Students review what they learned on the day and study by themselves to make their understanding reliable.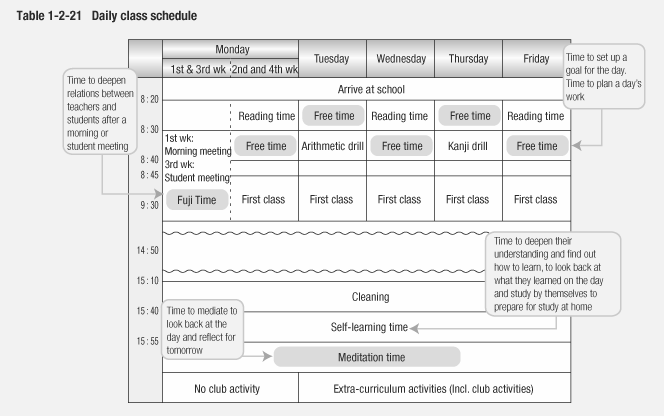 Cases: Unique and inventive teaching system and approach
[Sapporo-City Yamahana Minami Elementary School]
The school improves various unique teaching approaches mainly under a concept of "Joint Grade Teacher".
< What is a joint grade teacher? >
Under this basic concept of teaching, teachers who supervise all classes in a grade work together to provide careful eyes on individual students to form better relations with them, and to find out and develop their strengths.
< Guidance approach >
(1) Two teachers teach two classes of a grade
(2) Two teachers teach a class
(3) Four teachers teach four divided units of two classes of a grade
(4) Three teachers teach three divided units of two classes of a grade, with one serving freely as required.

Thus, various teaching approaches are being applied depending on the children's actual situation and learning content.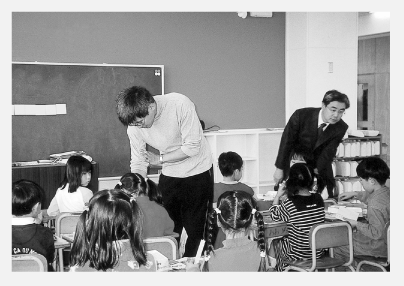 [Haibara-Cho Haibara Junior High School: Shizuoka Prefecture]
The school gives proficiency-dependent teaching in respect of students' desires and in consultation with teachers.
< Example: 2nd grade mathematics >
(1) Format Two classes are divided into three learning courses: (a) Jikkuri (Basic) Course, (b) Standard Course, and (c) Baribari (Advanced) Course. Students can take any course to catch-up or advance.
(2) Considerations in learning group formation Groups are divided by (a) students evaluating their strong subjects and fields by themselves and selecting groups they want to join, or (b) students discussing with their teachers, not just by test scores.
(3) Achievements All groups show improved performance, and remarkably so in the "Jikkuri Course", in particular.

Cases: Solid understanding of basic knowledge through specific learning activities and under specific goals
[Kumamoto-City Joto Elementary School: Kumamoto Prefecture]
To ensure that students develop basic knowledge and skills as stipulated in the Course of Study, the school developed a self-check sheet for students to self evaluate how well they understand classes well.
< Examples (Arithmetic for the 3rd graders) >
(1) Develop a "list of the basics and fundamentals" which summarizes the contents in the Course of Study
(2) Prepare basic tests in accordance with the list
(3) Develop a unit-based check list for children to evaluate their achievements by themselves based the test results
(4) Identify the points to relearn for each grade based on the results in (1) to (3), and set up a special time for repeat learning, separate from regular text-based classes.
(5) Look back at achievements after completing the relearning and determine whether or not children's study was satisfying or not, to help children to refine their individual study plan for the next time by themselves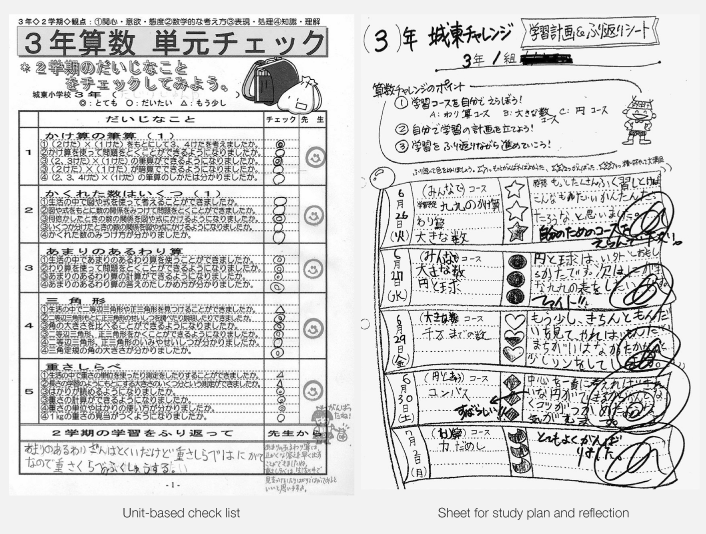 ---
PREVIOUS
NEXT
---
(C)COPYRIGHT Ministry of Education, Culture, Sports, Science and Technology