---
PREVIOUS
NEXT
---
Part2 Educational Reform Q&A
Q40: I have heard that there are special training colleges where students are qualified to enter university after graduation,and somewhere students can transfer to university.Is that correct?
---
A:Yes.There are some special training collegeswhere students are qualified to enter univer-sity after graduating or where students cantransfer to universities.
Special training colleges are practical vocational educational institutions which foster specialists in a range of areas.Responding accurately to the dizzying pace of social change,these colleges provide high-quality and diverse learning op-portunities for people aiming to become profes-sionals or people who want to brush up their skills.At present,they have become a place of learning for760,000people.In particular,one of the striking features of special training col-leges in recent years is the variety of people choosing to study at them,including mature students,as well as university and junior college students.Special training colleges run three levels of courses with differences in entry qualifications:post secondary courses(professional training colleges)for people who have graduated from upper secondary school;upper secondary courses(upper secondary special training col-leges)for people who have graduated from low-er secondary school;and general courses which do not require any special entrance qualifica-tions.
University Entrance Qualification System
Some three-year upper secondary special train-ing colleges may qualify their graduates for uni-versity entrance if their courses are recognized as meeting the Minister of Education,Science,Sports and Culture's conditions,and their gradu-ates may sit the university entrance examination without taking the Daiken exam when proceed-ing to schools of higher grade.As of FY1998,368courses at274upper sec-ondary special training colleges were able to confer university entrance qualifications,ac-counting for about40%of all upper secondary special training colleges.In addition,around13,000students had used the university entrance qualification to go on to university.In this way,we are promoting the diversifi-cation of upper secondary education with secon-dary special training colleges to provide practi-cal vocational and technical education according to the various needs,abilities and aptitudes of students.
In order to eliminate dead ends in the school education system,since April1999,graduates of professional training colleges with a term of study of two years or more and total lesson time of1,700hours or more have been able to trans-fer to university.There are many graduates of professional training colleges who wish to continue their studies at university.The opening of transfer admission by universities for such people is very significant as it responds to the diversification of student needs,namely evaluating their learning achievements at professional training colleges and increasing their courses to be taken after graduation.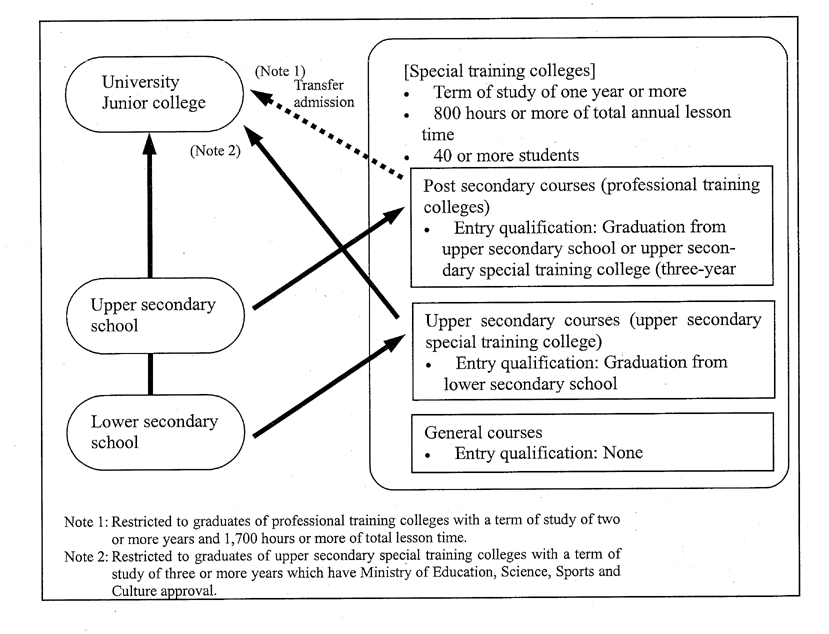 ---
PREVIOUS
NEXT
---
(C)COPYRIGHT Ministry of Education, Culture, Sports, Science and Technology