---
PREVIOUS
NEXT
---
Part2 Educational Reform Q&A
Q24: I have heard that a unified lower and upper secondary school education system has been accomplished,but what are these schools like?Furthermore,there are currently no such schools in the vicinity of my house and I would like to know how many more of these schools are planned in the future.
---
A:Aiming to realize education that emphasizesthe individuality of the student,from April1999,in addition to current lower and uppersecondary schools,the unified lower andupper secondary school system was imple-mented to enable students to select a cur-riculum and an educational environmentthat is consistent for six years.Each prefecture is progressing with theaim to establish at least one such school ineach upper secondary school zone(about500 nationwide).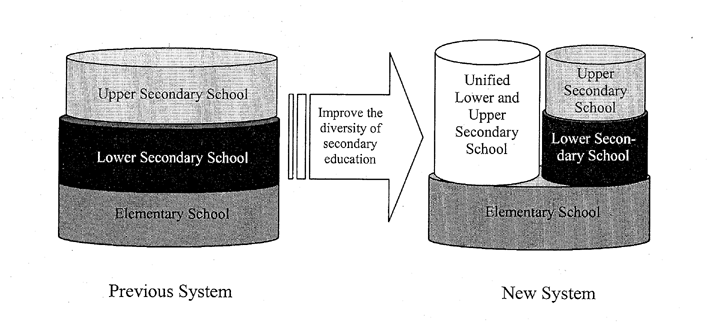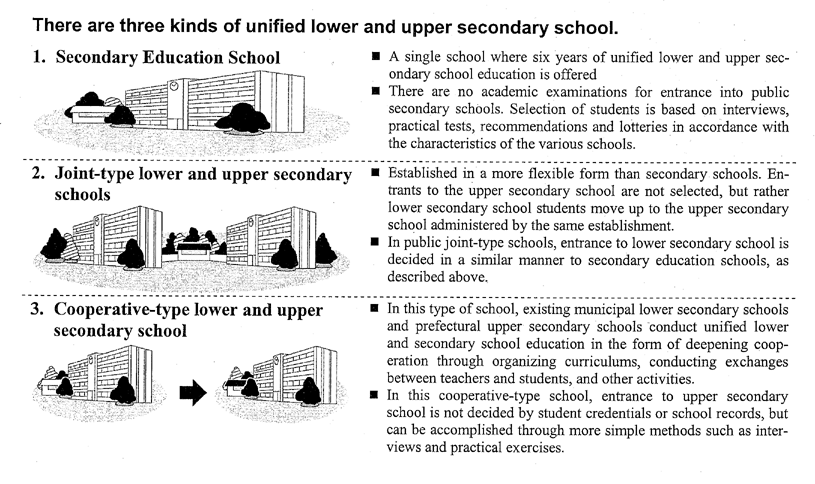 Schools Offering Various Learning Actiivities in a Comfortable Atmosphere
Which subjects are established at unified lower and upper secondary schools and which special char-acteristics educational content will have depends on the decision of prefectures and municipalities.Developing six years of planned and continuous education guidance in a flexible school lifestyle,while increasing student individuality and creativity should be the objective upon which unified lower and upper secondary schools are founded.
For example,such schools as these could be envisaged:
1.Schools that emphasize practical learning
2.Schools that emphasize region-related learning
3.Schools that emphasize education that is valuable for inter-nationalization
4.Schools that emphasize education that is valuable for the information age
5.Schools that emphasize environment-related learning
6.Schools that emphasize education as the vehicle for trans-mitting tradition and culture
7.Schools that can respond to children who want to learn without haste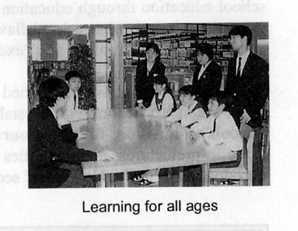 Throughout Japan,unified lower and upper secondary schools at the national,publicand private level are either being established or their establishment is being examined
In FY1999,public unified lower and upper and secondary schools opened their doors in the following three areas:
Miyazaki Prefecture Gokase Secondary Education School(Full-day course,general education courses)
Students are enrolled in this school from elementary schools tbroughout Miyazaki Prefecture.Amidst an enriched natural environment,sensitive and inspirational education is conducted for the purpose of cultivating highly creative,independent peo-ple.For example,the boarding school offers hands-on learning and conducts classes with students of different ages.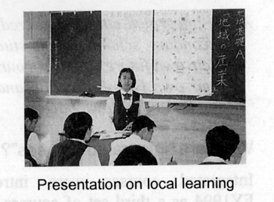 Okayama City Okayama Kourakukan Lower andUpper Secondary Schools(Joint-type,day/eveningsystem,integrated courses)
At this school,education is conducted for the purpose of fostering humanity and independence.This is imple-mented,for example,with tbe introduction of a two se-mester system;the establishment of a City Campus Day on Saturdays,where hands-on learning and free research can be conducted in or out of school;flexible classes;and the introduction of school activities and student associa-tion activities taken on by a wide range of students of different ages.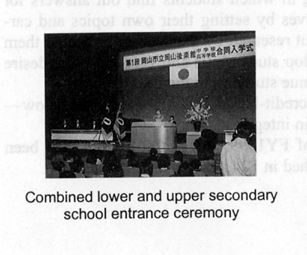 Mie Prefecture Iinan Upper Secondary School(Cooperativetype,full-day course,integrated courses)Iinan Town Iinan Lower Secondary School,Iidaka TownIidaka West Lower Secondary School,Iidaka East LowerSecondary School
These schools are aiming to nurture talent that will make a con-tribution to local understanding and local revitalization,by im-plementing cooperative unified lower and upper secondary school education through education that is pertinent to the new generation,but also has a local flavor.Their motives for coop-eration are"local learning"and"exchange education."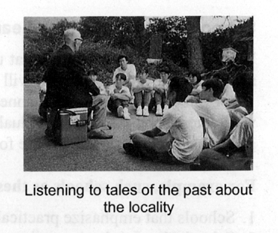 In addition to the above-mentioned schools,it has been decided that in FY2000 a unified lower andupper secondary school will be established at the
Akita City Goshono Lower and Upper SecondarySchools(joint-type,full-day course,general education course)
.Moreover,examinations will bemade in prefectures,municipalities and national,public and private schools in the move toward theintroduction of unified lower and secondary school education from FY2000.
---
PREVIOUS
NEXT
---
(C)COPYRIGHT Ministry of Education, Culture, Sports, Science and Technology