---
PREVIOUS
NEXT
---
Part1 Chapter1:Results Achieved Through Educational Reform Chapter2:The Progress of Educational Reform to Date Chapter3:Future Developments in Educational Reform Chapter4:Global Trends in Educational Reform
Chapter2 The Progress of Educational Reform to Date
---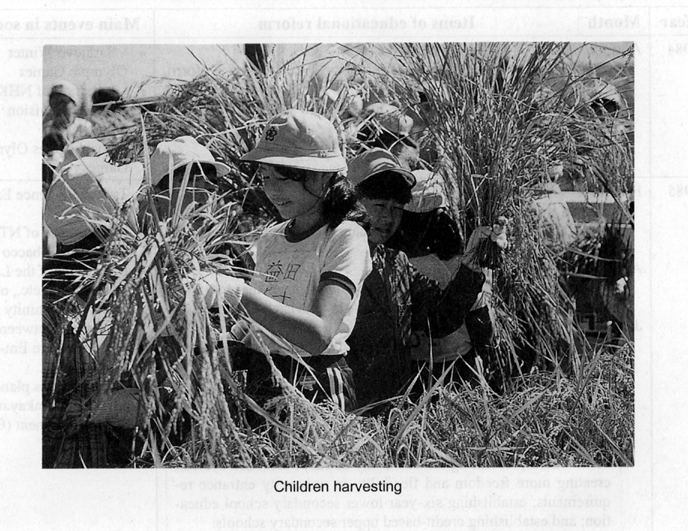 The chronological chart below outlines the main items of educational reform since the inaugura-tion of the National Council on Educational Re-form.From this chart,you can see how new systems have been put in place and old ones have been amended made in line with re,ports of various councils and committees,including the National Council on Educational Reform and the Central Council for Education.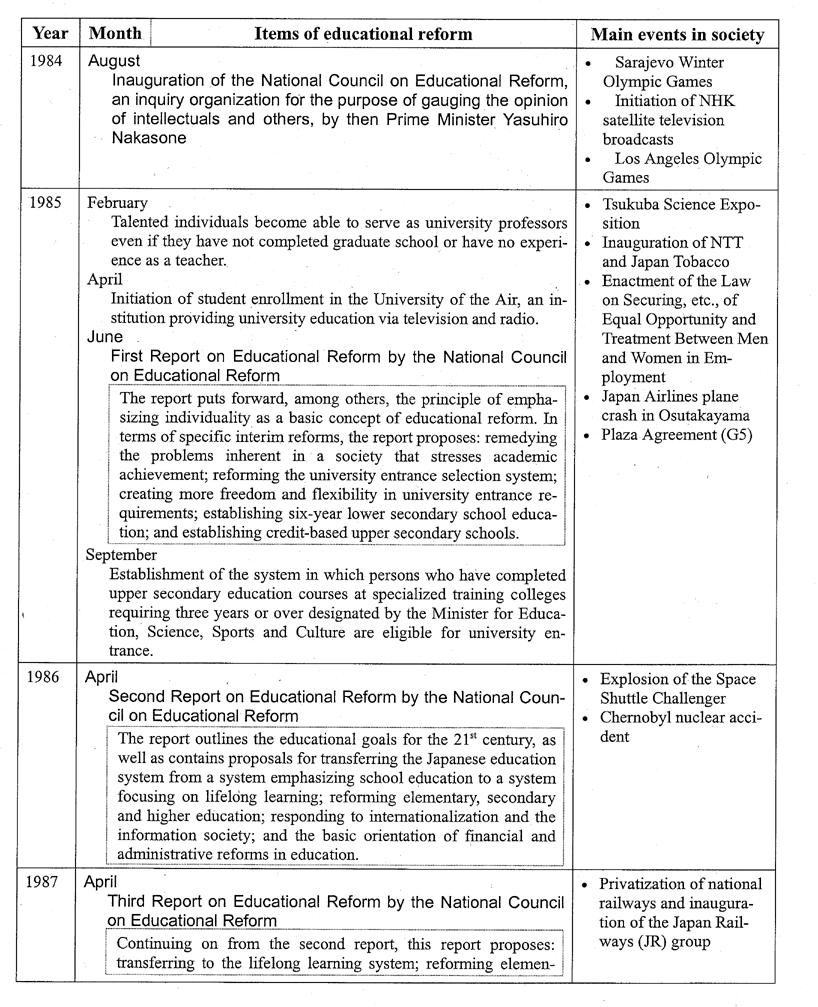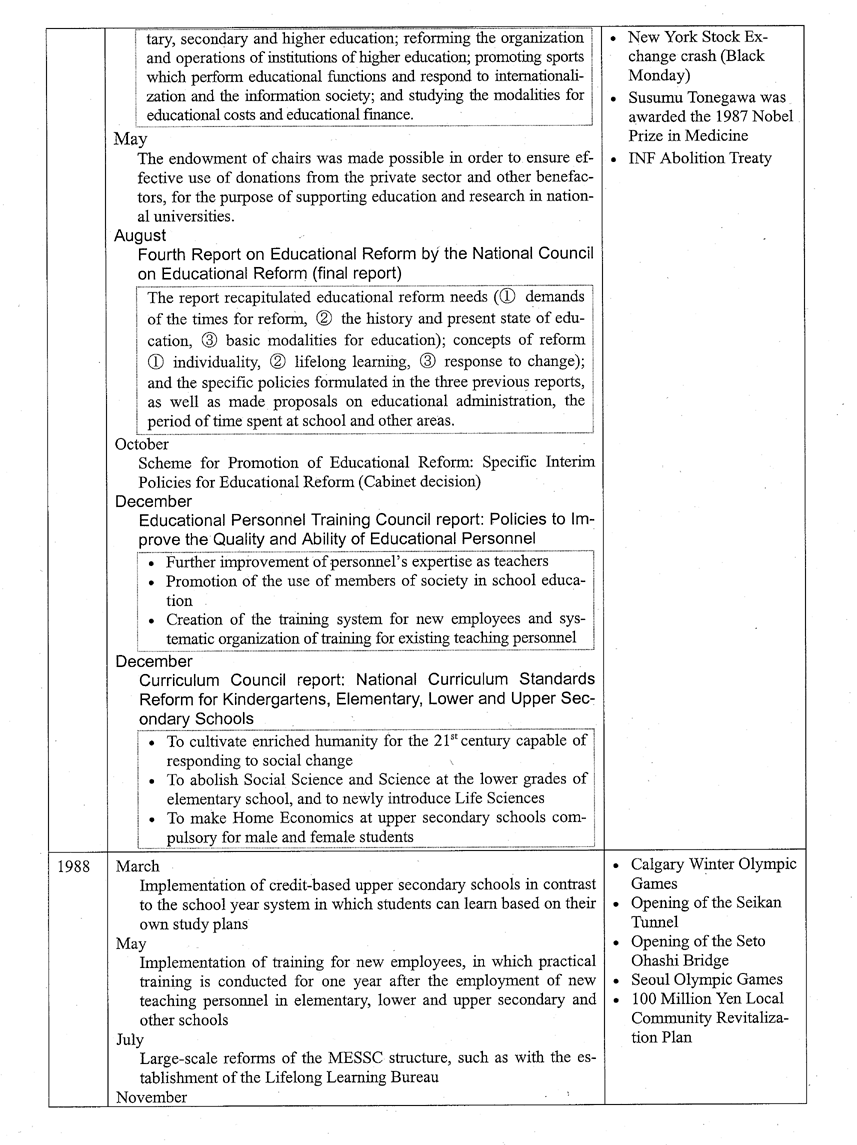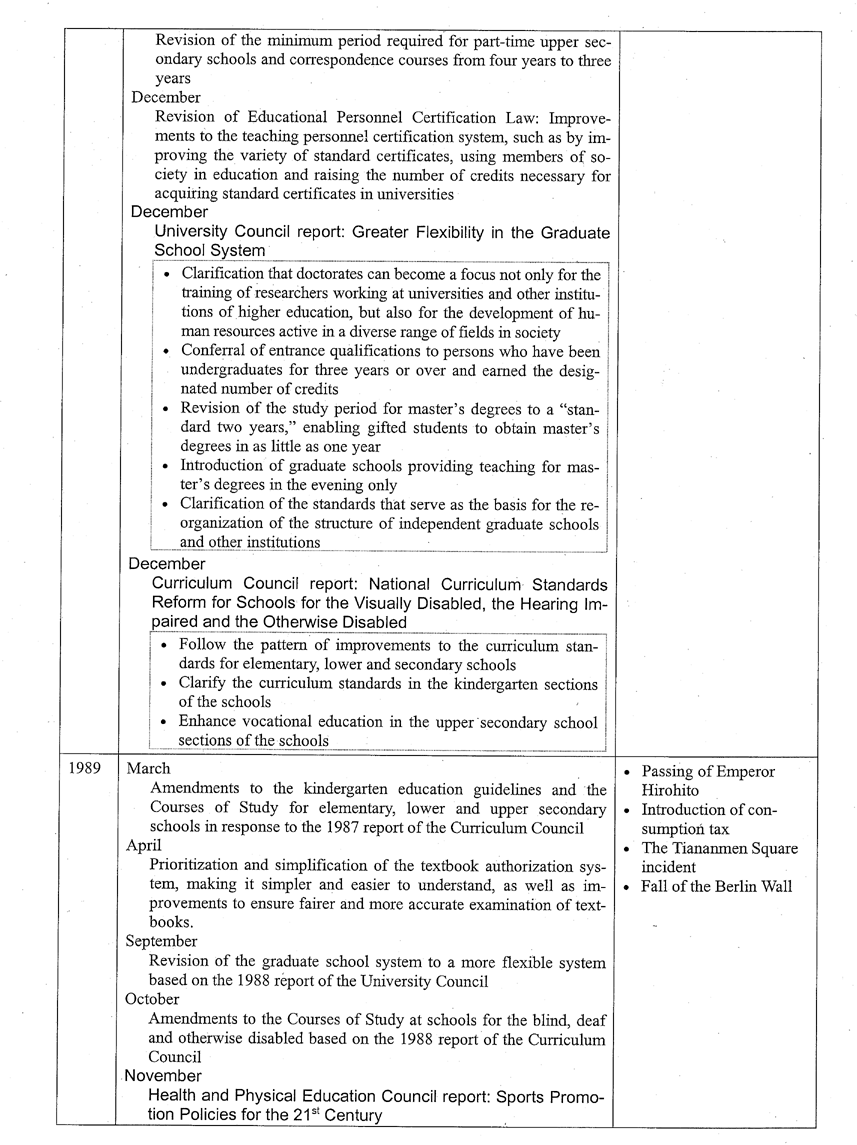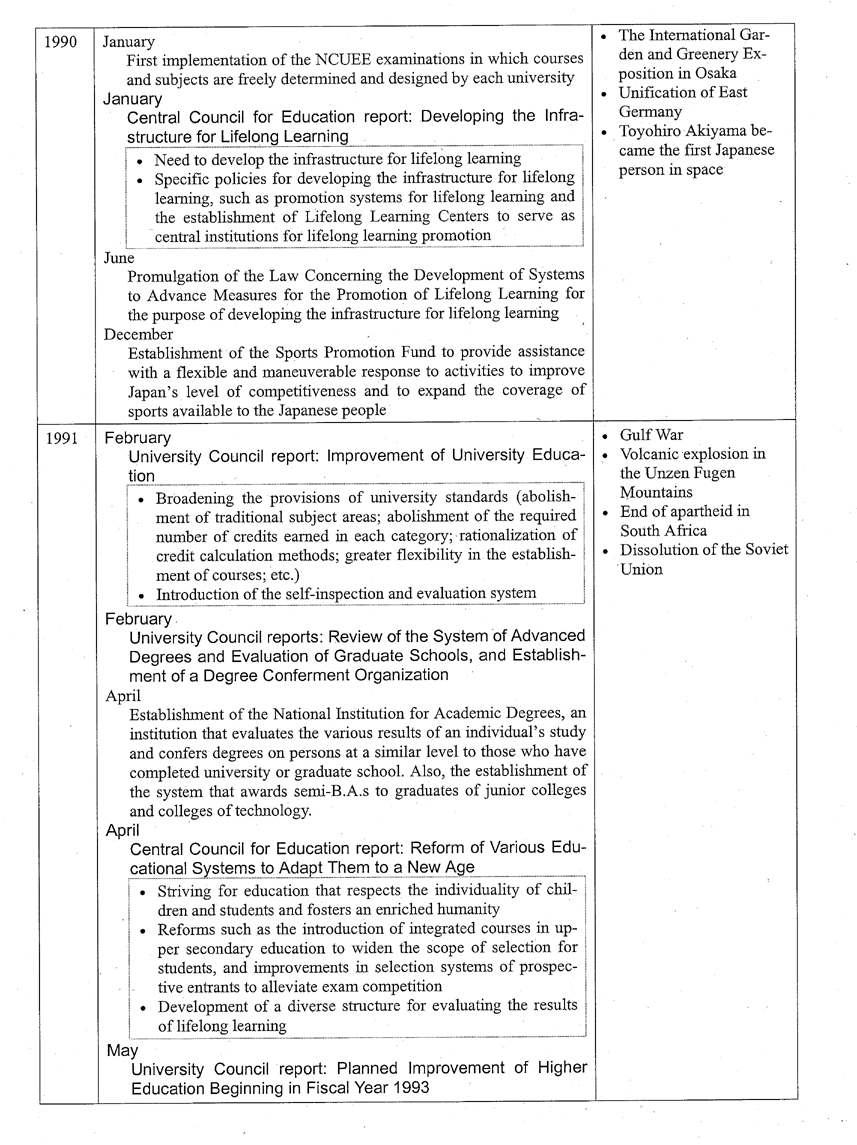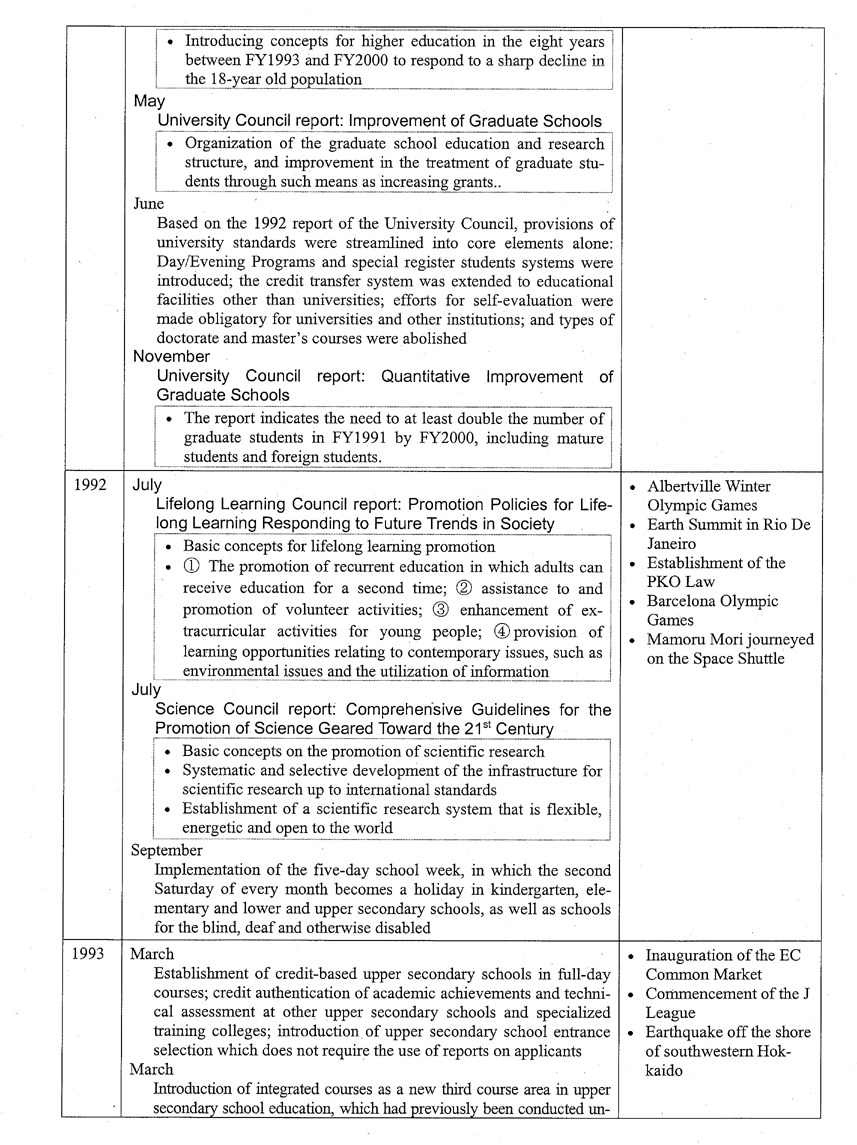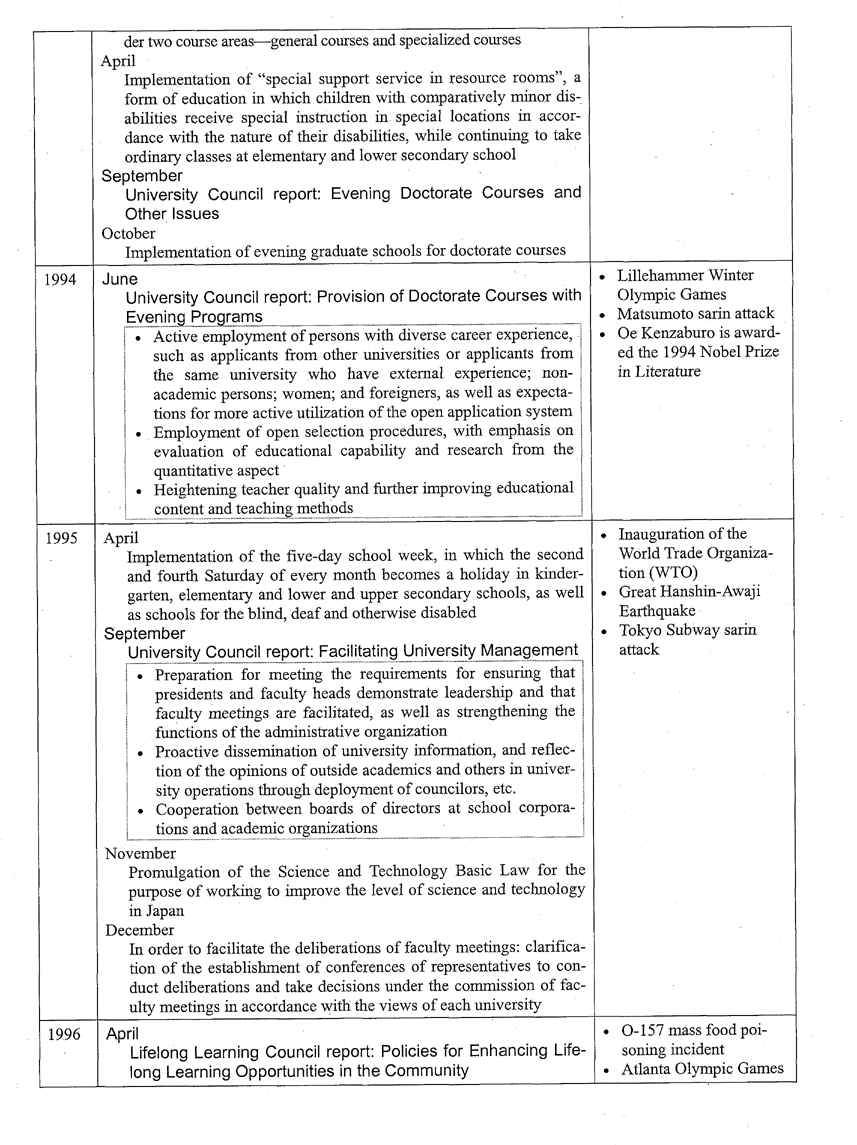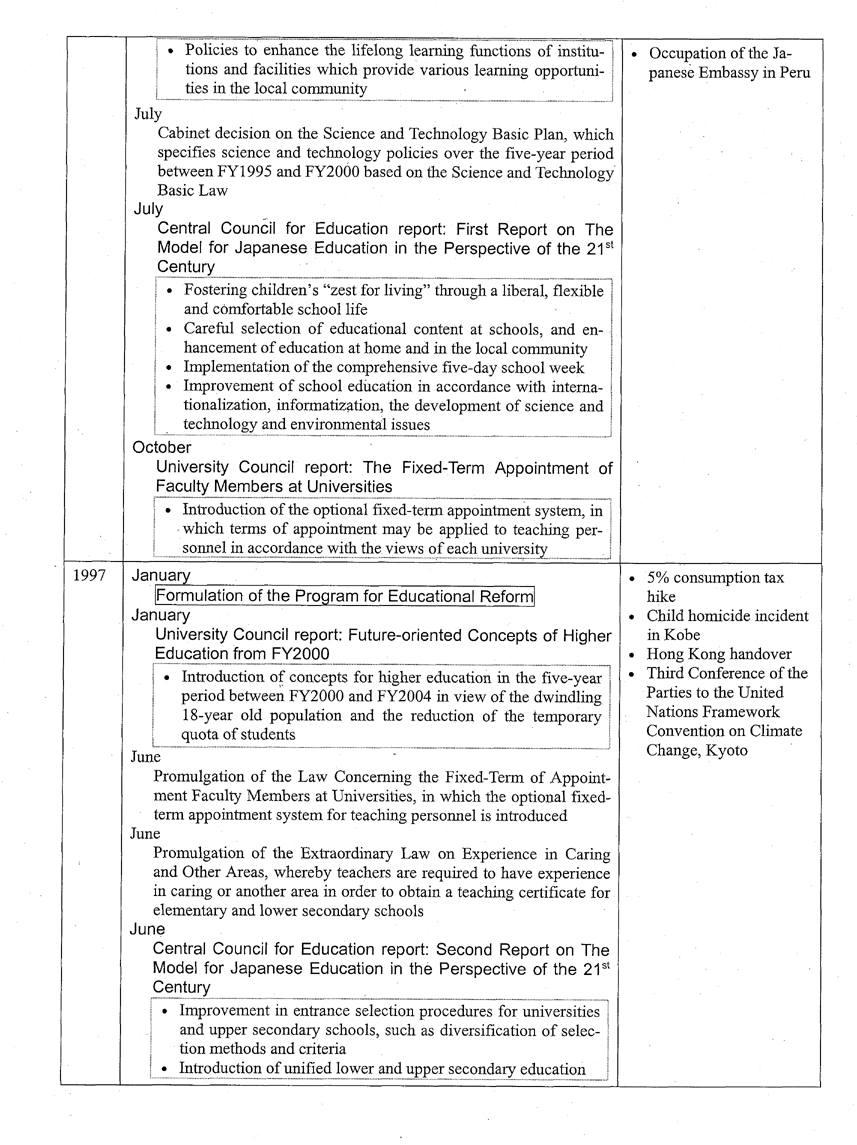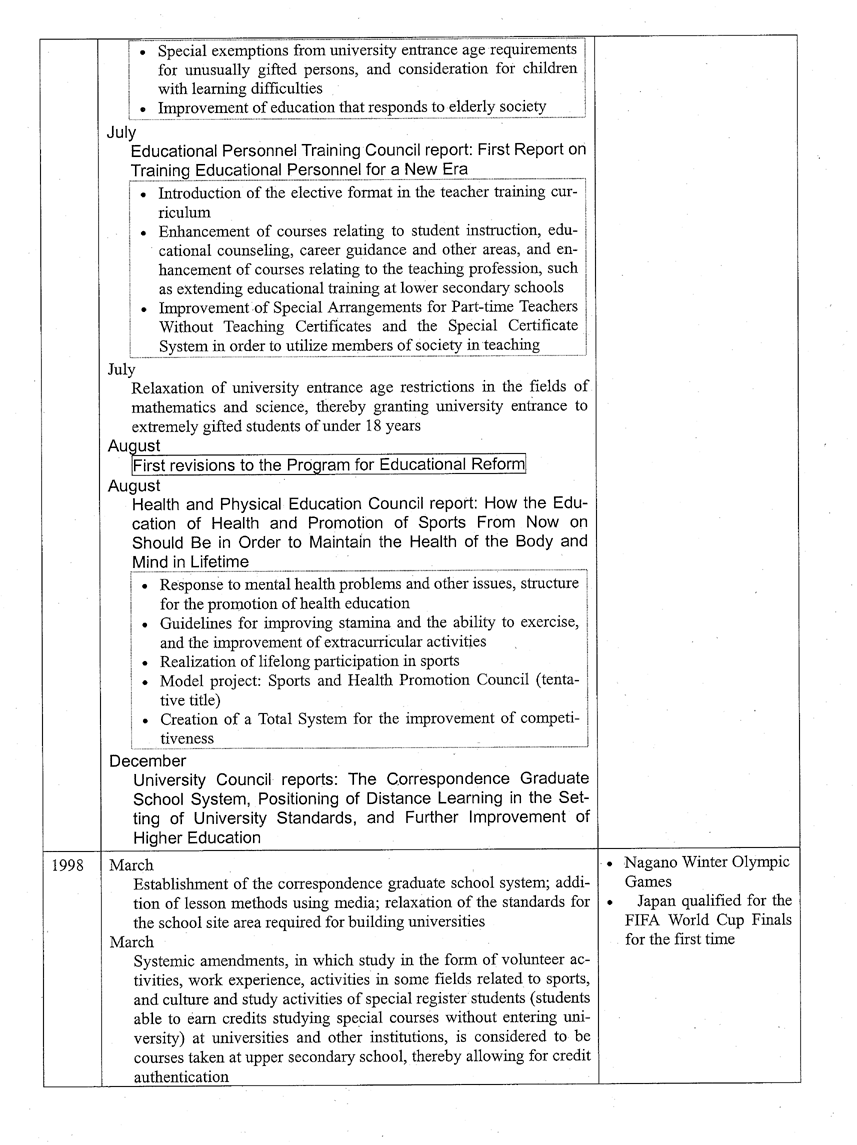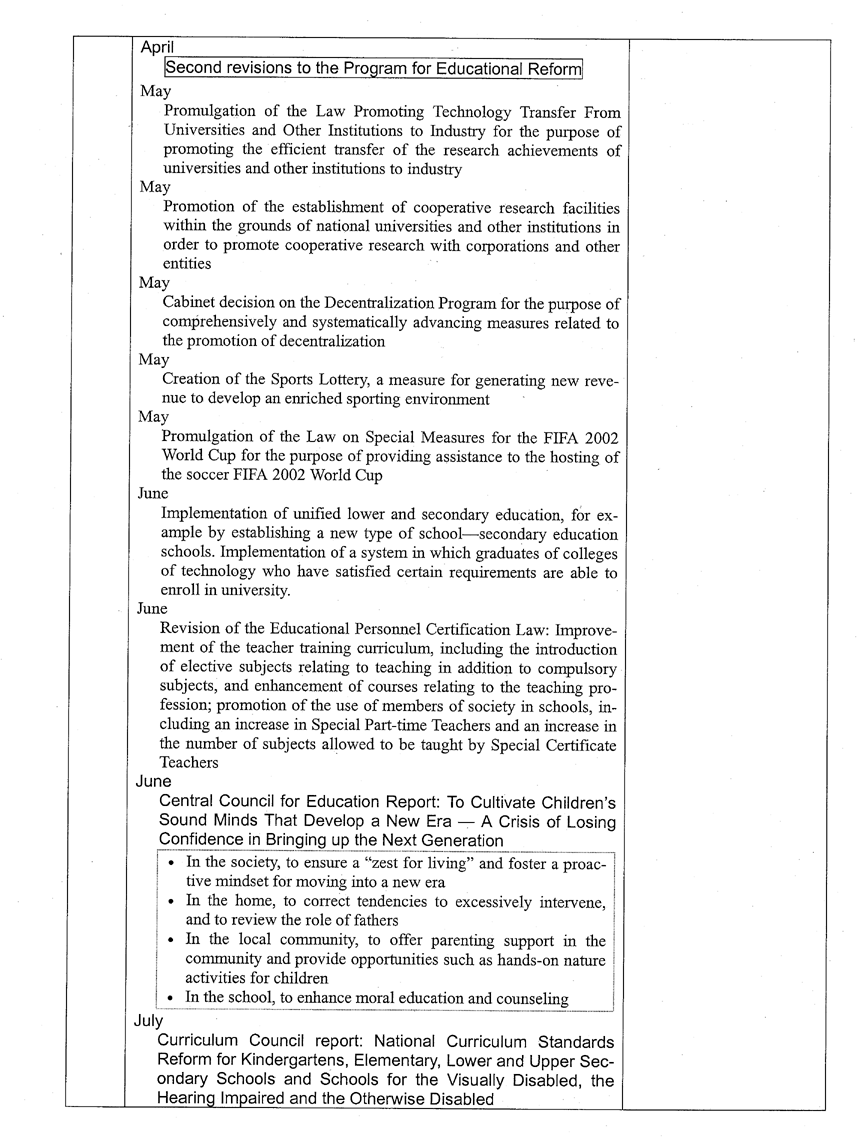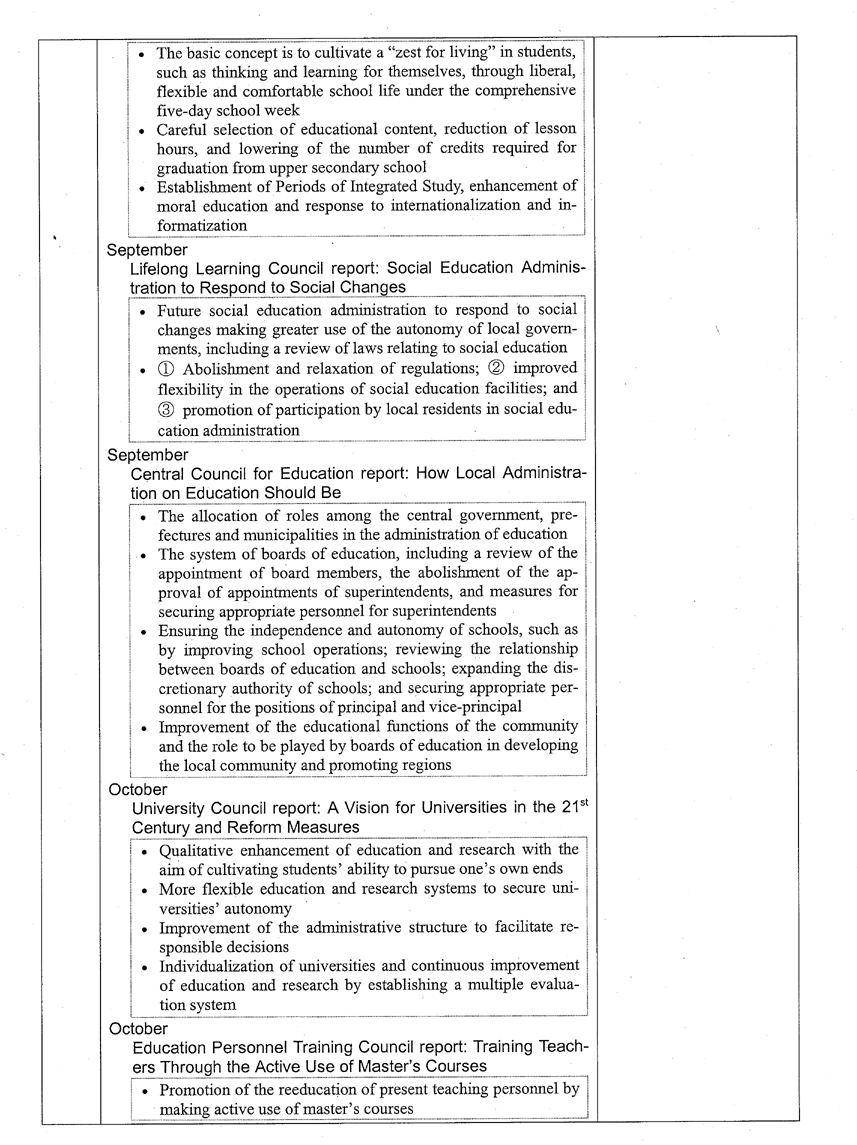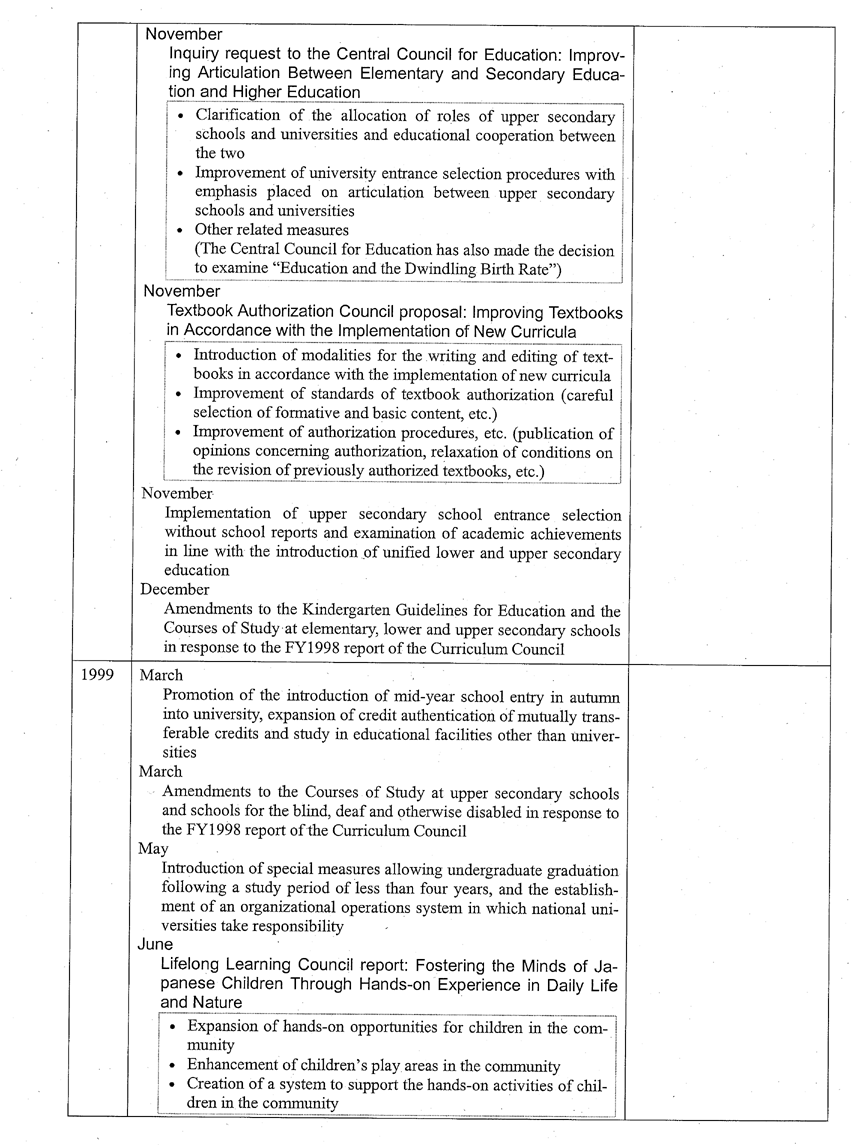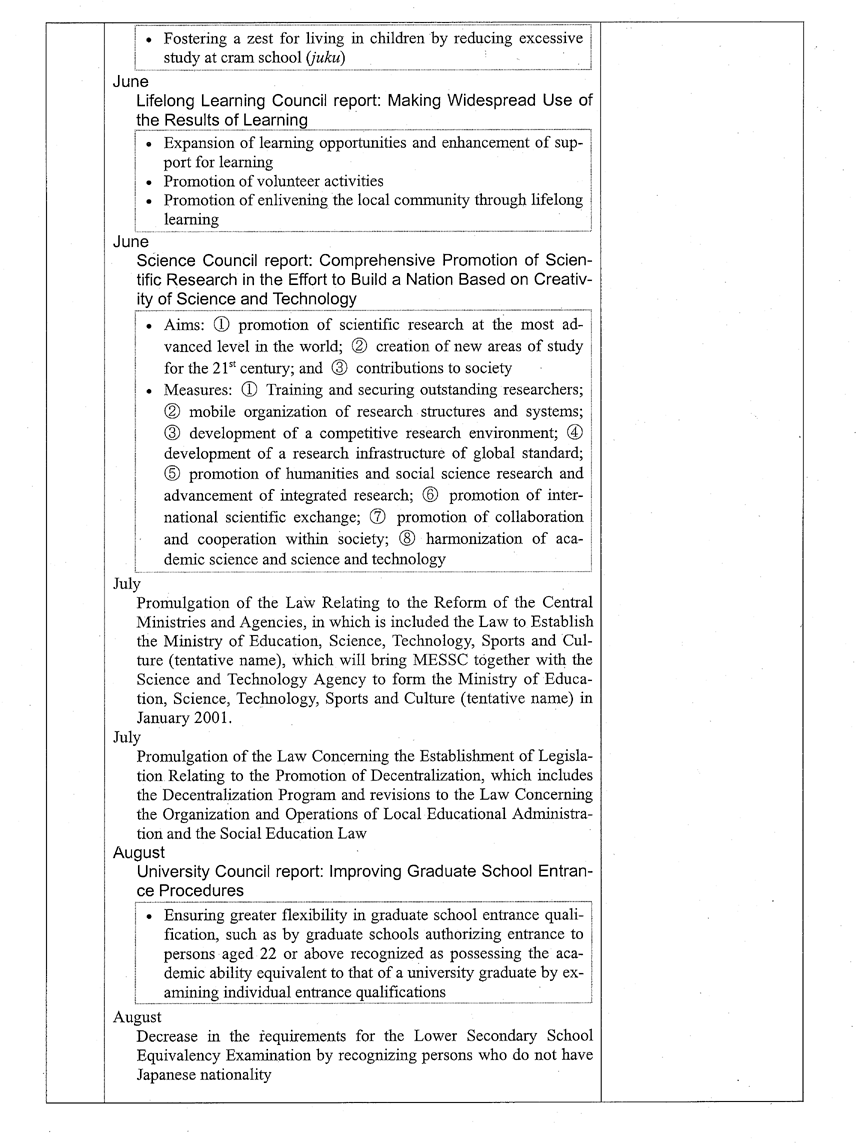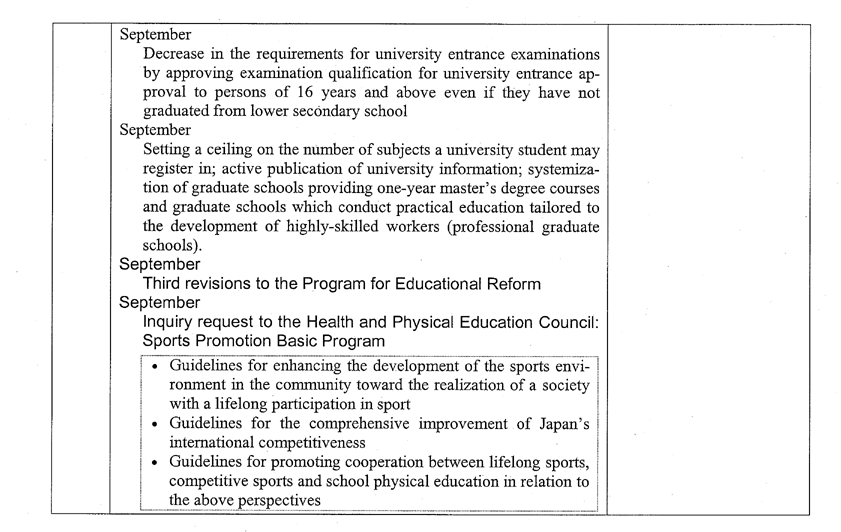 The National Council on Educational Reform
The National Council on Educational Reform was established as an inquiry institution in August1984 by then Prime Minister Yasuhiro Nakasone in order to tackle the various problems that hadarisen in education,such as the harmful elements of society's preoccupation with academicachievement,fierce competition in examinations,the problematic behavior of young people,and uniformity and rigidity in school education,and due to the heightened need for realizingeducation that responds to changes in society.
The National Council on Educational Reform submitted four reports to the Prime Minis-ter between1985and1987before its dissolution in August1987.
The Formulation of the Program for Educational Reform
The Program for Educational Reform evolved out of an order from then Prime Minister RyutaroHashimoto to then Minister of Education,Science,Sports and Culture Takashi Kosugi toprovide specific themes and a schedule for reform in education-the cornerstone of all socialsystems-in line with Prime Minister Hashimoto's five major reforms,including administrativereform,economic structural reform and fiscal structural reform,for reassessing the entire socio-economic system of Japan which had underpinned its postwar development.
In response to this,MESSC cooperated with relevant ministries and agencies to formulatethe Program for Educational Reform,which provided the specific details of themes and sched-ule for reform,and this was submitted to the Prime Minister in January1997.Following this,the Program for Educational Reform was revised three times,in August1997,April1998andSeptember1999in line with the progress of educational reform efforts.
---
PREVIOUS
NEXT
---
(C)COPYRIGHT Ministry of Education, Culture, Sports, Science and Technology