---
PREVIOUS
NEXT
---
Part 1 Higher Education to Support a Knowledge-Based Society Full of Creative Vitality - New Developments in Higher Education Reform
Chapter 2 New Developments in Higher Education Reform
Section 1 Promotion of Reforms through Measures Such as the Incorporation of National Universities
2 Reorganization and Integration of National Universities
---
The reorganization and integration of national universities is proceeding without being constrained by the limits of each university in order to strengthen the education and research base through the effective utilization of limited resources.
Wide-ranging study is being carried out at each university from the perspective of their respective future development (such as improving and strengthening the education and research systems, developing new academic fields, strengthening the local community contribution and social contribution functions, and strengthening the management base).
As a result, 4 universities integrated into 2 in October 2002, becoming the first universities to integrate under the current reform process. As the new University of Tsukuba and new University of Yamanashi, they began to accept student enrolments from April 2003. Furthermore, in October 2003, 20 universities integrated into ten and will begin accepting students from April 2004. In addition, one group of three universities has agreed to integration in October 2005.
In this way, the reorganization and integration of national universities is steadily proceeding, and an ongoing, wide-ranging study of diverse organizational reforms including reorganization and integration is currently proceeding at other universities as well.
MEXT is providing the necessary support and advice while respecting the independent study of universities, and is planning to promote the phased reorganization and integration of national universities, beginning with those national universities that have completed preparations for reorganization and integration ( Figure 1-2-6 ).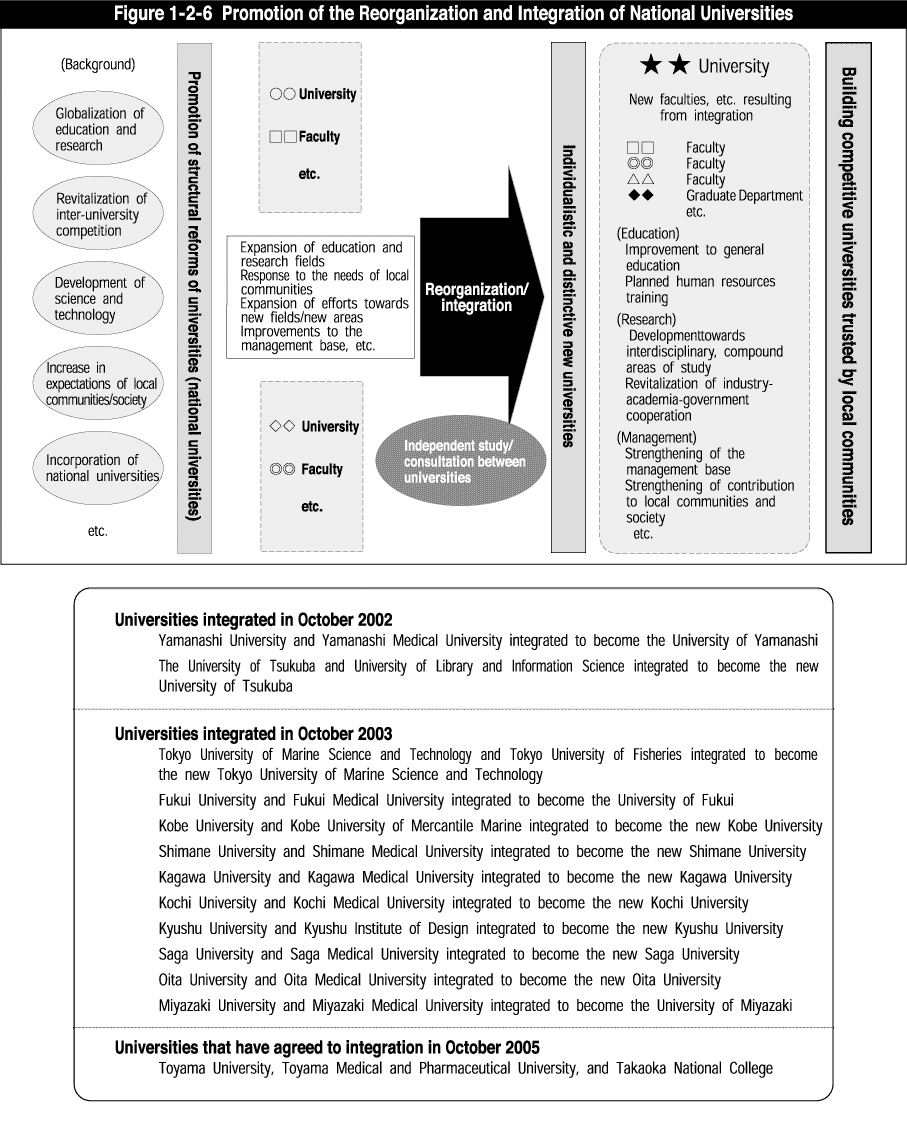 ---
PREVIOUS
NEXT
---
(C)COPYRIGHT Ministry of Education, Culture, Sports, Science and Technology