d. The 1900 Elementary School Order
By the beginning of the twentieth century following the Sino-Japanese War (1894-1895), various indications of Japan's progress toward modernization were finally becoming visible, and the people began to develop a sense of pride in their accomplishments. During this period the basic pattern of modern life for the people also took clear shape. And in the field of education, this period from the end of the nineteenth century to the beginning of the twentieth century held an important meaning, for during the interval there was an overall revision of the educational system including the elementary school system.
On August 20, 1900, the 1900 Elementary School Order was promulgated, which came into force on September 1 of that year. This 1900 Order retained the definition of the purpose of elementary schools found in Article 1 of the 1890 Order. However, on all other points, there was a thorough revision. The entire text consisted of 73 articles formed into nine chapters with the following headings: 1) General Provisions, 2) Establnshment, 3) Subjects and Organization, 4) Facilities and Equipment, 5) Attendance, 6) Personnel, 7) Expense Burden and Tuition, 8) Management and Supervision and 9) Appended Provisions.
The most striking feature of the 1900 Order, in terms of the school system, was the replacement of the previously recognized three-year course with a four-year course for all ordinary elementary schools. This was in effect a realization of the policy envisioned on the occasion of the promulgation of the 1886 Elementary School Order. After this 1900 Elementary School Order declared that all ordinary elementary school courses should last four years, the Ministry of Education took a first step toward extending the period of compulsory education by encouraging as much as possible the unification of the four-year ordinary elementary school with the two-year higher elementary school. This prepared the way for extending compulsory education to six years soon afterward. As a consequence of the 1900 Elementary School Order, higher elementary schools spread very rapidly. This is indicated in Table 3-1 which shows the changes in the number of higher elementary schools and pupils for the years 1899-1907.
For the enforcement of the 1900 Elementary School Order detailed Regulations for the Enforcement of the 1900 Elementary School Order were issued in August, 1900, and put in force in September of that year.
Table 3-1. Higher Elementary Schools and Pupils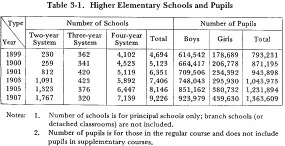 (C)COPYRIGHT Ministry of Education, Culture, Sports, Science and Technology