---
PREVIOUS
NEXT
---
Part 1: Towards the 21st Century
Chapter 3: The Relationship Between Science and Technology and Society in the 21st Century
Section 4: Science and Technology for the People
2. Enhancement of Provision of Science and Technology Information to the Public
---
(1)
Development of Mechanisms to Provide Science and Technology Information and Nurturing of People Responsible for Such Mechanisms (Interpreters)

According to demands of society, mechanisms are required to explain science and technology knowledge to the public in a more specialized manner, at any time, and in some cases to individuals. It is also necessary to create opportunities to evoke interest in people who did not have an interest in science and technology.

There is therefore a need to foster "Interpreters" who act as a bridge between science and technology and general public.
(Mechanisms to Communicate Information)

With the rapid development of telecommunications technology, effective and efficient distribution of information utilizing new communication media such as computer networks and multi-channel satellite broadcasting have become possible.

There is also a need to identify effective means of communicating information from all possibilities, including publishing books and cartoons, lectures, and communication by telephone and interview as means that have been carried out from the past.
(Requirements for Interpreters)

Since interpreters are expected to understand highly technical information about science and technology, and to understand the latest information, it is thought to be effective to utilize researchers, engineers, school teachers, and retired teachers.

There are a large number of researchers who, apart from research work, show an interest in dissemination and education in science and technology soon after the planning sector of research and development. They are expected to be a source of Interpreters ( Fig. 18 ).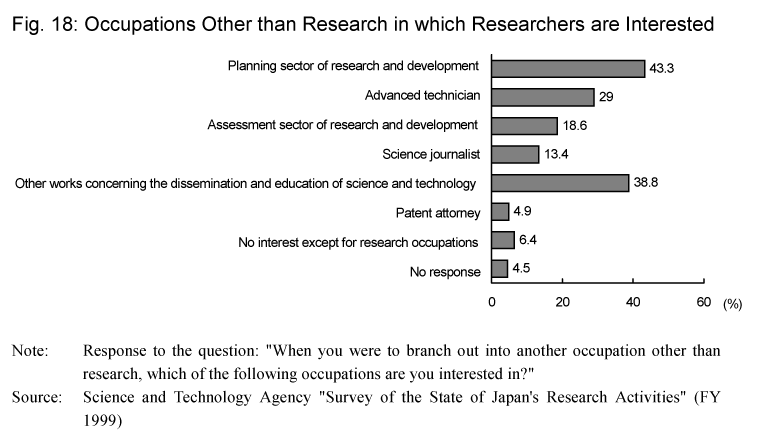 It is also necessary to foster Interpreters who have skills to explain science and technology in easily understood terms to the general public. Examples of effective methods include increasing visits and enhancing training held at research institutions in a variety of fields, holding lecture sessions with science journalists and people from educational circles as guest lecturers, and providing Interpreters with videos and textbooks that introduce experiments and lectures that are easy to understand, and that act as the norm when actually giving explanations to the public.

The quality of information provided to the general public should be diverse and varied, meeting the needs of the target ranging from evoking an interest in the sector of society without interest in science and technology at all, to responding adequately to the intellectual curiosity of sectors of society with considerable interest in science and technology.

(2)
Expectations to Science Journalism

From the past, science journalism has functioned as an Interpreter concerning science and technology. Public opinion polls indicate that the general public relies heavily on the media as a source of information about science and technology ( Fig. 19 ).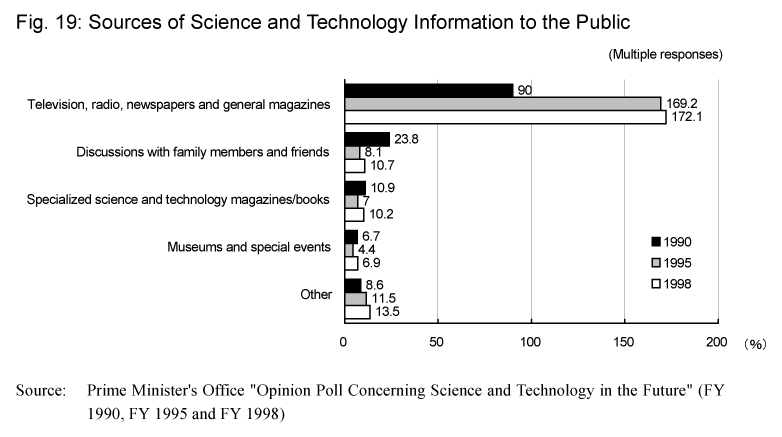 In the future, it will be necessary for science journalism to promote understanding and evoke interest about science and technology among the general public by providing accurate facts from impartial and diverse perspectives.

There is also a need to foster and secure journalists who are specialized in science and technology, and to make reports which actively incorporates commentary and analysis by experts, thereby improving the quality and quantity of science journalism in Japan.
---
PREVIOUS
NEXT
---
(C)COPYRIGHT Ministry of Education, Culture, Sports, Science and Technology