---
PREVIOUS
NEXT
---
Part 1: Towards the 21st Century
Chapter 2: Science and Technology's Contribution to Human Society in the 20th century and Issues to be Addressed in the Future
Section 1: Development of Science and Technology in the 20th Century and Penetration to Society
3. Development of Telecommunications
---
(1)
The Development of Wireless Communications - The Advent of Mass Media -

The world's first radio broadcast took place in the US in 1920, while in Japan radio broadcasting started in 1925. In 1931 test broadcasts of television started in the US in 1931, and 10 years later, in 1941, official broadcasting commenced. In Japan, formal television broadcasting started in 1953.

In the following years, radio, television and other kinds of the mass media have developed quite dramatically, to the point where it has become the largest source of information for modern people, played an important role as the originating base for new culture, and come to play an important role as infrastructure that supports lives of citizens.

(2)
Computers - The Door to Advanced Telecommunications Society -

In 1945, the bulb-type electronic computer "ENIAC," the first computer in the world, was completed. Subsequent improvements in calculating speed and memory capacity, and the progress in achieving more compact devices have been quite marked, and current personal computers have a weight of approximately 1/15,000, power consumption of approximately 1/13,000 and processing speed of approximately 10,000 times of early models.

Computers have contributed to improve the quality of products and the creation of new products, and have also had a great impact on non-manufacturing industries such as finance and insurance.

Together with the development of electronic equipment such as computed tomography scans (CT scans), computers have had a great impact on medicine and medical care.

As computers penetrate society in the future, the resolution of problems caused by software and the environment surrounding computers is an issue which must be addressed urgently.

(3)
Development of Computer Networks - Networks for Information Transmission -

The Internet, a network that connects computers throughout the world, became widely used from around 1993. The number of host computers connected to the Internet continues to increase unceasingly ( Fig. 8 ).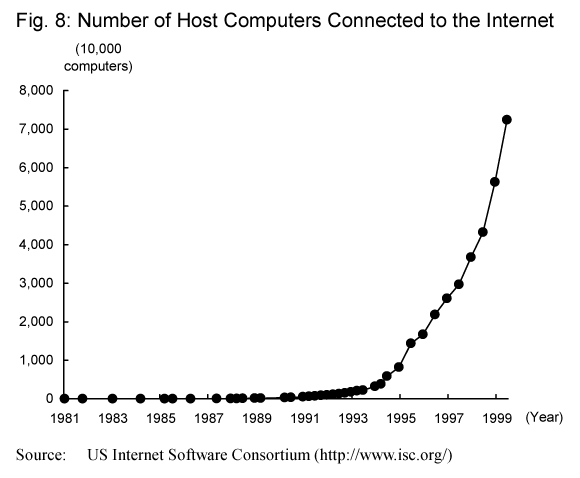 The use of computer networks not only dramatically changes the individual lives, but also regenerates companies by promoting the sharing of information within companies, and transforming the format of employment.

With the realization of optical fiber networks, the quantity of information able to transmitted will be thousands times greater than that which is possible on telephone lines. As a result, it will be easier to transmit image information, and distance education, teleworking, home shopping, remote medical diagnosis and other new information services will become possible.

With the increasing usage rates of networks, crimes and unauthorized activities related to networks have become a major issue society faces, and security technology and progress to the security awareness of users have become inevitable.

(4)
Digital Technology - 0 and 1 Change the World -

Currently telecommunications equipment and electrical appliances start to be fused via digital networks, and the development of this sector is referred to as "information appliances."

The digitalization of the broadcast sector, such as satellite broadcasting, has added a great number of values as more channel numbers, higher picture quality and higher grade, and a resistance to deterioration in picture quality.

Since it becomes possible to process, accumulate and search digitalized data, a wide range of applications can be realized.
---
PREVIOUS
NEXT
---
(C)COPYRIGHT Ministry of Education, Culture, Sports, Science and Technology