---
PREVIOUS
NEXT
---
MENTAL AND PHYSICAL HEALTH AND SPORTS
CHAPTER3 TOWARD THE REALIZATION OF LIFELONGPARTICIPATION IN SPORTS
SECTTON4: SPORTS LIFE AND ENVIRONMENTS IN OTHER COUNTRIES
2. Unique Measures Takenfor the Promotionof Lifelong Participation in Sports
---
There are various measures taken for the promotion of sports according to the individual circumstances of each country.Australia's"Aussie Sports,"introduced in Section3,Chapter1,is one such example.As the foundation and background of lifelong participation in sports is different in each country,it is not easy to make an overall comparison of the measures implemented by each government.The following is a summary of measures considered especially unique.
(1)
France-System for the Certification of Qualified Instructors
France is the only EU member with a national certification system for sports instructors.It has attracted world attention as a system that seeks a consistent path from development to qualification to employment.Laws have been established to prevent the employment of instructors as paid specialists unless they have been certified as a result of national tests.Certified instructors are active in private sports clubs and private company welfare divisions as vell as on national teams and at public facilities.There is also a system for supplying nationally certified sports specialists from the Ministry of Youth and Sports(Ministere de la Jeunesse et des Sports).'There are three levels of national certification(basic,intermediate,advanced)and tests not only cover professional knowledge in physical education and sports science,but also include essays and foreign language examinations.Next,applicants must complete designated course work,then pass a final examination composed of written tests,verbal tests and practical skills tests.
(2)
Germany-Golden Plan
Germany has been implementing a sports promotion plan,"Golden Plan,"for better provision of sports facilities,while under the slogan"Sports for Everybody,"various kinds of programs have been introduced in sports clubs activities.In West Germany in1960,the federal government,the federal parliament(Bundestag),and state and municipal governments were encouraged to complete the Golden Plan over the ensuing15years based on standards for the establishment of comprehensive sports facilities.Total inveshnent into the construction of facilities over the15-year period from1961to1975was about15billion marks(approximately1.1trillion yen).After the completion of the first15-year Golden Plan in1975new standards were stipulated based on the need to continue building sports facilities.The Golden Plan has been supported in part by revenues from the soccer lottery(Toto)in Germany.This plan has helped advance community sports in Germany.The number of participants in sports has grown rapidly from6million to26million(roughly one-third of the population).Some86,000comprehensive community sports clubs were registered according to a1996survey.These clubs,as bases for the sports activities of local residents and essential places for social interaction,have established deep roots with the support of resident volunteers.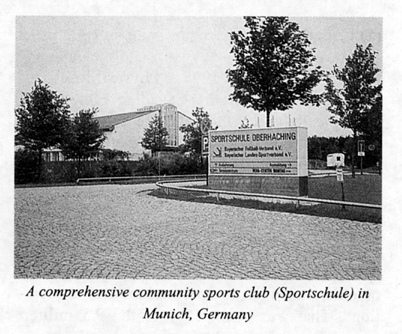 (3)
NewZealand-Program Development
In New Zealand,the Hillary Commission for Sport Fitness and Leisure plays a major role in sports promotion policy.This commission is comprised of9members appointed by the government,carries out various activities.Most notable is the development of sports programs targeting specific groups(e.g.,infants,young people,workers,women,senior citizens,the disabled).
---
PREVIOUS
NEXT
---
(C)COPYRIGHT Ministry of Education, Culture, Sports, Science and Technology