---
PREVIOUS
NEXT
---
MENTAL AND PHYSICAL HEALTH AND SPORTS
CHAPTER3 TOWARD THE REALIZATION OF LIFELONGPARTICIPATION IN SPORTS
SECTION3: DEVELOPMENT OF COMMUNITY SPORTS ENVIRONMENTS
4. Training and Utilizing Sports Instructors
---
(1)
Significance of Training Sports Instrudors
According to the"Opinion Survey on Stamina andSports,"the Japanese want the central and localgovernments to dedicate their greatest effort to thetraining of sports instructors( see Figure3-23 ).Toget more people involved in sports and to makesports familiar in their daily lives,it is important totrain and secure sports instructors.At the same time,with the diversification and the advanced level ofJapanese sports activities today,there is a need bothfor more instructors and for better inshuctors.Instructors tberefore need to have a broader education,specialized knowledge,including scientific knowledge,and a higher level of teaching skill.With anincrease in accidents accompanying the boom inoutdoor sports in recent years,instructors are moreimportant in the area of accident prevention as well.Central and local governments offer various courses aimed at developing sports instructors.MESSC also offers various training programs and courses,including the Lifelong Sports Promoters Course targeting community sports instructors and those in charge of boards of education.In particular,there are training courses to develop outdoor activity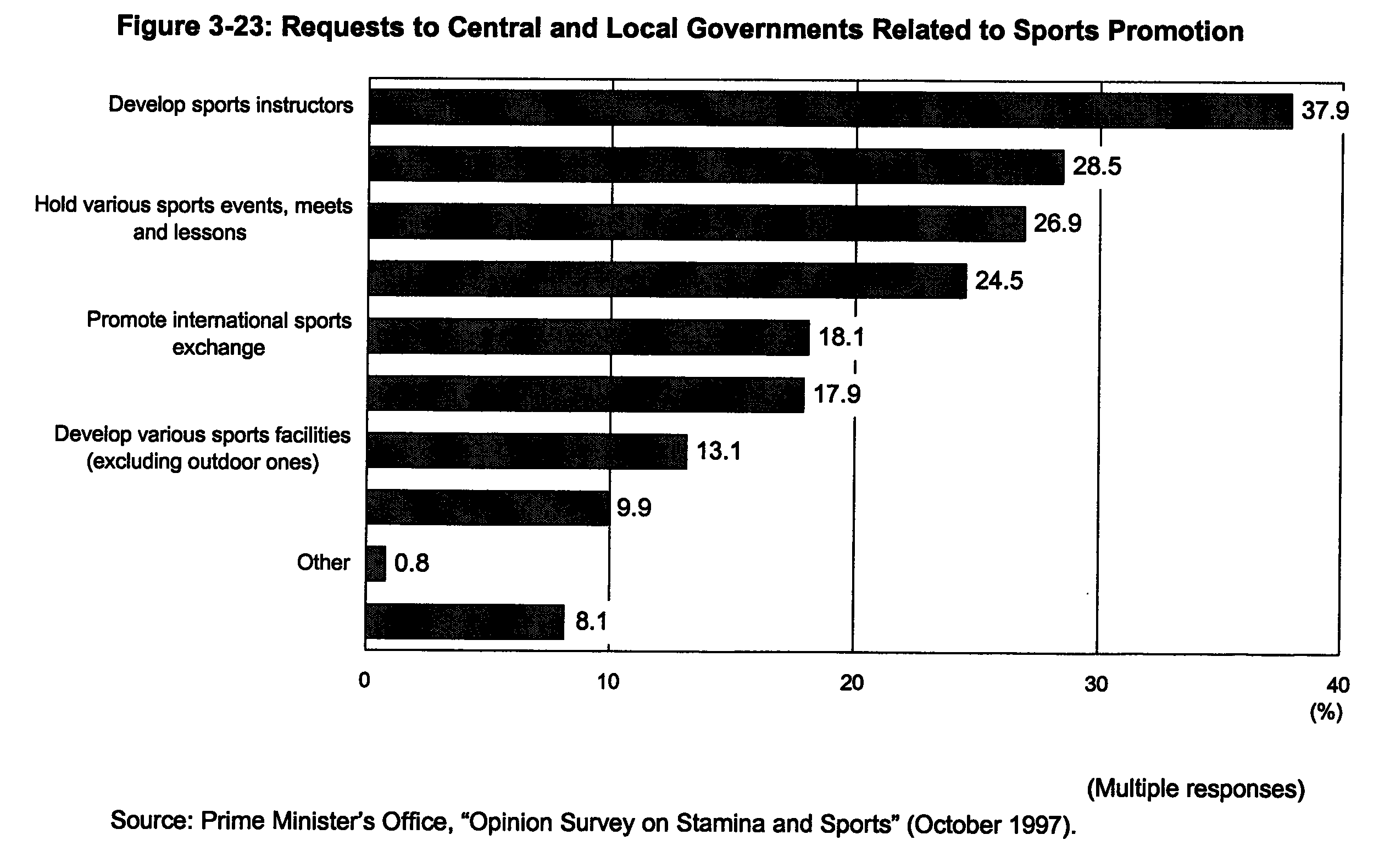 instructors,as well as safety promotion courses for mountain climbing instructors in response to the boom in this activity among middle-aged and senior citizens.Various training programs and courses for instructors are also offered at the Mountain Climbing Training Center due to the special concern for safety in this activity.
Mountain Climbing Training Center The Mountain Climbing Training Center was established in Tateyama-cho,Toyama pre-fecture in1967,following a spate of casualties in snowy mountains in1963and1964.It was set up from the standpoint that training mountain climbing instructors and promoting safe mountain climbing throughout the country was important for the prevention of accidents.The center is the only national training facility for mountain climbing instructors and plays a role both in mountain climbing training and in accident prevention related to that activity.At present,the following training programs and courses are sponsored by the center.



(2)
Certification System for Sports Instruct or Development Programs
In addition to offering various training programs and courses to improve the quality ofsports instructors,MESSC established theCertification System for Knowledge and SkillAssessment Programs for Sports Instructors in1987.Under the system,the Minister of Education,Science,Sports and Culture certifiesthose sports instructor development programsconducted by sports associations that meetcertain standards and that sbould be encouraged.At present,development programs havebeen certified for six categories of instructorsin various types of sports activity(1)Instructors for33types of community sports,(2)34types of competitiveness improvement instructors,(3)6types of commercial sports facilitiesinstructors,(4)sports programmers who instructvarious competitive activities,(5)recreation instructors,and(6)youth sports instructors.Todate,some80,000instructors have been developed under this system( see Table3-8 ).
In October1998,outdoor activity instructors in various sports activities were newly approved as meeting the aims of this system.Athletic trainers,who communicate between sports doctors and coaches as instructors covering a variety of sports activities,were also newly approved.
(3)
Physical Education Leaders
It is important that sports promotion policy be carried out in conjunction with the lifestyles of local residents.In this sense,municipal policy forms the foundation for sports promotion.The promotion of these municipal policies falls in the hands of physical education leaders,as stipulated in Article19of the"Sports Promotion Law."These leaders,numbering some60,000nationwide,primarily taught practical sports skills to local residents at first.With the enhancement of instructor training through various sports associations,however,they are now expected to play the role of community sports coordinators,especially as development coordinators for comprehensive community sports clubs.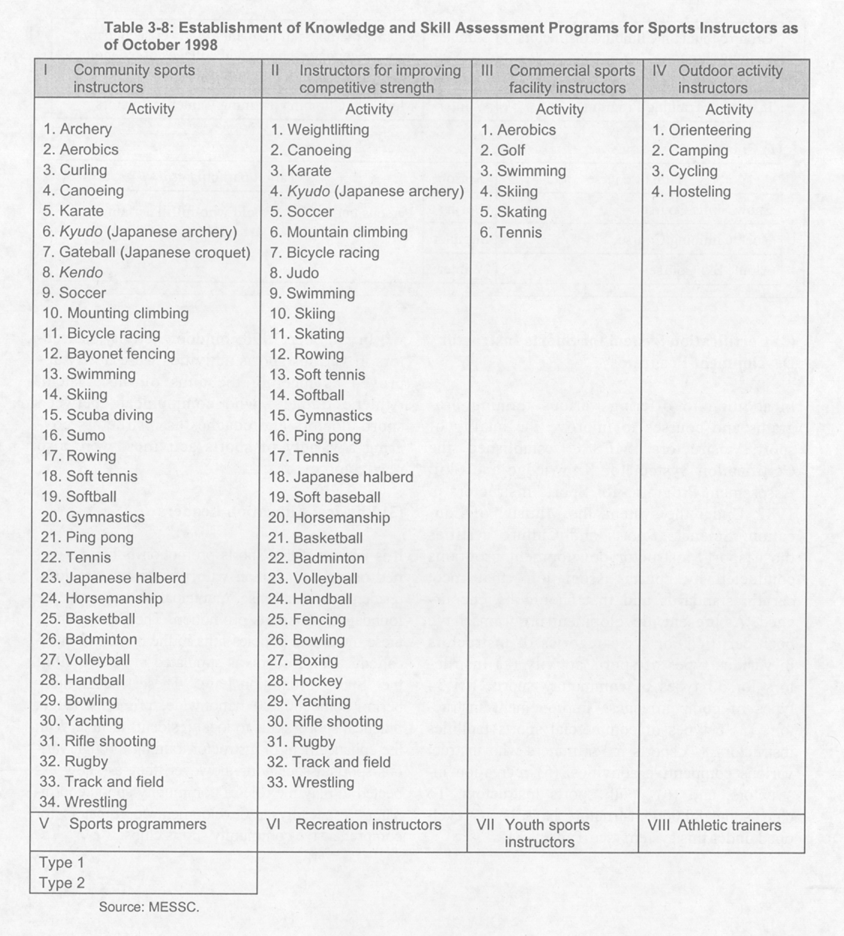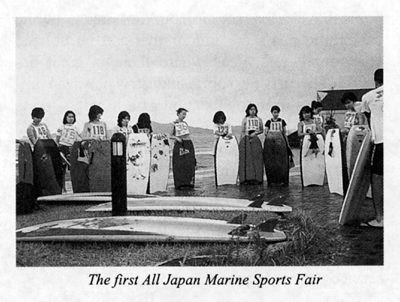 (4)
Future Direction for the Training and Utfflzation of Sports Instructors
In order to effectively and actively utilize developed instructors,there is a need to further enhance"leader bank"registration systems and supply systems at the prefectural and municipal levels,and to build information systems to enable residents to obtain information about instructors.Sports instructors,excluding some who provide instruction at private sports clubs,have taditionally worked on a voluntary basis at community sports clubs and elsewhere.To develop and firmly establish comprehensive sports clubs and develop better sports enviromnents in the future,however,there is a need to consider the placement of paid instructors.The typical image of a sports instructor is that of a person who devotes his/her self to teaching sports skills.In the future,however,as with the changing role of physical education leaders,there is a need for inshuctors who not only teach sports skills,but who are also capable of developing sports clubs and managing sports facilities.
---
PREVIOUS
NEXT
---
(C)COPYRIGHT Ministry of Education, Culture, Sports, Science and Technology