---
PREVIOUS
NEXT
---
MENTAL AND PHYSICAL HEALTH AND SPORTS
CHAPTER2 TOWARD ENHANCED HEALTH EDUCATION
SECTION5: ENIIANCEMENT OF FOOD-RELATED INSTRUCTTON
3. Enhancement of School Lunches
---
(1)
The Current State of School Lunches
School lunches have great educational importancein promoting sound mental and physical development in students,because they provide studentswith the opportunity to form correct eating habitsby providing well-nourished balanced meals,and tocultivate communication between teachers andchildren and friendly relations among childrenthemselves.The number of kindergarteners and students nationwide receiving school lunches as ofMay1997was11,640,000( see Table2-3 ).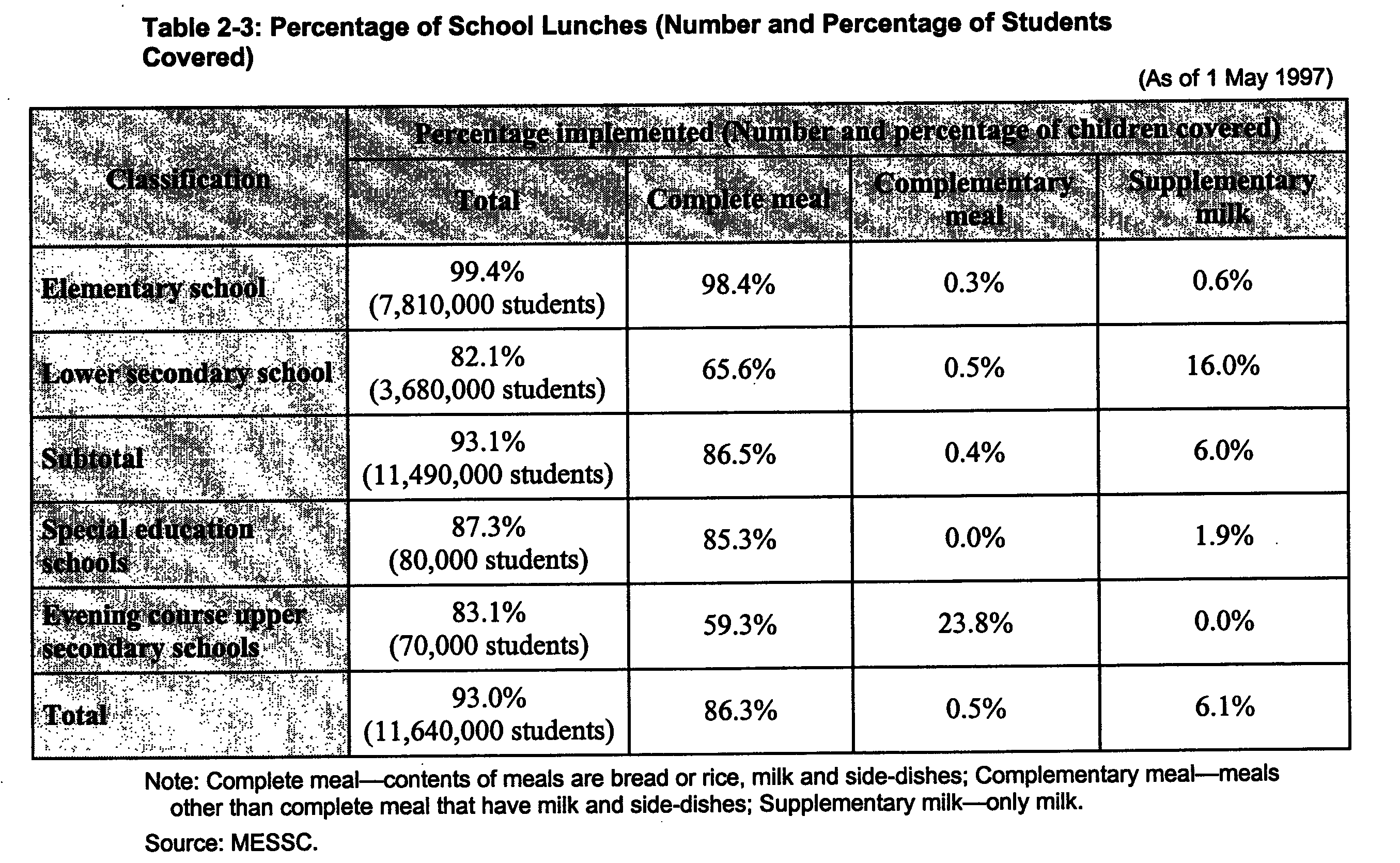 (2)
Rice Lunches
Rice lunches have educational significance as a means to correctly acquire appropriate Japanese dietary customs and to deepen understanding of Japanese agriculture.They were implemented an average of2.7times a week in FY1997.
(3)
The Diversification of Lunch Contents
Lunch contents and cooking methods have been diversified in each school by the addition of local food or the food of sister cities to the menu,and by having buffet-style lunches in wbich students consider suitable nutrients for their own body and choose their own balanced meal.In addition,the establishment and enhancement of school lunch services are being promoted,for example,the use of food equipment suited to meal content and the establishment of school canteens and lunch rooms.
(4)
Enhancement of the Hygiene Management System for School Lunches
In FY1997,although there were no cases of the Escherichia coli(E.coli)0157that had caused great harm to students in school lunches in FY1996,approximately3,800students were infected with salmonella across ten prefectures.In consideration of incidents of food poisoning,providers of school lunches were required to make periodic investigations related to hygiene management of school lunch facilities nationwide during the summer term of1997,and to enforce thorough hygiene management.In addition,specialists were sent to school kitchens in which there had been incidents of food poisoning in FY1997 and conducted on the spot inspections into the cooking and other methods of food preparation which may have caused the incidents of food poisoning.The report of the on the spot inspections indicated the following similarities among the schools that had experienced food poisoning:1)lack of awareness for secondary contamination,2)an inadequate hygiene management system,and3)inappropriate washing and disinfection methods.The following points have been proposed for future countermeasures:1)instilling greater awareness in the school principal and school kitchen supervisor,2)enhancing training of those responsible for hygiene management,and3)instilling greater awareness in school kitchen workers by making examinations of the surfaces and equipment used in school kitchens and of the hands of kitchen workers,and cultivating and verifying the bacteria found on them.In addition,the September1997report of the Health and Physical Education Council indicated the necessity of establishing systems to enable specialists to make inspections and to give specific instruction and advice on the hygiene management of cooking and other food preparation methods.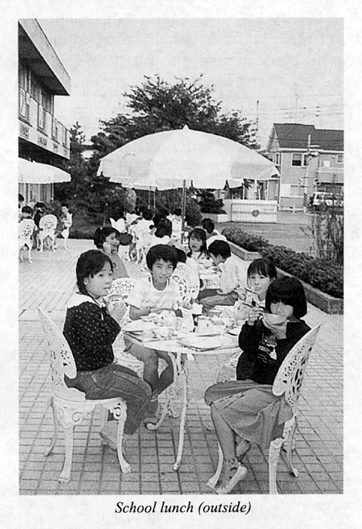 For this purpose,in FY1998,from a perspective of improving hygiene management,the continuing enhancement of improving facilities,such as the dry-systemization of school lunch facilities,and the enhancement of training for school nutritionists will be implemented.In addition to the designation of special research areas for the advancement of hygiene management and training for school kitchens employees,a new project will involve supplying specialists in hygiene management to school kitchens in order to give instruction on how to recognize problems and methods for improvement,in such areas as equipping facilities and cooking methods.
---
PREVIOUS
NEXT
---
(C)COPYRIGHT Ministry of Education, Culture, Sports, Science and Technology