---
PREVIOUS
NEXT
---
MENTAL AND PHYSICAL HEALTH AND SPORTS
CHAPTER1 HEALTH AND SPORTS INTO THE FUTURE
SECTION5: THEES TABLISHMENT OF THE SPORTS PROMOTION LOTTERYSYSTEM
1. The Current Situation of the Sports Related Budget
---
As outlined above,in order to promote sports in Japan,it is necessary to develop sports environments and improve the standard of toplevel competitiveness.To achieve this goal,the central government is working to establish and develop sports facilities,train sports instructors,host a variety of events and advance scientific research,as well as providing subsidies to projects being implemented by local governments and sports organizations.
However,due to the difficult financial conditions at present,the sports budget in the lastfew years has been fluctuating between17and18 billion yen( see Figure1-18 ).
Looking at the current situation of sports facilities,and the development of instructors and a system of improving athletes based on sports medicine and science,well-planned sports promotion with stable revenue sources is strongly desired.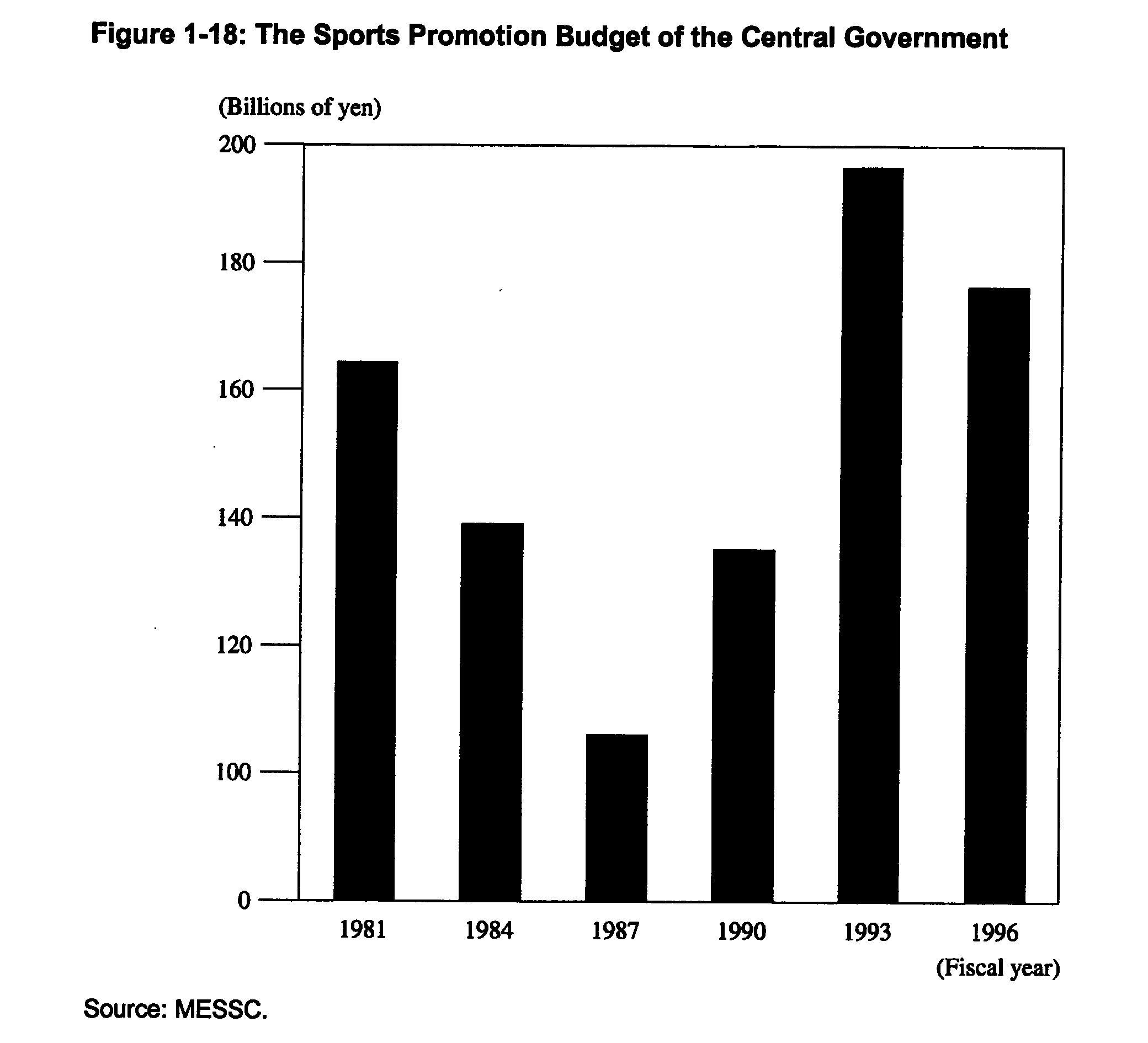 In December1990,the"Sports Promotion Fund"was established at the National Stadium andSchool Health Center of Japan as one of themeasures to secure revenue sources for sportspromotion.Until FY1998,2,285people and1,941organizations received subsidies from theFund of approximately8.17billion yen,playingan important role in sports promotion in Japan.However,with the current recession in Japan,there has been a decline in contributions by theprivate sector caused by a slump in donationsand an interest rate decrease( see Table1-3 ).

The Sports Promotion Fund The Fund is made up of central government funds(25billion yen)and donations from the private sector(4.4billion yen as of April1998),and for the purpose of improving Japan's international competitive strength and expanding the range of sports played in Japan,subsidizes the activities below,undertaken by sports organizations,athletes and instructors.1)Activities to enhance athletes,such as intensive training camps undertaken by sports organizations2)Hosting of international and national competitions,seminars,etc.3)Everyday sports activities of athletes and instructors,both domestically and internationally4)Excellent international sports activities,such as conquering previously unclimbed mountains,etc.Subsidies given to the Sports Promotion Fund in FY1998 totaled812.7million yen(482cases).
---
PREVIOUS
NEXT
---
(C)COPYRIGHT Ministry of Education, Culture, Sports, Science and Technology