---
PREVIOUS
NEXT
---
MENTAL AND PHYSICAL HEALTH AND SPORTS
CHAPTER1 HEALTH AND SPORTS INTO THE FUTURE
SECTION4: THEPROMOTIONO FTOP-LEVEL SPORTS
2. Expectations of the Japanese toward Competitive Sports
---
The Nagano Olympic Winter Games,held in Japan for the first time in26years since the Sapporo Olympic Winter Games,and the Japanese soccer team having successfully qualified through the Asian World Cup Qualifying rounds,participating for the first time in the World Cup Finals,greatly heightened the interest of the Japanese,and allowed them to experience the great joy of international competitive sports.
There are very high expectations for Japaneseathletes on the world stage in the future,with various competitions scheduled:the Sydney2000Olympic Games,Salt Lake2002,the

OlympicWinter Games,and the2002FIFA World Cup tobe jointly held by Japan and the Republic of Korea.In the"Opinion Survey on Stamina and Sports,"79.3%responded%hat they had an interest in theperformances of Japanese athletes in internationalcompetition( see Figure1-16 ).Furthermore,78.8%thought that it was necessary to give public assistance to Japanese athletes in international competition,and the majority of Japanese recognized thatpublic assistance is necessary to help improvecompetitive shength.When asked what kind ofpublic assistance tbey believed was necessary,35.8%,tbe highe%t percentage,responded,"financial assistance for training athletes and forsports competitions abroad."Other responses were,"training of coaches,trainers and other instructors"(32.1%),"establ%shment of fully equipped trainingfacilities,such as a national sports center,by thecentral governme%t"(31.0%),"offering moreawards and increasing the pensions of outstandingathletes"(30.6'/o),and"enhancement and application of research,such as scientific training,etc."(22.1%)( see Figure1-17 ).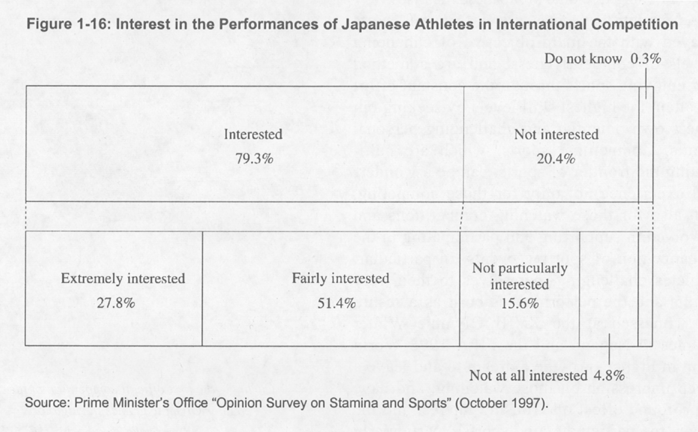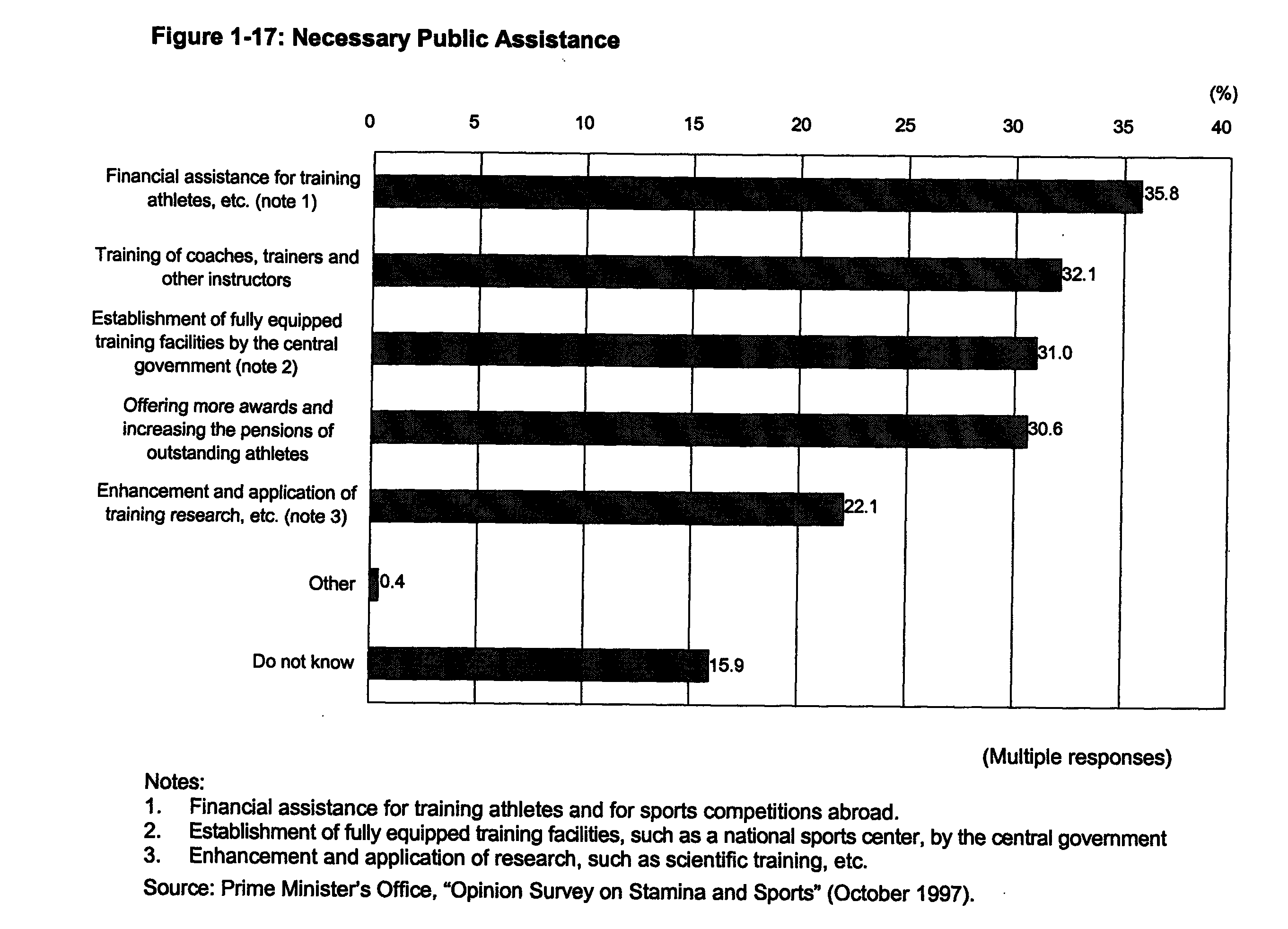 ---
PREVIOUS
NEXT
---
(C)COPYRIGHT Ministry of Education, Culture, Sports, Science and Technology