---
PREVIOUS
NEXT
---
MENTAL AND PHYSICAL HEALTH AND SPORTS
CHAPTER1 HEALTH AND SPORTS INTO THE FUTURE
SECTION3: THEREAL,IZATION OF LIFEL ON GPARTICIPATION IN SPORTS
1. The Significance of Lifelong Sports
---
As mentioned earlier,sports are significant in a number of diverse ways.In particular,with the effects of urbanization and lifestyles becoming more convenient in recent years,and the consequent emergence of a living environment in which there is a lack of exercise,a more conscious effort to participate in sports has become indispensable to everyday life.
For the youth of today,various problemssuch as the decrease in stamina and the abilityto exercise,and emotional disturbances,havebecome apparent.Great changes have occurredin the living environment which surroundsyoung people,particularly the increase in indoor play,such as playing computer games,and the decrease in open-air play areas.Thereis also a lack of opportunity to develop socialskills.Under the current circumstances,participation in sports by young people is not onlyuseful for becoming healthy by improvingstamina and the ability to exercise,but alsoplays a vital role in emotional health,such asthe sense of refreshment derived from physicalactivity.Furthermore,because sports areplayed based on rules,it is an important opportunity for young people to acquire a mentality for respecting these rules as one of thefoundations of social skills,and,througb cooperation with others,to nurture thoughtfulnesstoward them.In advanced nations,the educationaleffectiveness of sports attracts a great deal of attention,and various types of sports promotionpolicies targeted at young people are being positively implemented( see column).
Example of a Youth Sports Program Initiated Abroad In Australia"Ausie Sport,a sports promotion program which targets young people between the ages of3and19has been implemented.The program stresses the importance of the enjoyment of sports,the spirit of fair play and proper participation,and aims to enrich the lifestyles of young people through introducing them to a wonderful experience which instills in them the desire to participate in sports throughout their lives.Since its inception in1986,it is reported that approximately two million people have participated in the program.The program is closely involved in cooperation with schools,of which96%have either incorporated the program into the regular curriculum or into extra-curricular activities.In New Zealand,the same type of program named"Kiwi Sport,targeting elementary school children has been implemented.
Sports also enable people to lead worthwhile lives.In an aging society,it is important for the aged to have a worthwhile purpose in life,and to be able to lead enjoyable lives.From this perspective,sports play an extremely important role.It is often said that the aged have an interest in sports,such as gate ball(Japanese croquet),through which they are able to have active exchanges with other local people,and that they spend fulfilling days in this way.Sports also promote a sense of togetherness among people,and are useful for establishing friendships and even for forming local communities.Urbanization has contributed to a breakdown in local human relations,and the destruction of the local community has become a problem all over Japan and in this situation,sports are assuming a greater role.In Europe and the United States,sports,which are diverse in such significant ways,are deeply rooted in the lifestyles of the people,who derive pleasure from them throughout tbeir lives.The role played by sports is steadily increasing in an era in which quality of life is constantly sought after.It is therefore necessary to create in Japan a society in which people can freely enjoy sports,that is to say,a society in which anyone can play sports,in any place and at any time.This is a lifelong sports society.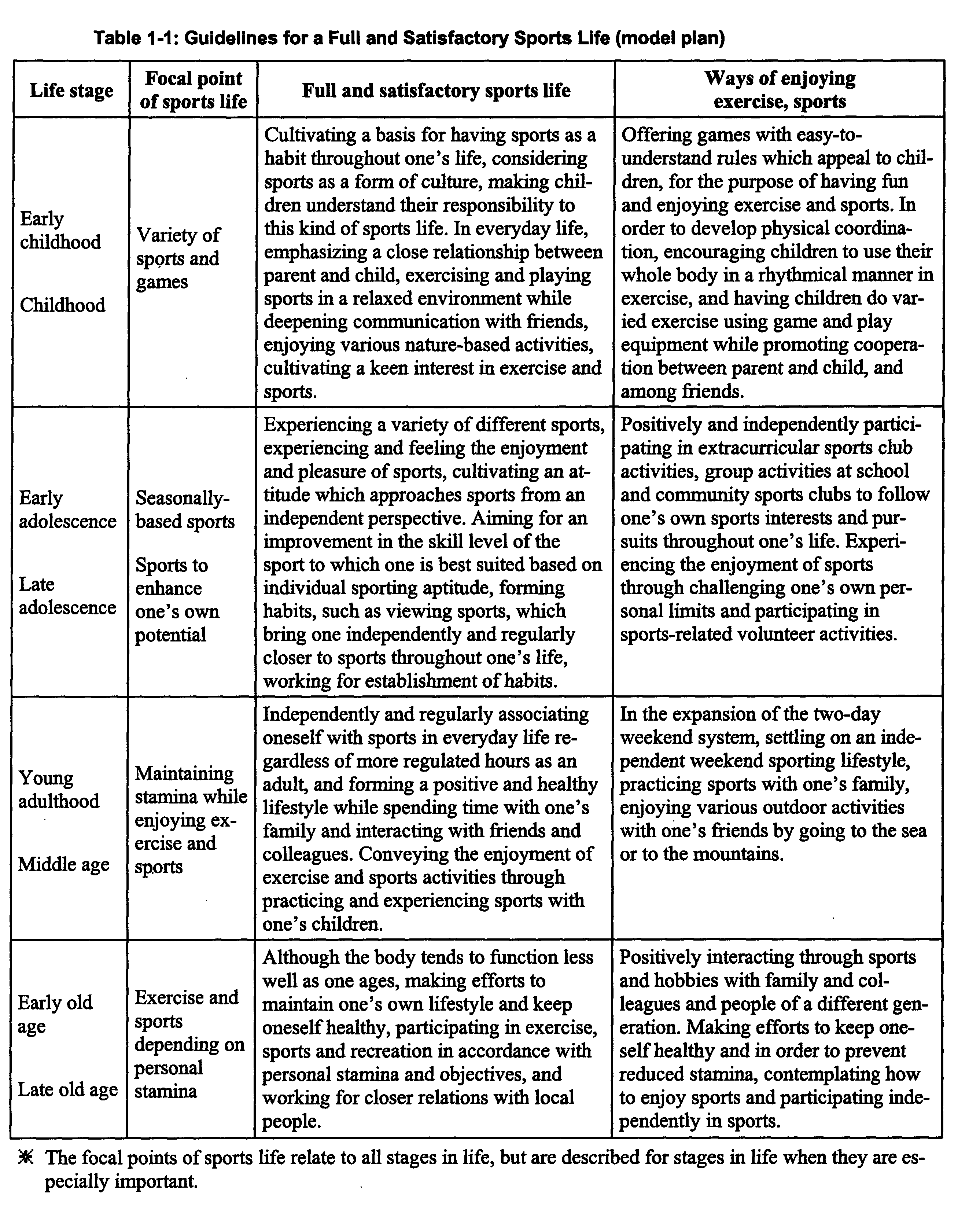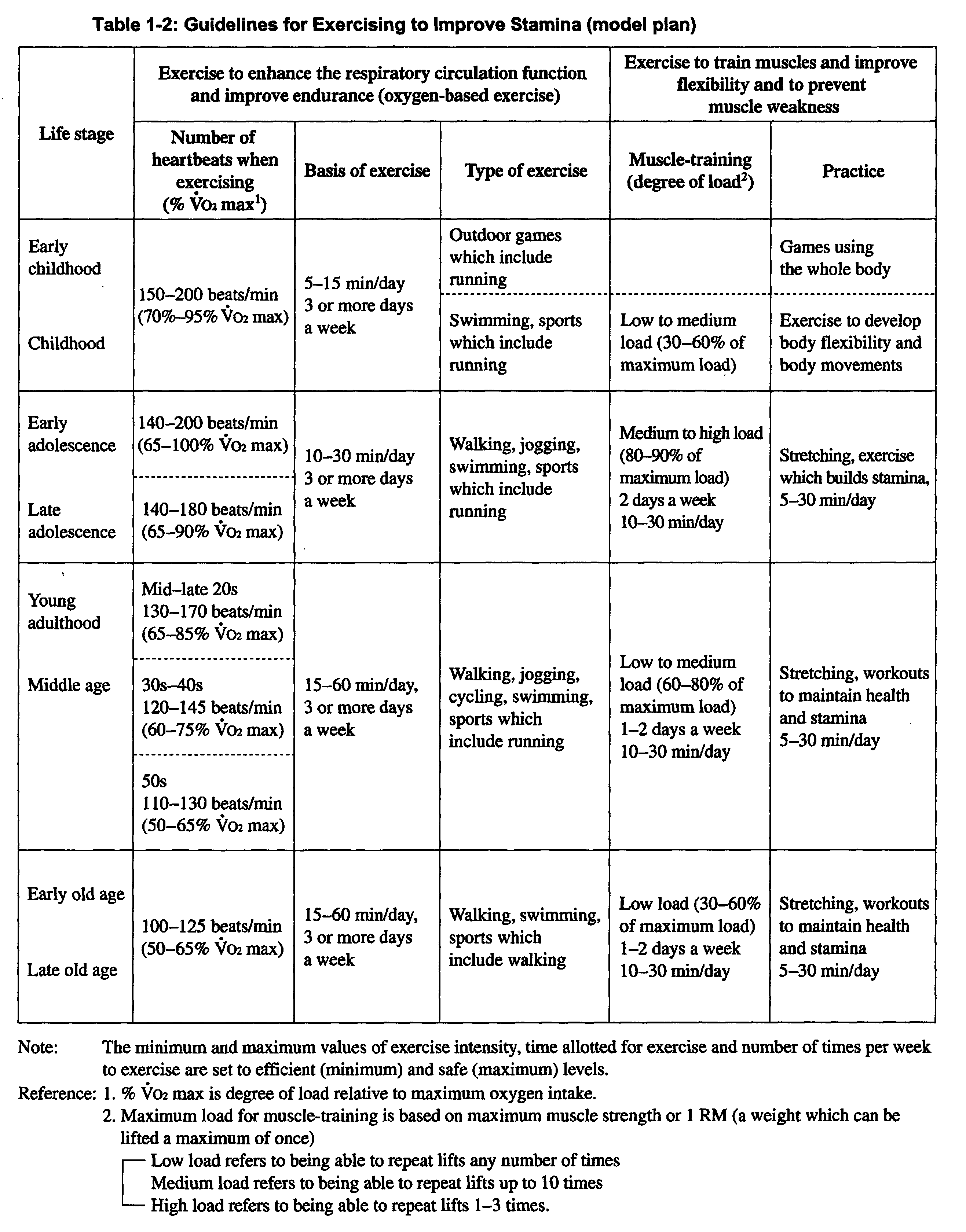 In a lifelong sports society it is important forpeople to exercise and take part in sports independently and constantly according to their lifestage.From this perspective,in September1997,the Health and Physical Education,Council report proposed policies for the promotion ofparticipation in sports suited to the age of theindividual,and guidelines for participationshowing what sort of exercise and sports peopleshould be enjoying at each stage of their lives( see Tables1-1 , 1-2 ).
---
PREVIOUS
NEXT
---
(C)COPYRIGHT Ministry of Education, Culture, Sports, Science and Technology