---
PREVIOUS
NEXT
---
Chapter 3. For the Protection and Utilization of Cultural Properties
�3 Promotion of the Preservation and Utilization of Cultural Properties
1. Tangible Cultural Properties
(3) National Museums
---
The public's growing interest in culture, rising aspirations for spiritual fulfillment in life and other recent social changes have spawned even greater expectations that national museums and other cultural facilities function as places, where individuals can experience intellectual enrichment.
Japan's national museums have always endeavored to offer the public a warm welcome and to be open to serving both young and old alike. To continue meeting the demands of what is becoming a lifelong learning society, it will be important to deal with the recently introduced five-day school week and to continue presenting high quality exhibitions that offer clear explanations. Furthermore, the national museums, as facilities representative of Japan and its culture and in response to emerging social demands, need to make improvements in both management and facilities, keeping in mind both the perspective of their visitors and future directions. More specifically, it is necessary to improve presently existing display and exhibition facilities while constructing additional ones and to further enrich exhibition, investigation, research and public information programs.
There are three national museums under the jurisdiction of the Agency for Cultural Affairs: the Tokyo National Museum, the Kyoto National Museum and the Nara National Museum. All of these museums are involved in collecting, preserving and displaying to the public tangible cultural properties, as well as in conducting research and programs related to these properties (Table I-3-5).
Besides these museums, there are two national museums, the National Museum of Ethnology and the National Museum of Japanese History, both of which are inter-university research institutes, and which exhibit the results of their scientific research. The former collects, preserves and displays various materials gathered from the world's different races of people and conducts research in ethnology. The latter, along with conducting relevant research, collects, preserves and displays the historical, archeological and folk materials of Japan.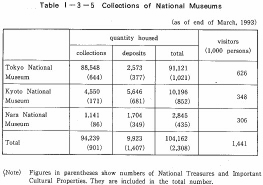 The above-mentioned five national museums are briefly described below.
1)
The Tokyo National Museum
The Tokyo National Museum, the oldest museum in Japan, is a general art museum, exhibiting mainly the masterpieces from the respective historical periods of Japan and the East. The National Museum's Main Gallery (Honkan) classifies exhibits according to fields, including pictures, sculpture, calligraphy, dyed textiles, metalwork, arms and armor, swords, ceramics and lacquerwork. The building of the Gallery of Archaeological Objects (Hyokeikan), which is in itself an Important Cultural Property, houses Japanese archaeological specimens. Other galleries that are a part of the Tokyo National Museum are the Gallery of Oriental Antiquities (Toyokan), which exhibits works of art from respective periods of various eastern countries other than Japan, and the Gallery of Horyu-ji Treasures (Horyu-ji Homotsukan), which houses art treasures originally owned by the Buddhist temple Horyu-ji. The National Museum also has a Research and Information Center which collects and preserves various information and materials concerning the study of art history, and makes them available to researchers and others. Construction of a new building, the Heiseikan (tentative name) began in 1993, in commemoration of the wedding of the Crown Prince. Scheduled for completion in 1997, it will be equipped with a special exhibition hall for thematic displays and a hall for permanent display of old Japanese art.
An additional service offered is an annual program of Travelling Exhibitions or Cultural Properties of the Tokyo National Museum, which takes exhibits to various parts of the country. The museum also lends parts of its collections for public exhibition in various districts.
2)
The Kyoto National Museum
The Kyoto National Museum exhibits mainly cultural properties which are original to the Kinai district, an area centering around Kyoto, and which are time-honored works of Japanese art dating from the Heian Period and later.
The New Exhibition Hall displays works of art classified according to category, such as pictures, sculpture, calligraphy, ceramics, archaeology, metalwork, lacquerwork and dyed textiles. The Main Exhibition Hall, which has itself been designated as an Important Cultural Property, holds a special exhibition every autumn. It is also used for joint exhibitions in collaboration with newspaper companies, along with other exhibitions. The opening of the Conservation Center in 1980 provided a favor able environment for the repair of works of art, making possible the systematic collection and preservation of records relating to repair techniques as well as to the structure of works and to any inscriptions that may be recorded on them. The Information and Research Center was established in 1981 for the purpose of collecting and filing materials relevant to the culture of Kyoto, along with information about repaired cultural properties. This information is available for use by researchers both inside Japan and abroad.
3)
The Nara National Museum
The main exhibits at the Nara National Museum are masterpieces of Japanese Buddhist art which have been passed down within the Nara District.
The Main Gallery, which is in itself an Important Cultural Property, exhibits Buddhist statues and Buddhist-related archaeological materials (unearthed objects) from the Asuka Period to the Kamakura Period. The Annex Gallery features a display of excellent masterpieces that reflect the development of Japanese Buddhist culture, including pictures, sculpture, applied art work, calligraphy and historic materials. The "Exhibition of Shoso-in Treasures" is held in autumn every year, and puts a portion of the treasures housed in the Shoso-in on display.
The Research Center for Buddhist Art, which opened in 1980. Collects research data, photographs and other materials relating to the art works of Buddhism in Japan and in other Asian countries. This information is then processed into data bases and made available to Japanese and foreign researchers.
In addition to these activities, the Nara National Museum occasionally holds special displays and other thematic exhibitions, as well as conducting informational programs to promote understanding of Japanese culture, such as a cultural properties class for beginners and various lecture courses.
4)
The National Museum of Ethnology
The National Museum of Ethnology features exhibitions about the lives and histories of the different peoples of the world, and divides its displays according to region and to theme. Theme displays cut across the boundaries of race, and include such topics as linguistic culture and folk music. Besides making use of explanatory video displays, this museum also holds systematic special exhibitions that introduce a certain theme in a narrative manner. Another service that the museum provides is to make research results available to the public by providing research data to the interested researchers and conducting lectures.
5)
The National Museum of Japanese History
For exhibition purposes, the National Museum of Japanese History classifies the historical periods of Japanese history into Primitive, Archaic, Medieval, Early Modern, Recent Modern and Modern. Using this system of classification, the museum selects themes from Japanese history which are deemed important in the eyes of present day people and organizes displays which emphasize the history of daily life. It offers information to interested researchers and also endeavors to disseminate the science of history and related sciences by publishing various explanatory books.
---
PREVIOUS
NEXT
---
(C)COPYRIGHT Ministry of Education, Culture, Sports, Science and Technology