Saturday, September 29th, 2018
Sports


The 73rd National Sports Festival of Japan kicked off on September 29th hosted by Fukui Prefecture. Japanese Emperor Akihito and Empress Michiko attended the opening ceremony. MEXT Minister Yoshimasa Hayashi made an opening address.

The sports festival was held in the Fukui Prefectural Stadium, also known as the 9.98 Stadium. The arena is where Japanese sprinter Yoshihide Kiryu made history by becoming the first man in Japan to break the 10-second barrier in the 100 meters, setting a national record with a time of 9.98 seconds.

Amid rainy skies, about 2,100 prefectural residents participated in the powerful ceremonial performance titled "Song for the Athletes."

At the general opening ceremony, officials and athletes from every prefecture across Japan were greeted by an applause, boldly entering the arena. When the Fukui Prefecture delegation entered, the team was greeted with cheers and a roar of applause.

At the opening ceremony, Minister Hayashi said he hopes the festival will be a memorable experience for all, and that athletes will be able to demonstrate the results of their hard work and show people the joy and power that come from dedication to sport.

This year's sports festival will be held in 17 cities and towns across Fukui Prefecture for a period of 11 days until October 9th. About 19,000 representative athletes from every prefecture in Japan will compete in 37 formal athletic events and one special athletic event. This year's competition will also include the wheelchair basketball and tennis events with the aim to advance the merger of the National Sports Festival with the National Sports Festival for People with Disabilities. The latter will be held during the period of October 13th - 15th.


Photos:
Ceremonial performance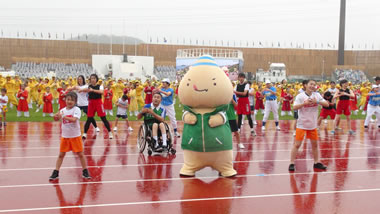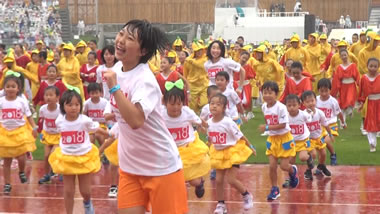 General Opening ceremony

Greetings by Minister Yoshimasa Hayashi

Festival Chairman Masahiko Ito

Festival Vice Chairman Issei Nishikawa

Festival torch entrance, Torch light up

Representative Athletes' Declaration