Thursday, September 20th, 2018
Education
Norman Mineta, Chair of the Board of Trustees of the Japanese American National Museum and museum staff visited MEXT Minister Hayashi on September 20th. The parties exchanged views on promoting exchanges between the US and Japan.
The US delegation highlighted how both organizations hold similar aspirations of placing priority on educating young people. Mineta explained the museum has been focusing recently on educational programs, and encouraged Japanese students to visit the museum to deepen their understanding on Japanese Americans.
Minister Hayashi payed his respects to the US delegation for the museum's achievements in helping promote Japan-US exchanges. The Minister also introduced the recent rising trend of Japanese students visiting the US for school trips, and offered to promote various initiatives to further boost bilateral understanding.
Link to Japanese American Museum website
The Japanese American National Museum was established in Los Angeles in 1992. It houses the largest collection in the United States of documents on the history and culture of Japanese Americans. The museum also serves as a base to promote understanding of Japanese Americans through its various exhibits and education programs, and to disseminate the importance of exchanges between the US and Japan.
Mineta became the first Japanese American to serve in Congress and to be appointed US Secretary of Commerce and Secretary of Transportation. Mineta has long contributed to promoting exchanges between the US and Japan. He has also served as the supreme advisor to the US education taskforce at the Japan-US Culture and Education Exchange Conference participated by members of the government, academia and business sectors.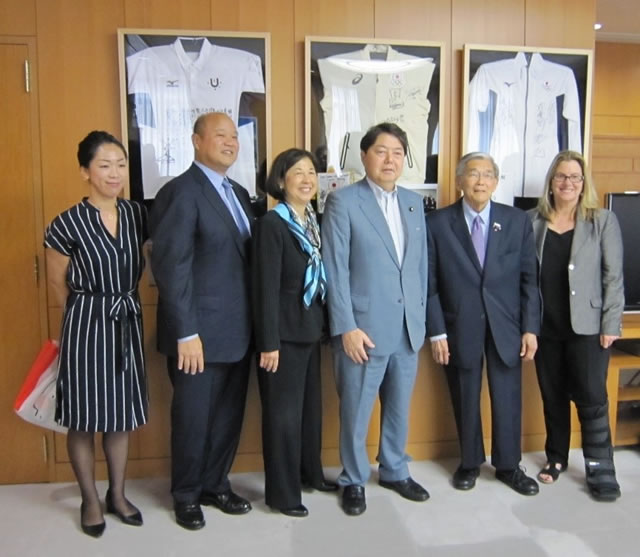 Photo:
(from right: President and CEO Anne Burroughs, Chair of Board of Trustees Norman Mineta, MEXT Minister Yoshimasa Hayashi, Board of Trustees Meloni Hallock, Board of Trustees Stephen Kagawa, Masako Miki of MEXT)