August 25-27, 2018

MEXT Minister Yoshimasa Hayashi visited Indonesia between August 25th - 27th to attend the 18th Asian Games hosted by Jakarta. The Japanese minister had one-on-one meetings with Indonesian Minister of Education and Culture Muhadjir Effendy and Minister of Youth and Sports Imam Nahrawi, Minister Hayashi also attended the 16th Asian Statesmen's Forum.
It is the first time in 56 years for Jakarta to host the Asian Games, ever since it last served as a host in 1962. Following a succession of heated battles, Japanese athletes made a good showing at the competition.
Minister Hayashi watched the Japanese women's volleyball match against Hong Kong, and the men and women's badminton singles semi-finals. The Japanese women's badminton team won 3 straight sets. After the match, Minister Hayashi applauded the athletes inside the court.
Men's badminton singles player Kenta Nishimoto, and women's badminton singles player Akane Yamaguchi both won a bronze after losing a difficult feat in the semis. Minister Hayashi rooted the players during the match, experiencing the heated atmosphere of badminton which is the national sport of Indonesia.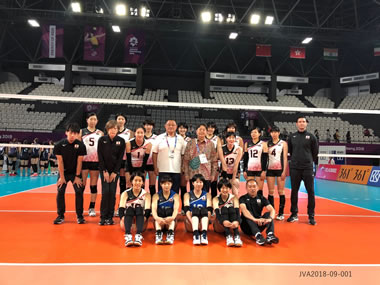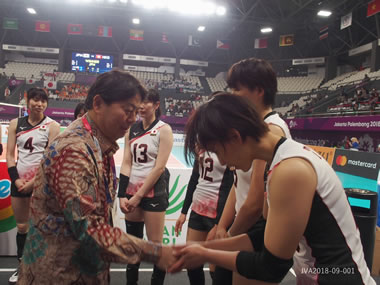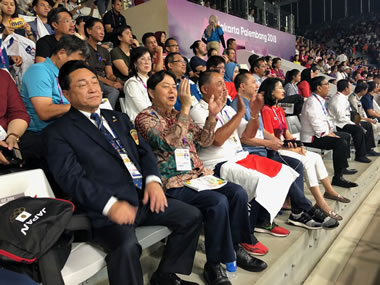 In the meeting with Indonesia's Education and Culture Minister, Minister Effendy showed enthusiasm to advance cooperation between Indonesia's education ministry and MEXT, and to promote exchanges between Japanese and Indonesian students and teachers. Minister Effendy also showed interest in Japan's technical colleges. Minister Hayashi expressed gratitude for the support provided by the Indonesian ministry towards opening a Japanese school next April in Cikarang, Jakarta. The Japanese minister also introduced examples of education reform and English education reform being advanced in Japan towards the arrival of Society5.0, or an ultra-smart society.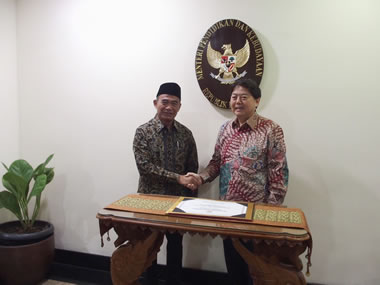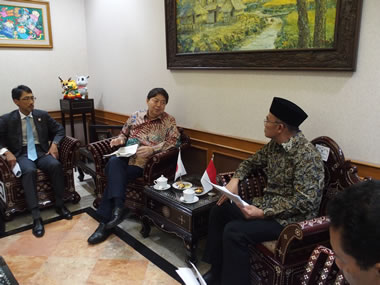 Education and Culture Minister Muhadjir Effendy (left)
In the meeting with the Minister of Youth and Sports Imam Nahrawi, Minister Hayashi congratulated Minister Nahrawi on the success of the Asian Games. Hayashi introduced projects under the Sports for Tomorrow Initiative towards the 2020 Tokyo Olympics and Paralympics, host towns in Kumamoto Prefecture, and the promotion of disabled sports.
Minister Nahrawi showed enthusiasm towards Indonesia hosting the Olympics and Paralympics sometime in the future.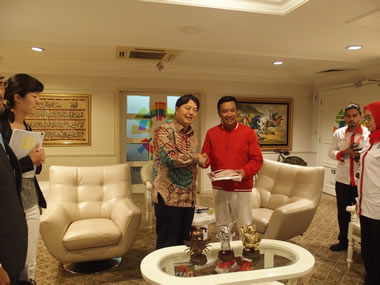 Minister of Youth and Sports Imam Nahrawi (right)

Minister Hayashi also participated in the 16th Asian Statesmen's Forum to discuss policy issues. The forum is participated by leaders including politicians of Japan and ASEAN nations.
The Japanese Minister made a presentation in English on Japan's Educational Policy aimed at Society5.0. The participants showed great interest in the minister's presentation which was followed by heated discussions.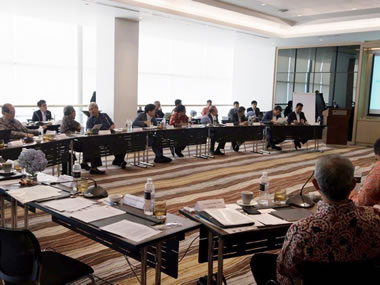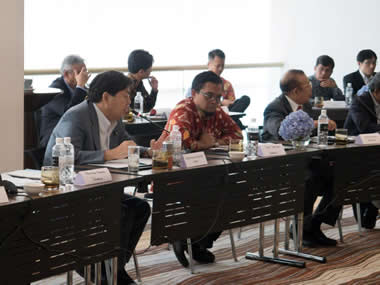 MEXT Minister Hayashi's presentation (center)